Woodworkers, hobbyists, and DIYers need a quality miter saw. Why? To cut wood precisely and efficiently. Nowadays, DIY projects are popular all around the country and professionals and DIYers will face a lot of choices, when it comes to purchasing the best miter saw that fulfills their requirements. We have compiled a list of 11 best miter saw for you in order to reduce the time and effort it takes to find the perfect one. Read these reviews and buyers guide till the end to equipped yourself with the knowledge you need to purchase such an equipment.
Miter Saw Comparison Table: 
comparison table: 11 Best Sliding Compound Miter Saw
Best miter saw reviews:
1. DEWALT DWS780 12-inch Sliding Compound – miter saw for accuracy: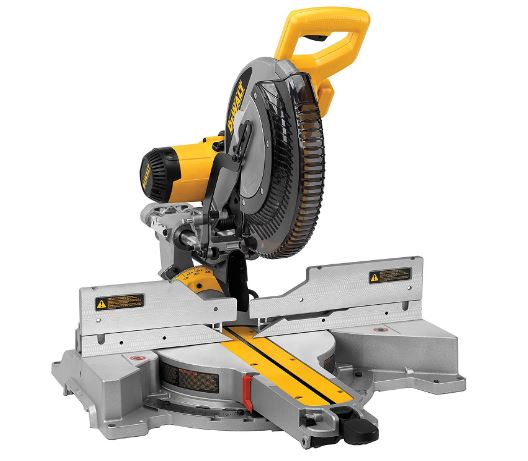 When you need a machine that has everything with regards to precise, smoothness, and professional angle cuts, this will be your best pick. It is powered by a 15 amp motor which delivers 3800 rpm, and that is going to be enough for a vast number of woodworking tasks. Many miter saws in this class will struggle to make crown molding effectively. But for this model, it is easy peasy! Because the blade tilts from 0 degrees to 45 degrees in both directions, you can have an angle cut with absolute ease.
When we speak of its measuring elements, the miter base is really well designed with proper calibration, and it is precise as well. The safety features perform great and the duel bevel system lets you adjust and fine tune the machine, without having to purchase any extra tools. Although it is designed conventionally, what attracts buyers towards this model is its compatibility. So, it is easy to carry around from one place to another without any issues whatsoever. Supreme build quality is its strongest USP. Overall, if you are working in a professional environment, then this model is going to be your best friend.
Pros:
Powered by a 15 amp motor.
Compatible design.
3 year warranty available.
Cons:
Advanced safety features are not available.
2. DEWALT DW715 Compound – best compound miter saw: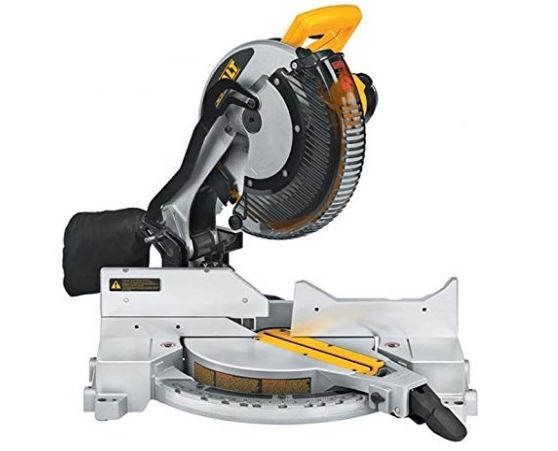 The Dewalt is a well respected brand simply because of its quality products. And one among them is this miter saw model. It is also a popular brand for professional usage. Having said that, let's look at its features. It consists all the necessary stuff you need to acquire precise and accurate cuts. Its power is unbelievable and it comes with the best saw blade that is 12-inch in size, and can cut through any kind of wood with ease. Safety features are excellent and its design is commendable. The miter base is calibrated accurately. Its dust collection is great and by referring to the user manual, you will be able to get a hold of what to do and how to use this machine properly. If you are in need of a quality equipment, this is it.
Pros:
Extremely durable.
You can achieve accurate cuts in any type of wood.
Exceptional design.
Cons:
The dust collection is fairly basic.
3. Hitachi C10FCE2 Compound – best miter saw under $200: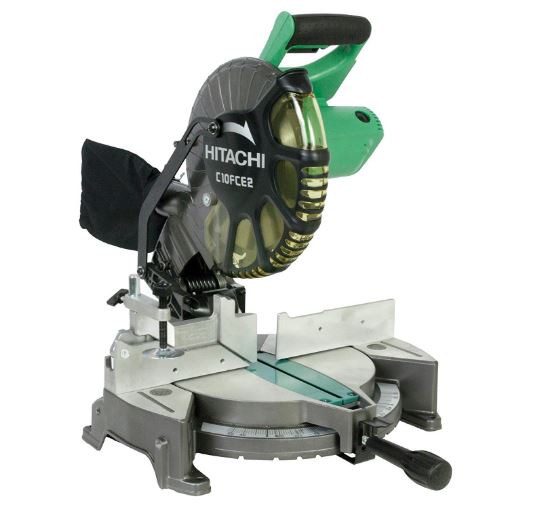 If you want a decent quality equipment that is precise, then you need to have a look at this machine. Even though it is from the Asian marketplace, we got massive positive feedback when we tested it with our testing team. It is a great model for both professionals and DIYers. The 15 amp motor powers through all kinds of wood with ease and grace. The excellently calibrated miter stops are accurate, and its measuring elements are precise. Although it has only the basic safety features, it can be considered safe as long as your knowledge of how to use a miter saw and its affordability. The material with which it is manufactured are quite sturdy and durable. If you maintain it properly, it will work really well in the years to come. Finally, this model comes with a dust collection bag and the use of aluminum reduces its weight significantly.
Pros:
The 15 amp motor is powerful enough to complete all kinds of woodworking tasks.
5 years warranty available.
Comes with a dust collection bag.
Cons:
The user manual is hard to understand.
4. Black+Decker Compound M1850BD – best miter saw for DIYers: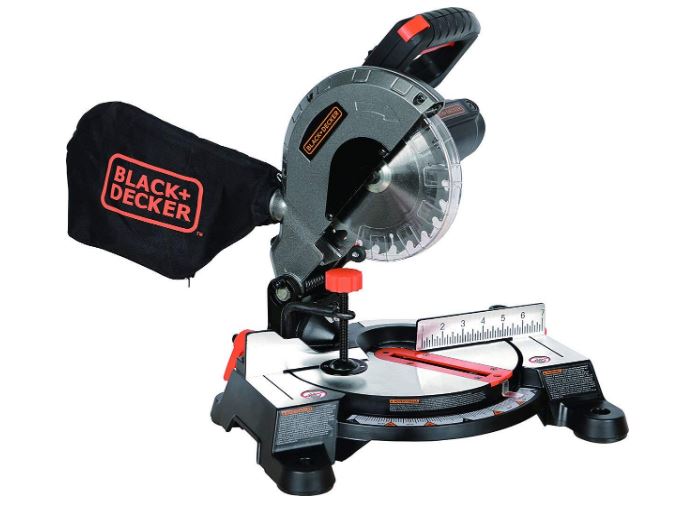 If you are looking for a machine that manages small projects, or if you are a DIYer or a crafter, then this model is your best bet. It is particularly good for wood trimming, framing work, cutting baseboards, and crown molding. Its lightweight and portability makes it an attractive product in the eyes of a customer. Weighing around 17 pounds, it won't need a stand with wheels. You can store it anywhere after completing your work, or you can carry wherever you want to go. As we have mentioned earlier, this is not a tool that can be used for professional use, as its smaller blades will cut only thin sized wood. If you are looking for a miter saw to use all around your home for an occasional large job, or for most small jobs, then this model will serve you exceedingly well.
Pros:
Lightweight and portable equipment.
Performs small woodworking jobs efficiently.
Best miter saw for crafters and handymen.
Cons:
Not an ideal equipment for heavy-duty work.
5. Chicago Electric 12 Inch – best miter saw for beginners: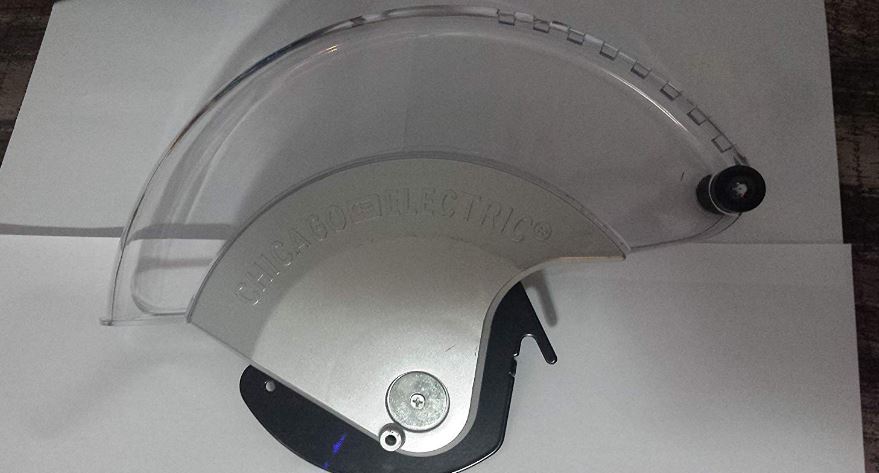 If you are looking for a beginner friendly product, or if you want to have an equipment that has a minimalist design but performs like a superstar, then this is your go to miter saw. It is easy to assemble and if you are a woodworker who is just starting out, you will thank yourself for choosing this model. Sometimes, many saws in this class will struggle to fix the cutting blades at an exact angle you need. Not with this equipment. With a 12-inch blade, it is a huge saw. You need a dedicated place to store it. Want more details?
Pros:
Affordable pricing.
Has a 12 inch blade.
Comes with many accessories included.
Cons:
Hard to follow instructions manual.
6. Craftsman 21237- best high end miter saw: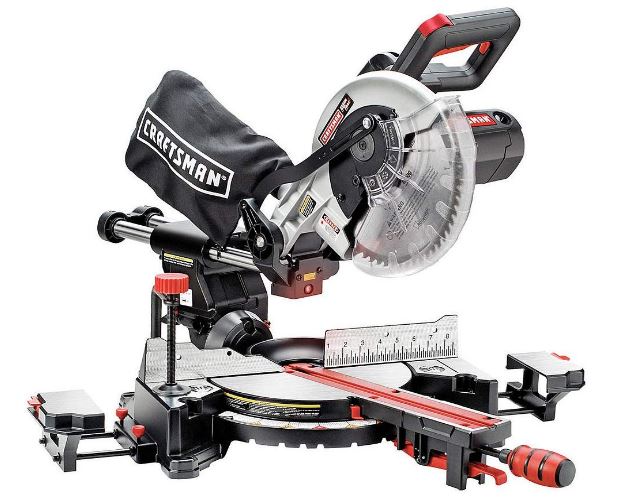 Do you constantly deal with wide boards and large logs? Do you need a seriously powerful equipment that finishes off your work in no time? Then have a look at this model. It is equipped with sliding capacity which is helpful to cut through dense wood with absolute ease. The extension wings are above normal standards and it provides accurate, precise cuts in less time.
The miter adjustments are manufactured above the industry standards. The left beveling feature is an added advantage to make bevel cuts with precision. It is powered by a 15 amp motor and it cuts down anything real quick. With 4800 rpm, you can even cut hardwood and lumber. This model comes equipped with great added accessories such as a dust bag for dust collection, 2 support extensions, a hold down clamp, and a blade change wrench.
Pros:
Portable and lightweight equipment.
Provides accurate cuts with the help of the laser track.
Durable product.
Easy to assemble.
Cons:
Not enough cutting depth.
7. Hitachi C10FCG – best affordable miter saw: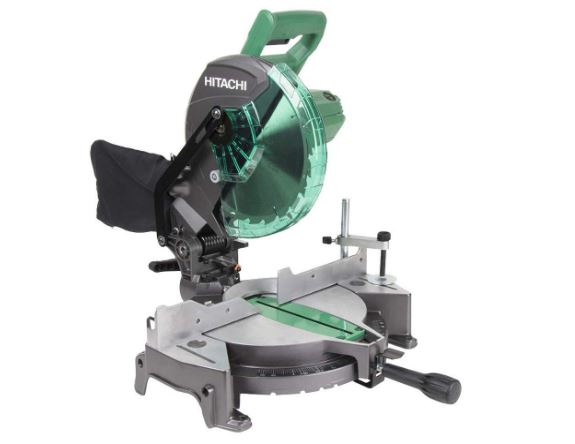 Inexpensive models doesn't have to be poor in quality, and this is not an equipment that compromises on it. This is built to be lightweight, simple in design, and easy to assemble. It is a 10-inch compound saw that has some of the great features. This is an excellent machine if you are a woodworker, carpenter, or a framer. Although this is a basic saw, precision and reliability are the important mottos with which Hitachi manufactured this model. You can make all kinds of cuts including miter cuts, cross cuts, beveled cuts, and compound cuts with tremendous accuracy.
So, this is the best inexpensive miter saw in its class, and you can move it from one place to another thanks to its lightweight nature. Because it is easy to use, this model is the best sought out miter saw among people who are on a tight budget. With a large tabletop, you won't be restricted when it comes to workspace.
You can even set various angle stops with a simple thumb adjustment lever. The left bevel cut feature lets you have beveled cuts from 0 to 45 degrees. It also comes with a dust collection bag. All in all, if you want a versatile machine that doesn't empty your pocket, then this model is going to be your best bet.
Pros:
Powered by a 15 amp motor.
Affordable pricing.
Large tabletop available.
Easy to use.
Cons:
Dust collection is really average.
8. DeWalt Flexvolt 120-Volt – best cordless miter saw: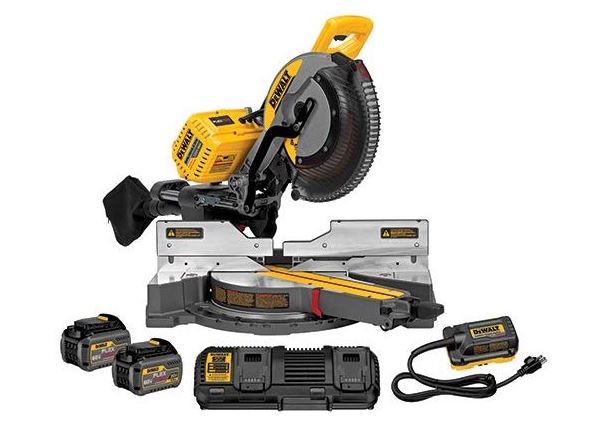 Want to have a saw that is truly industrial? Or want to have a machine that completes massive woodworking tasks in no time? Then you need this equipment. It is powered by a 15 amp motor and a 12-inch blade. When you have this much power, you can cut any type of wood including pine, real quick. At 3800 rpm, the blade spins seriously fast to accomplish what it is advertised for. That 120 volt motor can be powered by a 60/20 flex volt batteries or a 120volt ac adapter.
If you are a beginner woodworker, here's a feature specially designed for you. It is the cutline blade positioning system. This is a simple and effective system comprises a LED light that casts a shadow on your workpiece, in the spot and position from which the blade starts cutting. In our own experience, this feature is exceptional even for a total beginner. Also, this helps you to safely lineup your work without experiencing finger amputation. Finally, you can control this saw with ease, even when wearing your gloves.
Pros:
The machine is cordless.
Powered by a 15 amp 120volt motor.
Compact design.
Portable.
Cons:
According to some buyers, the saw is heavy for a cordless equipment.
9. ShopSeries RK7136.2 – best miter saw for homeowners: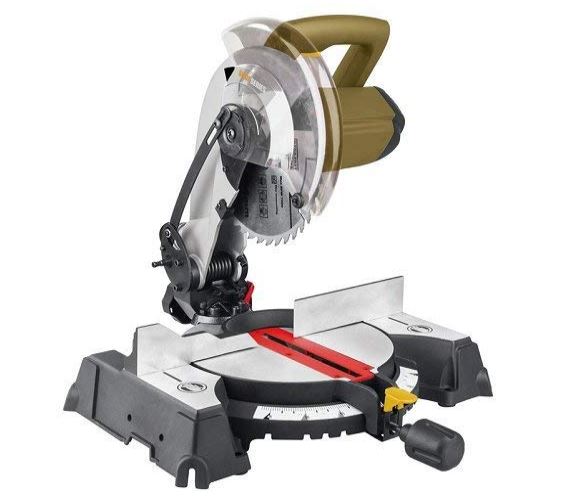 This model from Rockwell comes with a 14 amp motor and it is a great product if your shop is in your home. Wired to handle 120 volts, it is made of die-cast aluminum in order to increase its lifespan. With little effort, you can easily carry it around anywhere you go, including to the construction site. Its bevel can tilt from 0 to 45 degrees to get precise beveled cuts. It also comes equipped with a sturdy metal legs for added stability and height adjustment. With the adjustable rollers, it provides outfeed and infeed support. This model feature a dust collection bag to collect dust and debris. The back fence lets you have straighter cuts. It is very easy to use and assemble. This unit handles a variety of 10-inch blades to get smooth and accurate cuts.
Pros:
Lightweight equipment with a 14 amp powerful motor.
Made of durable die-cast aluminum.
Comes with a dust collection bag.
Cons:
Poorly written instructions manual.
10. Evolution Power Tools RAGE3 miter saw – under $100:
The next review in this list  will be the evolution power tools rage 3 multipurpose miter saw. It comes equipped with a 15 amp motor that can reach up to 2500 rpm. It also comes with a 10-inch rage 3 multipurpose cutting tool that is designed with 28 teeth, for extreme fine cuts. You can cut any material with this miter saw including metal, steal, wood, aluminum, and nail.
This model consists a maximum crosscut capacity of 12-inches in both left and right sides of the saw. It is a double beveled machine, so you will be able to tilt the blade as you need. The evolution power tools rage 3 multipurpose miter saw is CSA certified and you can perform any cutting related work in a  safe, secure, and effective manner. It comes with a 1.25 inch dust collection port which is good for clearing basic woodwork debris. When we speak of its stability, it is equipped with a heavy large base that provides more than enough. The extendable fence guard gives you perfectly straight, cross, and  square cuts. This is going to be the perfect model, if you need a simple saw that performs medium to large woodwork efficiently.
Pros:
The patented multipurpose cutting technology  is useful in many ways.
The cutting accuracy is excellent.
Powered by a 15 amp peak motor.
Cons:
Although it is advertised as an excellent saw to cut steal, the truth is, it isn't.
11. Milwaukee 12 in. Dual Bevel Sliding miter Saw – under $1000: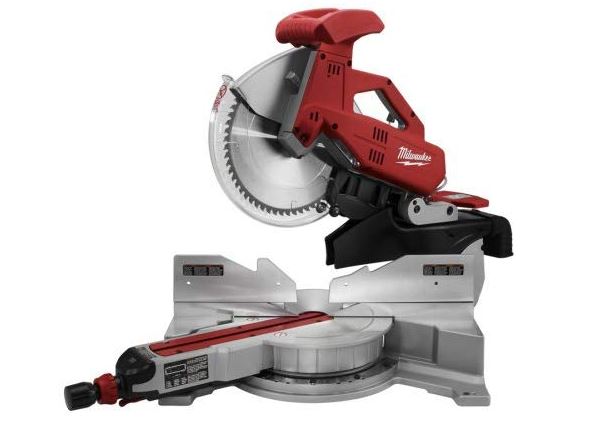 There is no substitution for this model when it comes to its quality and durability. Perhaps the important highlight to look for in this equipment is its hole blade mount and the sliding arm.  There is no doubt that it is a workhorse. You can use it for any project and acquire desirable results. The manufacturers did a really good job with its exhaust system. Instead of accumulating all the sawdust into the body and giving its owner a serious headache with regards to repairing, it ejects most of the sawdust produced by this machine.
So, there is no need for constant maintenance. The manufacturers advertise that the dust bag collects 75% of dust and debris. The miter detents are strong, sturdy, and reliable. You should keep the wood levelheaded. Otherwise, the blade will slowly creep towards you, which is dangerous. You should also keep a steady arm when you perform sliding cuts. That's okay. But you need more information. Right? To get that, you can watch the following video.
Pros:
Powered by a 3.3hp motor.
Accuracy is excellent.
Maximum bevel capacity provided.
Cons:
This machine is large and heavy.
Read more:
Buyers guide:
Miter saws are required for many different trades. Professional contractors, woodworkers, home remodelers, furniture makers, and DIYers can all use this equipment for some woodwork related tasks. If your plan is to make only the straight cuts, then a chop saw will do your job. But if you need to make all kinds of cuts, a miter saw is crucial. Let's have a look at the things you need to know before purchasing a miter saw.
1. What are the types of miter saws are available in the market?
Basic miter saw:
If you only have to finish small projects, or if you want to get crosscut, trim cut, and a miter cut, a basic saw is absolutely the right equipment for you. However, you need to take certain things you must consider before purchasing a basic saw. There are a number of limitations in a basic miter saw. It doesn't have a bevel option. But, you will still get accurate cuts for your simple projects.
Compound miter saw:
Compound miter saws are great for making doors and windows as you can get tilted cuts. They come with bevel options. You can even adjust this tool as per your requirements to get both miter and beveled cuts at the same time. There are two types of compound miter saws available. A single beveled miter saw can give you bevel cuts in one side, whereas the double beveled miter saw will give you bevel cuts in both sides.
Sliding compound miter saw:
This is perhaps the best and a versatile miter saw you can use for a number of different projects. They have so many great features that you'll find really useful. However, these are the expensive saws in the market, and you need to spend a considerable amount of money to get them.
2. What are the features you need to consider before buying a miter saw?
Here are some of the important things you need to consider before buying a miter saw for your various projects.
Blade:
When you want to purchase a miter saw, this is the Important thing that you need to consider very carefully. Most saws come with a standard blade that is great for rough cuts. But, when it comes to woodworking projects, this is never going to be enough. If you want to have quality finish, you need to purchase the best miter saw with a more powerful blade. The blade is necessary to find out the height and the depth of cut it produces.
The blade size varies from 8 to 12-inches in its diameter. Some blades are great for cutting wood, and there are other powerful types of blades that can even go through steal with ease. For delicate and accurate finishes, consider purchasing a blade with lots of teeth.
Miter:
If you want to get angled cuts, the miter is a crucial element that you need to choose with utmost care. Many miter saws comes equipped with miter that provides angles up to 45 degrees.
Motor:
Motor will decide the power and the performance of a miter saw. We recommend you to select a machine that can generate power from 10 to 15 amps. Thereby, you will get the speeds between 3200 to 5500 rpm. If you are going to use your miter saw in your household, this is enough. But for more substantial woodworking tasks, obviously you have to select more power.
Dust collection system:
It is an Important feature to consider with regards to cleaning your surroundings and protecting your equipment. Many dust collectors tend to accumulate dust inside the machine. Hence, it is a headache for its owner to constantly maintain and repair it. So, select a dust collection system that adequately ejects the dust and debris it collects in one place, preferably a dust collection bag. This will also help to clean the harmful dust and protect the blades for a long time.
Laser guide system:
Although it is an optional feature, it'll be very useful for you to create accurate and precise cuts.
Electric brake:
One of the essential safety features you need to consider when you want to purchase a miter saw is its electric brake. Because it reverses the flow of electricity, the blades stop spinning immediately, in case  your hands unknowingly come in contact with it.
Rpm:
The amount of rotations per minute determines the performance of your miter saw. It also indicates how fast, and smooth with which it cuts wood. If your plan is to use the saw for cutting other materials than wood, make sure that it gives the right quantity of rpm. Usually, the softer the material with which its manufactured, the lesser rpm it gives. So, you must look at this feature very carefully.
Fencing:
When you are trimming or molding, a taller fencing is a necessary thing to have. In all sense, a taller fencing is good, but if you constantly work with tall pieces, then this is going to be your go to feature. A lower fencing is absolutely fine for cutting lumber, but when it comes to thicker pieces, they will be laid flat than on an end.
Accessories:
This is where you can decide whether you need this equipment or not. For example, laser guide allows you to have quick and accurate cuts. But how many saw brands include this is a question to be answered honestly. If you are concerned about precision, then you can pull the saw blade without turning the motor on.
You can touch it with your hands to make sure you have positioned it correctly. It is a surprise that our expensive models doesn't have a laser guide. Whether that is a tactical decision to sell the laser guide as a separate equipment, or  they thought that people who are ready to spend hundreds of dollars can do without is a question that needs concrete answers. Depth stops are real good for dado blades. But guess what happens? You are right. The price increases. Unless you don't plan to cut joinery with your miter saw, it is not needed.
Dust bag:
Just like a dust port or a dust collection system, the dust bag helps you cleanup faster. Choosing a model with this feature is an added advantage. The dust bag typically attaches to the back of the saw and collects dust produced by you. A good dust bag accommodates 75 % or more dust and can be easily removed for cleaning purposes.
Scale markings:
You should have a closer look at the scale markings of a saw before you decide to purchase. This will help you to use it with ease and mark your workpiece to get accurate cuts. Also, these markings should have clear numbers and letters that you can see easily, and the scale should include fractions. Because sometimes, you may have to cut boards that are smaller than the standard measurements.
Blade guard:
According to our research, the blade guard system was first developed by the highly regarded SawStop brand. Although this feature was introduced in table saws, after sometime, it was adopted by the miter saw manufacturers as well. Now that we know a little history about the blade guards, here's why you need it in a machine such as this. A good blade guard will protect you from miter saw related accidents. As the blade spins, it should protect you from getting in contact with the saw blade. For that, it should sit to the side of the miter saw. Some models also come with blade cover that you can use it to cover the blade, as you store it after work.
Carbide blade:
Carbide tips ensures that the saw blade's lifespan is extended. Nowadays, many blades feature a stainless or another material with a carbide tips.
Ease of replacements:
The part and the blades should be easily replaceable, no matter what type of a miter saw you buy. You surely need to replace the blade when you are working with a hardwood or a metal. If it has a easy replaceable parts that is readily available in the market, you will not waste much time in searching for it.
Cost:
Even though the cost comes last in our list of features you need to consider before buying a miter saw, this should not be the last thing you think of. In fact, you should consider this above all else, if you are on a tight budget. Some saws are more costlier than the other. For instance, sliding saws are more expensive than the compound and all others, mainly due to the added mechanisms it requires to keep it safe and useful. But, if you want to cut a lumber, then a sliding saw is indispensable. For achieving best results, instead of thinking only about the price, match it with your needs when purchasing.
3. Who needs a miter saw?
If you constantly work with wood, or a wood related work like cutting, then you definitely need a miter saw. But remember that this machine is not for everyone. Most carpentry projects require wood angling and cutting. For that, your only option is to purchase a miter saw or a miter box. We recommend you to buy a miter saw. Because with this equipment, you'll be able to get crosscuts, angled cuts, beveled cuts, and straight cuts with ease.
4. What is the use of having a miter saw?
When you get in to woodworking, you need certain tools in order to keep you  on the right track. One among them is a miter saw. It will provide you angle cuts, crosscuts, and straight cuts with ultimate ease. There are many number of tasks that can be completed with a miter saw. They are,
1. You can have crosscuts.
2. Get angle cuts easily and efficiently.
3. Single and double bevel cuts are possible.
4. You can make regular board cuts with ease.
5. Compound angled cuts are a breeze with a help of a miter saw.
6. General DIY work such as  house remodeling and hardwood flooring is seriously easy.
Conclusion:
If you have a woodwork shop, a miter saw is going to help you in so many ways. It will make complicated cuts in to a real easy one. Buy the one that will fulfill your needs rather than simply looking at its price tag. It will also give you a piece of mind in the long run, and it'll make  more difficult cuts into a downright enjoyable. We hope this review and  buyers guide would have helped you in selecting a suitable saw for yourself. Want to voice out your opinion about this article? please do provide them in the comment section below!