Selecting the best HDTV antenna isn't an easy task. It does take way more effort to land on the right one. That's why we've put together such a detailed guide.
This post is close to 5000 words, and it isn't a cheap review that you find all over the internet. Yes, it takes time to read this guide fully. So if you are serious about purchasing an antenna that suits your home needs, read on!
comparison table: the 11 best HDTV antennas
Best outdoor HDTV antenna reviews:
1. Antop Indoor/Outdoor HDTV Antenna, best outdoor tv antenna for home owners on a budget:
If you are a home owner and you aren't sure where you will get the best reception, then the Antop Indoor/Outdoor HDTV Antenna may be the one you should choose. Whether you fix it indoors or out, this will give you the highest amount of quality and clarity that you've never experienced before in a low priced item.
When we speak about the quality, it provides respectable performance in terms of signal pickup, and you won't get a device like this in such an affordable price point.
It is a flat paneled indoor/outdoor hdtv antenna and has a 60 to 70 miles of range. It goes pretty well with the new generation tv sets.
This is not one of those antennas where you have to mount it on top of the roof of your house in order to get a larger coverage. You can place it inside the attic area, or let it sit outside of your home, and you can still get your favorite channels!
There is a stand that comes with the antenna to help you set it on a tabletop. You don't necessarily have to put it near a tv to get adequate reception. Keep it near a window or an open area and you will be able to pickup most frequencies.
Another great thing about this antenna that we forgot to mention is that you can even install it at your balcony. This is a wonderful news for those who live in apartments.
Seriously, this is a versatile equipment and it's not like the old school antennas for sure. Using a standard coaxial cable, you can plug one end at the back of your tv and insert another end into the antenna. Then, boom! Turn up your tv and start watching your favs!
Finally, you can watch both 1080p and 4k videos without any interruption, and say bye to your cable, and enjoy the new flat paneled bayb!
Pros:
Receives both UHF and VHF signals effectively
Great amplified reception.
Works both indoors and outdoors seamlessly.
Cons:
Doesn't come with many hardware that are needed to install it outdoors
2. 1byOne Amplified Antenna, best unidirectional amplified outdoor hdtv antenna:
This in demand tv antenna comes from a company called 1byone. Their amplified outdoor digital antenna is a hot product in the hdtv antenna market for some good reasons.
It is small, yet it is made of sturdy material. This antenna is equipped with a coverage range of 85 miles and accurately receives both UHF and VHF signals. What's attractive with this device is its easy operational system.
Setting up the antenna is pretty simple, and you'll be able to watch your favorite tv channels in no time after the installation.
First, unfold those VHF elements.
Then, fix the antenna to the J mount, included with the package.
Next, attach the one end of the cable to the antenna and the other end to your tv set.
That's it! You just setup to watch tv without a cable connection!
Its manufacturers take immense pride in producing top notched products and highly advanced signal reception technology. It is seriously easy to assemble with its J mount pole, and you don't have to purchase a separate antenna mast.
The high gain, low noise preamplifier helps you to capture those long range signals accurately. If you are planning to install it into the attic, this amplifier is going to be of great use. Also, this is included in the package itself, so it is extra sweet.
As we've mentioned earlier, this antenna receives UHF, high and low VHF channels, and the amazing part with this equipment is it also receives radio frequency channels as well.
It is an unidirectional device, so you need to point it towards a nearest tower in your location to get the most out of it. Because it comes with a preamplifier, you can connect the antenna to more than one tv set. Just make sure that when you attach multiple tv sets, you include a splitter. That way, you won't face the unnecessary signal loss situation. But if you are getting less channels due to the splitter, consider including a distribution amplifier.
Pros:
The antenna is small, lightweight, and comes preassembled.
Made of durable material to withstand harsh weather.
Highest level of signal range (85 miles.)
Cons:
Coaxial cable is not included which is a serious drawback in our view.
3. GE Digital 33685 Pro Outdoor Antenna, best outdoor attic hdtv antenna: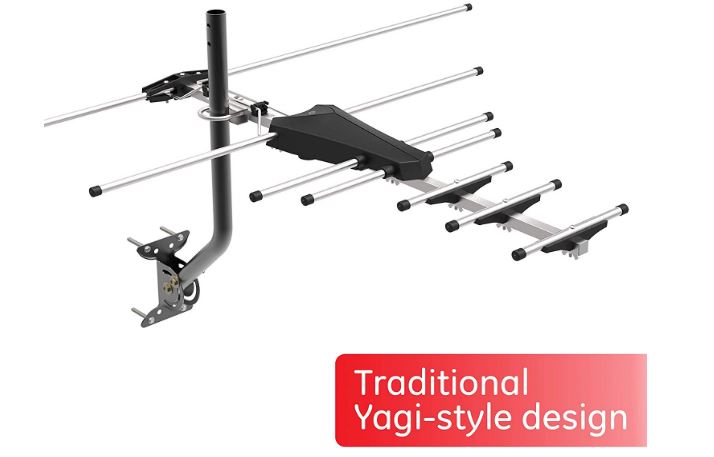 If you are planning to use a single signal point and you have decided to purchase this particular equipment, then we will give you a virtual high five. Because, this is a real pro hdtv antenna.
It comes equipped with an enhanced high definition picture quality, superior signal range up to 70 miles, and supports 4k and 1080p video formats. With all these features, even if you install it in the attic, and your roofing materials interrupt the incoming signal, it will give you more than enough reception to get every single channel you want. Pretty cool!
Above all, it is an inexpensive model, and you can connect it with a preamplifier to make your mounting experience a lot easier. It also comes with a coaxial cable and it makes attaching your tv and antenna a whole lot simpler.
If you want to know how to assemble this thing, or how to mount it properly? Then watch this video from Ebo Tec. It gives you step by step instructions to do both of them in a proper way.
Pros:
Captures both UHF and VHF signals.
Comes with a coaxial cable.
It is an inexpensive product.
Cons:
4. Pingbingding Amplified Digital Outdoor Antenna, best amplified hd digital outdoor hdtv antenna: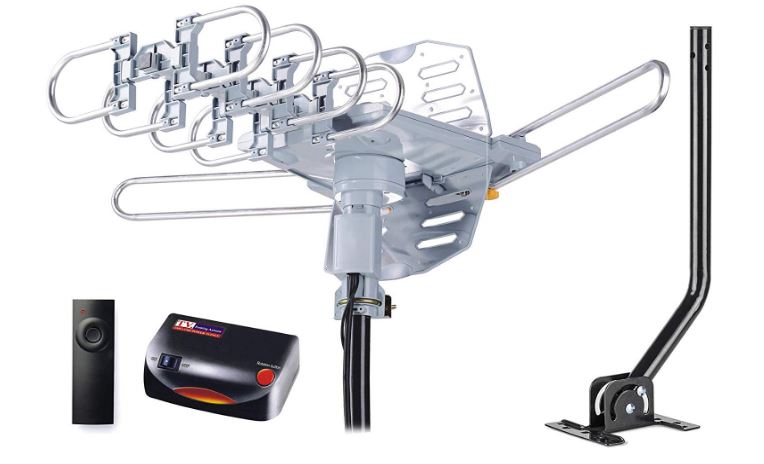 Who doesn't want an outdoor tv antenna that is specifically tailor-made for full hd digital reception? Everybody wants one. Right?
Our team at vletuknow certainly loves to own one such equipment.
Also, if you have a full hdtv  and there are so many hd channels available in your surroundings, then you should consider this antenna best for full hd usage. It can pick up the standard signals like the UHF, VHF, and the local hd ranges. For technical nerds, the frequency range is 170 to 230MHZ, and you will be able to watch 720p, 1080p, and 1080i videos.
This Pingbingding Amplified Digital Outdoor Antenna comes equipped with an in-build preamplifier, and you have an adjustable gain control. What it means is weather you have a broadcast tower near you or not, you will experience smooth viewing at all times.
Apart from all of these excellent features, there is an in-built low noise booster as well as a high gain booster. Both of these make sure that you get supreme video and audio quality.
Another good thing with this antenna is its reception range. It is 120 miles, and the installation is pretty easy as many of its parts come preassembled. You don't have to buy any extra equipment.
However, you have to purchase a mounting pole separately if you need one.
Pros:
Installation is super easy.
Reception range is 120 miles.
Includes an in-built amplifier and a low noise and high gain boosters.
Cons:
The package doesn't include a mounting pole.
5. Ailuki Outdoor Amplified HDTV Antenna, best hdtv antenna under $200: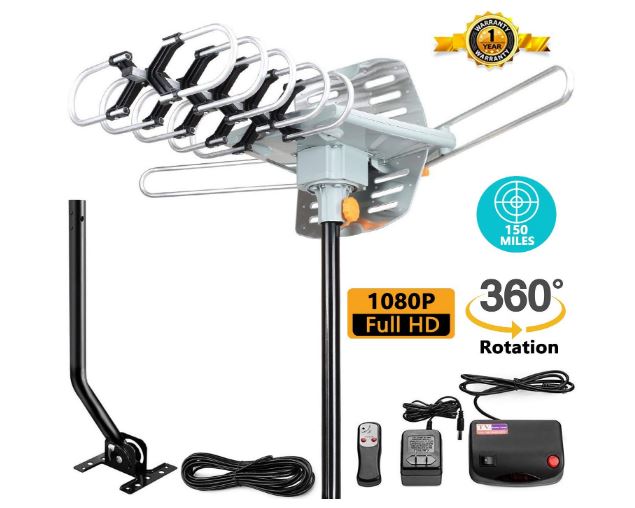 The AILUKI Outdoor Amplified HDTV Antenna is a wonderful choice for highest signal coverage, and can pick up to 150 miles range. If you are looking for an antenna that is feature filled and provides great visual aesthetics but you don't have too much money to spend on it, then you must consider getting this equipment.
With its amazing design, you will be able to rotate this antenna for 360 degrees to get accurate direction to point to.
It covers both UHF and VHF signals as well as the radio frequencies. This is possible mainly due to its ability to cover a longer range.
You can watch both standard and hd channels without any interruption. It indicates that this antenna can support 720p and 1080p video formats seamlessly.
It is made of aluminum and plastic, and that's why the AILUKI Outdoor Amplified HDTV Antenna is lightweight and compact. Setting up this equipment is real easy.
But if you want to mount it up, make sure that you do it with a pole and fix it 30 feet above the ground. This reduces the chance for interruption to a bare minimum.
Pros:
Perfect for rural and sub-urban areas.
Easy installation.
Can receive UHF, VHF, and local hd signals.
Cons:
Much of the antenna is made of plastic and it won't survive during harsh weather.
6. ClearStream 2MAX Antenna, best compact tv antenna: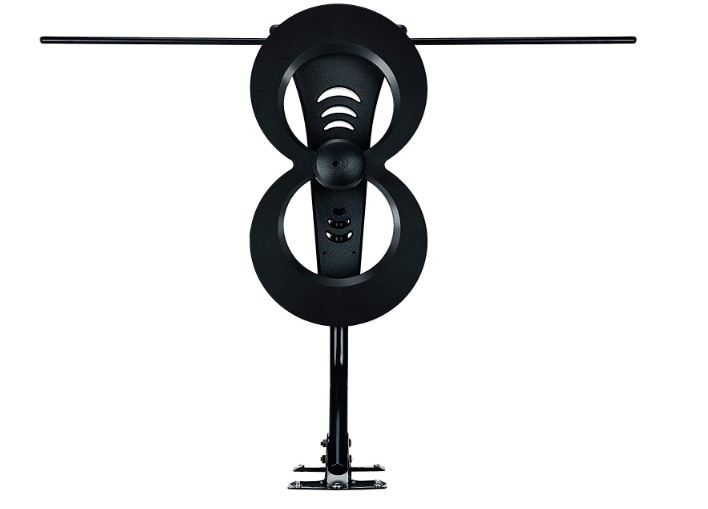 Even if you look at this antenna for the first time, it makes you feel like a promising equipment. Most flat paneled hdtv antennas will struggle to pick up particularly the VHF stations. But not with this model. It gives you both UHF and VHF channels efficiently without any interruption whatsoever.
We absolutely love the design of this antenna. It comes with a stand which will give you a chance to test it out on how it performs indoors. Remember . most tv channel signals won't do a good enough job of penetrating through the buildings. So, you invariably have to mount it outside. If that is going to be the case, then this model comes with a J mounting pole.
This will make your job a lot easier.
The package includes the antenna, a stand, a quick start guide, and a J pole. The signal strength basically depends on where you place your antenna, (indoors/outdoors.) having said that, this antenna does a fine job of covering the promised signal range both inside and outside of your house.
Just make sure that you have a quality coaxial cable and you're good to go, as the package doesn't include one. Even if you don't get certain tv channels in your area, this ClearStream 2MAX Antenna will pull all of them into your tv without any hustle.
So, if you want a tv antenna that can be used in both indoors and outdoors, locks the signal for your favorite tv channels even if they are located far away from where you are, and gives you an amazing performance at all weathers, then you must purchase particularly this model from ClearStream immediately!
Pros:
Does an excellent job of pulling in weak tv channels.
Can be used in both indoors and outdoors.
The stand that is included with this equipment can be used to place the antenna indoors.
Cons:
Doesn't include a coaxial cable.
7. Channel Master CM-4228 Antenna, best non-amplified outdoor hdtv antenna: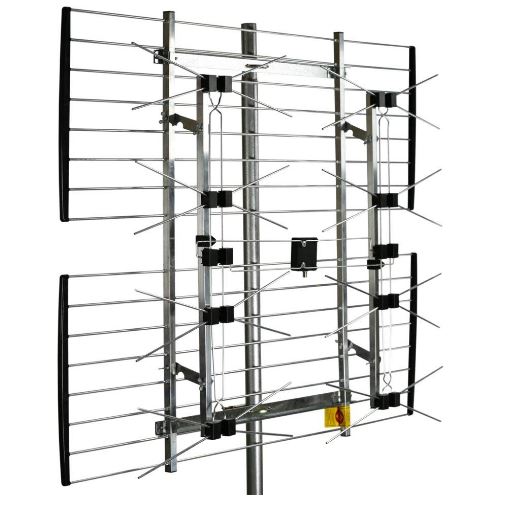 The Channel Master has a reputation for producing the strongest signal receiving antennas you can find in the market. With a 60 miles of signal range, it may not sound like an enticing amount to some of you, but we would go for an equipment that covers less signal range effectively than an antenna that covers high signal range poorly.
They have been in the market for a long time, and  gained popularity for their durability and high gain among its customers.
This antenna is lightweight and the aluminium design makes it a comfortable device to setup anywhere around your home with ease. The purpose of this antenna as advertised by the company, is to serve low reception areas as well as areas where signal is affected by the line of site obstacles such as trees, hills, and buildings.
They have so many training videos and articles to assist you in their website if you're getting started with the channel master 4228 model, which is really a cool thing.
The Bowtie design in this antenna let's you capture UHF channels seamlessly. Also, it is a multi directional equipment and you will be able to receive signals up to 180 degree arc from those broadcast towers that come under the 60 miles range.
As is the case with the long range multi directional antennas, this model from channel master 4228 isn't amplified. So, you have to purchase a preamplifier and a coaxial cable separately if you want to set it up on your roof and connect the antenna to your tv set.
All in all, if you want a strong signal  non-amplified hdtv digital antenna that is specifically optimized for UHF and VHF frequencies, then this is going to be your best bet.
Pros:
Easy to assemble.
Optimized for UHF and VHF channels.
The aluminium parts are rust free and the plastic parts are UV resistant.
Cons:
Doesn't have a preamplifier and a coaxial cable included with the package, which invariably increases its original price.
8. 8 Element Bowtie outdoor hdtv antenna, best hdtv antenna to use in rural areas:
If you want to watch all of your favorite tv channels and tv shows without having to pay a single $ to anybody else, then you should purchase an hdtv antenna that's of the highest quality, receives signals from all the directions, and priced in an affordable range.
If you already have one such equipment, good luck!
But if you don't have one, no worries!
We are here for you to recommend the best tv antenna that meets all of those quality checkpoints that we've mentioned just now.
The 8 Element Bowtie outdoor hdtv antenna is a perfect fit for rural areas, and areas that directly affects incoming signals due to the roofing material. This is the most powerful and effective antenna owing to its unsurpassable gain of 17.4DB.
This antenna covers signals up to 70 miles and makes watching tv more enjoyable than ever before. It uses a patented technology to receive signals from such distance.
What it actually does is, you can watch free broadcast of the hd channels from different networks without having to pay a dime to anybody.
Also, there are several  factors determine the effective signal coverage process, and one among them is your location.
The specially designed brackets help the antenna panels to target broadcast towers in various directions and different signal ranges. The performance of the 8 Element Bowtie outdoor hdtv antenna is simply commendable.
We have tested so many antennas in the rural setting and doesn't find a single one that surpassed its quality and performance. That's the reason why we highly recommend this product to people who are actively looking for an antenna that is really good in rural areas.
Pros:
Ideal antenna for both rural and urban areas.
Made using the latest tech.
Receives signals from various directions.
Cons:
9. Phonetone 8dbi Outdoor directional Yagi antenna, best outdoor hdtv antenna under$50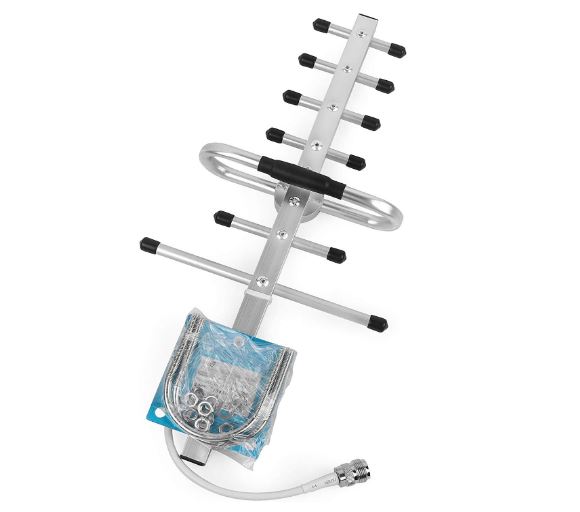 Although the Yagi antennas are outdated and they are replaced by the hd digital versions, we still love this thing for so many good reasons.
First up, it is compact, and the frequency range is the single most impressive thing by a long way. But, how do you determine whether it is the right type of antenna you need? Let's check it out!
It receives up to 900MHZ, and sure there are so many modern equipments that are going to overpower it. The gain isn't going to thrill you either, but there is a reason that the more is better adage won't work here.
Remember, more gain means more noise in the amplifier, and the injected noise will be the same as well. So, the total gain in this antenna is 8DB, and it fits the bill perfectly for this specific type.
Install it at your arm's length and we suggest this to cover various factors.
You have to align it manually.
After completing that, just bolt an aerial on and it works perfectly fine.
The weather change affects it's signal reception considerably.
If you lose your station due to weather change, you should be able to reach it quick and comfortable.
So mount it within your reach. Otherwise, overtime, it would be annoying that you have to bring your ladder out every time you lose your station.
Pros:
Affordable pricing.
Comfortable and lightweight.
8DB gain.
Cons:
Have to manually align it.
10.  Efind Amplified Outdoor TV Antenna, best compact outdoor hdtv antennas for apartments: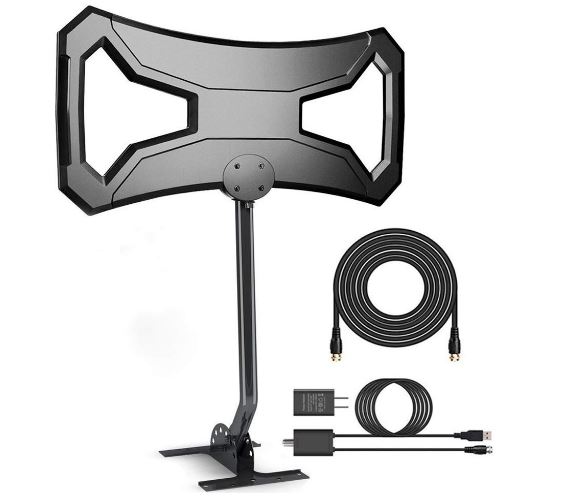 Ever wondered that a company brings creativity in their antenna manufacturing at anytime, or never afraid of doing things differently? We've tested product after product to put it into this review list and found out that only one company does this.
That is, without any doubt, the efind!
They follow a simple approach, and give you only the hardware u actually need to use.
The onboard amplifier is a super inclusion with the antenna package, but they'll tell you exactly when you need it. We are absolutely sure that no antenna manufacturers does this.
In fact, they'll include a high gain amplifier to attract you towards their product, not these gentler souls!
You need an amplifier when you are only far away from the broadcasting towers. Many suppliers won't tell you this truth.
It comes with a RG6 coax which is considered to be a premium quality cable for connecting both your antenna and your tv set. It won't compromise quality, and it protects from signal interference and crosstalk to its maximum ability.
The installation is pretty easy and straightforward. Everything comes in the box, and it is an ideal equipment for people who want their tech to be working right out of the box and user friendly.
Pros:
One of the few suppliers that offer surge protection.
The installation is pretty straightforward and the instructions manual is user friendly.
RG6 cable is included and this offers grounded shielding against interference and crosstalk.
Cons:
It isn't an omni-directional antenna.
11.  BOOSTWAVES Outdoor Remote Controlled HDTV Antenna, best outdoor directional hdtv antenna: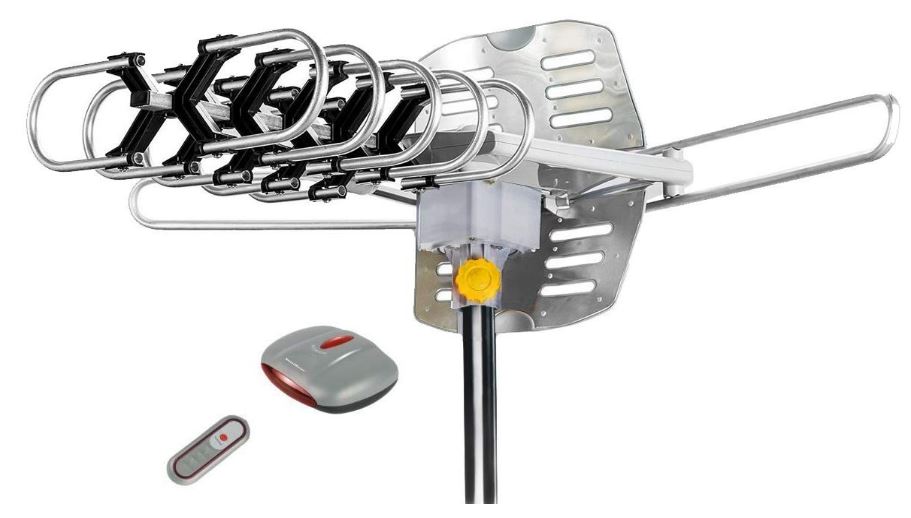 This is a powerful antenna that is built with sturdy material. It uses weatherproof design to withstand all kinds of weather related issues. Also, it is capable of producing high-quality range that allows it to capture signals from a far away distance quick, easy, and efficient.
The antenna can be rotated to its maximum amount of 360degrees, using the remote control. You can change its direction and operate it effectively.
What's more important is that this device is waterproof and as we've mentioned earlier, can stand up to the harsh weather at any season.
Another thing that we have to note here is that the antenna comes with a RG6 50 feet coaxial cable. It has a 20 DB of gain and supports both UHF and VHF channels.
Finally, BOOSTWAVES Outdoor Remote Controlled HDTV Antenna with its high-sensitivity reception can receive weak signals even in the most rural areas. So, whether you are in a rural area, suburban, urban, or in a metropolitan city, you can watch hd and high-quality channels for absolute free of cost.
Pros:
Supports UHF and VHF channels.
Can be rotated 360 degrees with its remote control.
Comes with a RG6 coaxial cable.
Cons:
Nothing negative to say about this product.
Read more:
Outdoor HDTV Antenna Buyer's guide:
After speaking with so many individual antenna users, researching and testing over 50 antennas, we've come to a conclusion that there is no such thing as the best tv antenna. Getting a perfect antenna depends on where you live and what channels you prefer to watch. There are couple of ways you can find your ideal equipment.
You can test multiple antennas.
Reading this buyers guide completely, equip yourself with adequate knowledge, and then go out there and find the right fit based on your needs.
Now that's out of the way, let's clarify your burning questions!
1. How do you choose a perfect tv antenna for yourself?
Finding out the exact tv antenna that fulfills all your requirements takes way more time than usual. In fact, it involves lots of trial and error if you are looking for a tv antenna the first time. If you don't want to go through that horrible experience and maximize your chances of getting it right in the first/second try itself, you'll have to know some key specifications.
Here are the questions you need to consider before purchasing a tv antenna.
What type of tv antenna it is?
Whether it is active or passive?
Whether it is an indoor or an outdoor tv antenna?
What type of signals it pick up?
All these factors will have a serious impact on its performance.
Important points to consider:
Don't consider purchasing an antenna that doesn't give you information about the basic factors, which we have mentioned above.
Buy an antenna that receives both UHF and VHF frequencies.
Think whether you need a directional or a multi-directional equipment.
Lookout for an antenna that has a strong signal range. Remember, more is better adage doesn't work here.
Now that you know about these basic factors, let's look at some pro stuff we tend to neglect when we want a tv antenna.
Your home's signal strength does matter:
The first and foremost thing you need to do is to identify where your broadcast towers are in-relation to your home. This will determine two things for you.
Reception quality.
The type of antenna you need to buy that suits to your specific situation.
There are hundreds of websites that tries to help you determine the broadcast towers nearest to you, but we found tv fool to be super useful and easy to navigate within.
Here are the steps you can take to find the broadcast towers closest to your home at tv fool.
Enter your full home address.
approximately calculate the height in which you will place your antenna.
If you still aren't sure about the height, leave that section blank.
After entering your exact address, tv fool gives you a personalized radial graph as well as a chart.
This will help you determine the signal strength and the tower location relative to your home.
2. How do you determine what type of tv antenna is right for you?
As we've mentioned above, depending on your signal strength, broadcast tower direction, and your home location, you need to make a list of channels that are important to you.
Then, you need to confirm whether you need an indoor or an outdoor tv antenna. Always, outdoor tv antennas will have higher reception than the indoor ones, but they are difficult to install.
On the other hand, indoor tv antennas are pretty easy to setup, yet you can't use it in your bedroom. You'll only be able to use em where the signal reception is strong.
If you live in an area that has close to perfect signal strength, then you can choose to go indoor or outdoor based on your requirements.
Choose between directional and multi-directional antennas:
Read the comparison list below and decide for yourself which direction type antenna you want.
Directional antennas only pick signals up to 50 to 60 degrees.
Multi-directional antennas on the other hand, pick signals from 100 to 200 degrees.
If your favorite channels are from 60 degrees radial, then you'll get higher reception in a directional antenna.
Anything above that or all of your channels coming from multiple directions, you are better off purchasing a multi-directional antenna.
Directional antennas will always have higher signal quality.
Multi-directional antennas will have less effective signal due to it receiving em from almost all directions.
Determine what frequency you want:
Generally, tv networks used to broadcast with the VHF signal range, but more and more networks are switching towards the UHF signals because they reach the antenna without getting blocked by the line of sight obstacles, such as houses and trees.
Your choice depends on the frequency in which your channel is broadcasted. You can also look at tv fool's frequency analysis report to know whether a channel network is broadcasted in VHF or the UHF signal range.
There is an important thing to note here. Although manufacturers advertise their antennas receive both UHF and VHF frequencies, these antennas will only receive one type of signal effectively.
Check there return policy:
Even if you buy from a reputable supplier, you need to check there return policy. If you don't get the right antenna in the first attempt, you should be able to return the equipment without any stress whatsoever.
A general rule of thumb when you look for a good return policy is to note whether they have a no questions asked section.
What does a no questions asked section and what does it mean?
Here's a step by step explanation for beginners.
Imagine you buy an antenna for your home. You unbox it. You install the antenna and quickly find out that this is not the antenna you wanted.
You go to their store whether (online or offline) and you look for their return policy, and it should have a money back guaranty up to a certain period.
It should state that if for some reason you don't like their product, you will be able to get your money 100 % back in a certain number of days, and there won't be any questions asked to you. This is known as the no questions asked section.
3. What are the factors affect your antenna's signal reception?
When you visit tv fool.com and get a tv signal analysis report for your specific location, it gives you the base predicted noise margin value for all the stations in your area.
Having said that, there are several factors that affect your antenna's signal reception capability, and  so many of them are unavoidable.
Below are some common problems that will reduce the noise margin value significantly and make it more difficult to receive a signal.
Coaxial cable: the coaxial connects both your tv set and your antenna together. The longer the cable length is, the more the signal reception difficulty you face.
Tv splitter: splitters are used to send signals to multiple tvs. If you're watching your favorite channels on multiple tv sets, then you'll be using splitters to send signals to various destinations. You'll experience approximately noise margin value of 3.5 db if that is the case.
Walls: if you use an indoor tv antenna, we recommend you to place near the exterior wall nearest to the broadcasting tower. What it does is it reduces the NM loss just about 14 db. If you are unable to place it near that particular wall, expect your NM loss to be 34 db, taking into account of all the line of sight obstacles like walls, trees, and buildings in between your antenna and the broadcasting tower.
Amplifiers: active antennas will have an in-built amplifier that'll Improve signal reception significantly. You can always buy an amplifier separately. Amplifiers reduce the noise level that builds up between the coaxial cable and your tv splitter, as the signal travels from your cable to the tv set. Yet, amplifiers are prone to build their own noise. So it is important that you buy an amplifier that introduces less noise.
4. How do you set up an indoor tv antenna?
If you are still with us , that's awesome!
Now we'll look at how to setup an indoor antenna in to your home step by step.
5. How do you setup an outdoor tv antenna?
There are several methods to setting up your tv antenna. But, here's the one we found out to be most effective.
6. What is tvfool.com's signal reception analysis report and how to use it effectively?
Throughout this buyers guide, we've been discussing the various aspects of tvfool.com's signal reception analysis report. But how do you know what sections of that report are Important? How to use it effectively to maximize your chances in getting the best possible signal reception you can?
We've got answers for all of these!
Just watch this video and at the end of it, you'll learn all about signal reception and using the tvfool.com effectively to get the max out of it.
Conclusion:
Hey, its recap time!
By now, we've learned all about the various tv antennas, the pros and cons of each brand, and the things you need to consider before purchasing a tv antenna.
We've also learned about how to setup both indoor and outdoor antennas, how to select the right antenna that specifically fulfill all of your needs, and how to use tvfool.com to get the most out of its signal reception analysis report, to find out the broadcasting towers near you, and much, much more.
We believe that this guide will serve you as a number one resource for tv antenna selection and the things involved in getting the right one for you.
Have any suggestions in improving this guide? Share them in the comments section below!