Whether you play as an amateur or a professional player, football gloves play an important role in protecting your hands. Want to know how? Read this review and buyers guide completely to know what are the best football gloves right now!
Things we are going to cover in this review:
A comprehensive review of the top 11 football gloves:
Its pros and cons.
An extensive buyers guide.
With that being said, shall we jump into the review?
The 11 Best football gloves review:
1. Nxtrnd G1 Pro Football Gloves: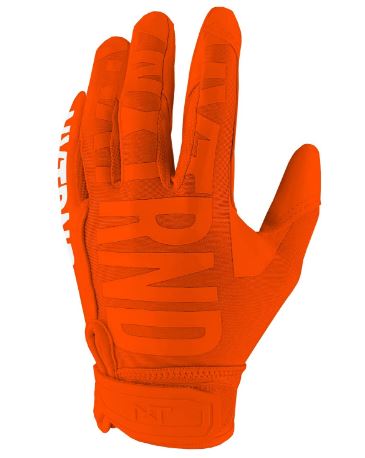 If you are looking for perfect football gloves for all day then Nxtrnd G1 pro sticky receiver gloves are an excellent choice. It comes with silicon material which provides excellent grip. And it also infused with NXT-grip formula which gives the best grip throughout the season. The Nxtrnd G1 pro football gloves are exclusively made for professional football players.
This product uses unique 4-way stretch fabric molds for shape of the hand. This helps to provide maximum flexibility to the finger. This is important while throwing the ball. At the same time, it reduces the finger twist. The material used to manufacture this product is lightweight and breathable. So, it provides maximum airflow to each finger. So, sweating of the palm is reduced nicely.
The manufacturer considers catching surface while making this product. Thanks to the large catching surface so that you can't miss the ball. The palm of the glove is double stitched and wraps around the pinky finger of the glove. There are various sizes available like adult and youth. The adult-size Nxtrnd football gloves are certified by SFIA. Only high-performance gloves have this certificate. But youth size doesn't have this certificate.
Pros:
• NXT grip formula provides consistent stickiness.
• Lightweight and breathable.
• Large catching surface area.
• Excellent wrist support.
Cons:
• Youth-size gloves not SFIA certified.
• Don't keep your hands warm during winter.
2. Adidas Men's Freak Max Football Lineman Gloves:
These gloves are a perfect set of linemen football gloves because of its thick padding. Also, Adidas produces some of the most trusted and best football lineman gloves out in the market, and their noteworthy feature is their TechFit line. The thickly moulded pads at the base of the hand and at the back of the hand make it a seriously powerful combination to have in a football gloves.
They have included their sticky Grip Tack technology so you can tackle those highballs with absolute efficiency. Heavy duty synthetic leather and a heavy duty elastic wrist closure ensure that these gloves last for a long time. Also, you can experience a superior level grip in all weather conditions thanks to its high-quality material. The integrated jam pad reduces the impact of the hard hit ball in the fingers, and you can tackle those powerful smacks without getting hurt. You can also stretch it a little bit more to optimise your performance. Finally, this glove contains breathable flex notches that increases airflow and the extended wrist cuff provides added support.
Pros:
• Uses griptack technology for achieving superior grip in all weather conditions.
• Reduces impact in the fingers through the integrated jam pad.
• You can stretch it a little bit for optimizing your performance level.
• Made of breathable material.
Cons:
• Expensive product that doesn't even last for a couple of seasons.
3. Nike D-Tack 5 Football Linemans Gloves: Best for wide receivers
Nike's products are always manufactured with premium quality in mind, and this sports gear is no exception. These are well padded gloves and Nike's hydragrip material on the palms makes it appear as beefy. The standout feature of this premium product is its wide adjustable wrist strap that protects your wrist from getting injured. You will experience a superior ball control with these gloves. Protective gel padding gives you a smooth feeling when you wear them.
Fingertip seams are an exclusive addition with this model and it reduces the impact of the hard hit ball. Also, adjustable cuffs provide the feel of elasticity when it comes to fitting with your hands. The manufacturing material includes 51% polyurethane, 35% polyester, 12% nylon, and 2% spandex at the back of the hand, and 44% polyester, 24% rubber, 17% polyurethane, and 10% thermoplastic elastomer at the palm gives you a feather like feeling when you wear them. You will get the rugged protection, so you don't have to worry about getting hurt in a battle in the trenches!
Pros:
• You can experience extreme durability with this product.
• Has an ultimate grip and you can achieve superior ball control because of its sticky grip feature.
• Gel padding that keeps your hands protected.
• Finger seams are placed to limit distractions.
Cons:
• Pricy, but its well worth it.
4. Under Armour Swarm II football gloves: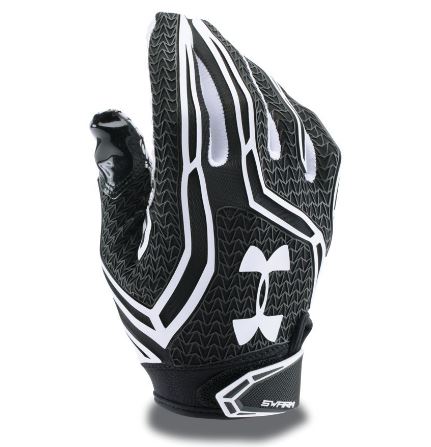 This model from Under Armour is one of the best products from them and it is an outstanding sports equipment designed to completely fulfil all set standards set by the NCAA, NOCSAE, and NFHS. You will thank its UA ClutchFit because it provides excellent grip every time you catch the ball. Also, its premium design, quality, and its features give it a professional touch and it is a favourite brand for many professional players in a short period of time.
Its heatGear fabric keeps your hands cool, dry & light. This is an extremely important feature to consider if your matches are scheduled during summer days, or you need a dry and cool hands at all time. The super-sticky armour grabTack provides you with exceptional catchability. So, if you are a receiver, it is a great product for you!
Pros:
• Meets NFHS, NCAA, and NOCSAE standards.
• UA ClutchFit technology responds like your second skin.
• HeatGear fabric keeps your hands cool, dry, & light.
• Super-sticky armour GrabTack provides you maximum catchability.
Cons:
• Some of its users complain about its durability.
5. Cutters Gloves REV Pro Receiver Glove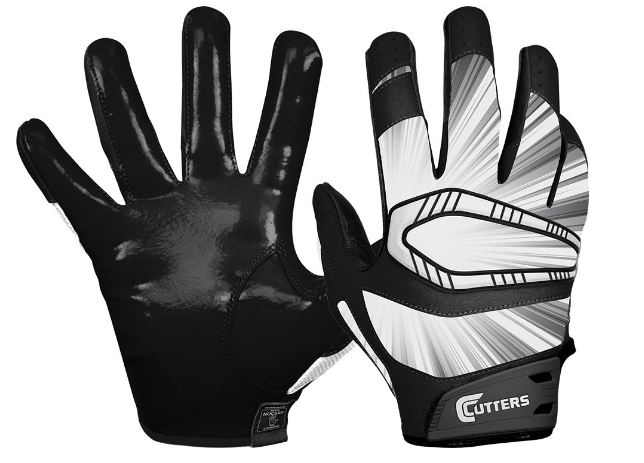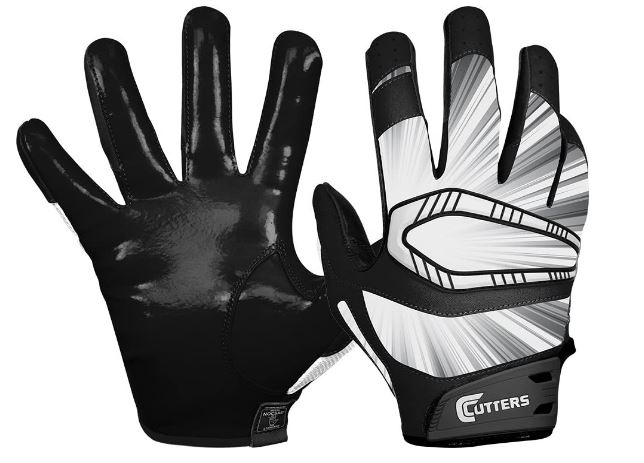 The cutters football gloves are the most sought after brand and it is so popular for its quality and durability. It is a go to product for many professionals of this sport. There is no compromise for its remarkable quality, and its manufacturers use some unique technology to produce them. Also, the rev pro model is favourite for many professionals due to its supreme grip, its unparalleled durability, and flexibility. The reason behind its exceptional grip is it is made using C-TACKTM material.
Aside from being both machine washable and dryable, they also feature a sturdy construction courtesy of their synthetic material composition. You can choose from various colour combinations which is attractive in itself. Extreme grip technology lets you have the strongest control over the ball. The perforated material gives you a cooling effect which is a super feature can't be found in any of its competitors, and it is extremely breathable. All in all, it stands up to all weather conditions and if you are looking for a highly effective and durable gloves, this would be the brand for you!
Pros:
• Extreme grip technology helps you have exceptional control over the ball.
• Made of breathable and flexible material.
• Fits snugly with your hands.
• The neoprene cuff adds wrist comfort.
Cons:
• Not durable as advertised.
6. Adidas TechFit Lineman football glove:
The Techfit Lineman gloves are a robust option from Adidas, mainly for its durability. It uses a highly exclusive griptack technology that provides exceptional grip either when holding or catching the ball. These Adidas football gloves offer maximum protection to your hands when handling the ball, unlike other brands for this sport. So, it reduces the risk of hand injuries efficiently.
Furthermore, these gloves feature a hard material layer which helps you minimize the vibration as you catch the ball, and also reduce the force as exerted by it, courtesy of their numerous layers. The entire glove is moulded in a performance grade Lycra and breathable mesh, that provides ultimate comfort exclusively to the back of the hand through its sectional padding. The heavy duty synthetic leather and a Grip Tack material provides enhanced grip in all playing conditions.
Pros:
• Griptack technology provides exceptional grip in all weather conditions.
• Made of durable and sturdy material.
• Impact jam pad at the base of the palm provides comfort and protection.
• The wrist band has a heavy duty elastic that enhances its functionality.
Cons:
• Expensive gloves.
• Low quality stitching.
7. Under Armour F5 football gloves: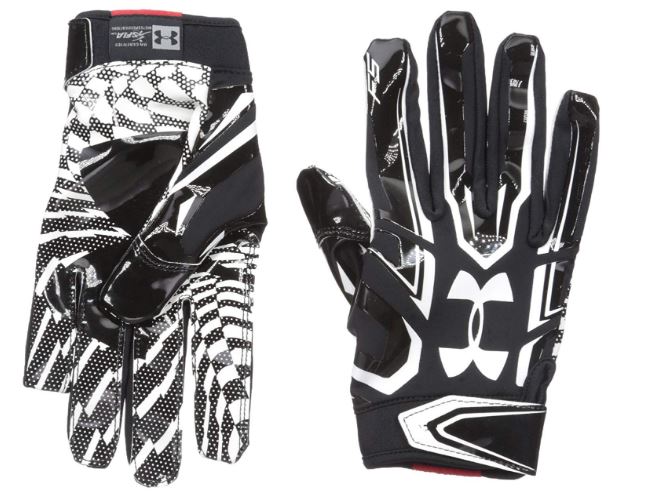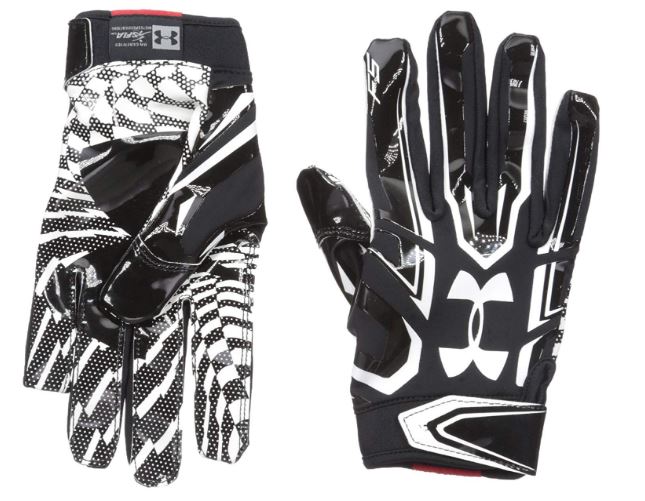 If you are looking for reliable and sturdy football gloves that never compromises on its quality and its brand's reputation, then you need to have a hard look at the Under Armour F5 football glove. It is an ideal choice for players who regularly play as receivers. Aside from machine washable and these gloves are available in various colour ranges which gives you a chance to choose your favorite colour.
Moreover, even with their inexpensive price, they still exhibit exceptional quality like no others in this price range. It features an adjustable fit which allows it to fit virtually all male hands perfectly and is precisely designed to work in all weather conditions. It is made of 100 % high-quality fibre which is the reason why it is exceptionally durable. It meets NFHS, NCAA, and NOCSAE standards, so you can be confident in buying this brand.
Pros:
• Made of 100 % high-quality fiber.
• It is built to provide maximum breathability.
• Fits snugly with your hands.
• Dries really quickly.
Cons:
• It isn't thick like some other brands.
8. Cutters Revolution football Gloves: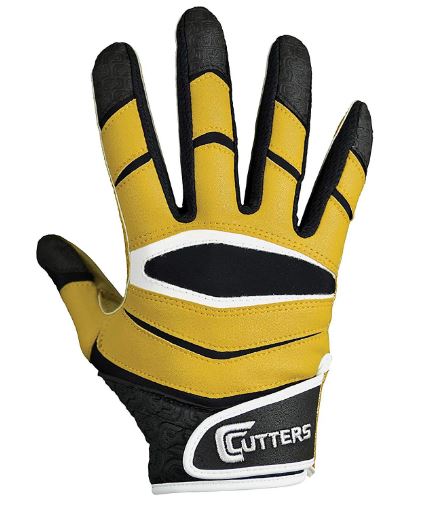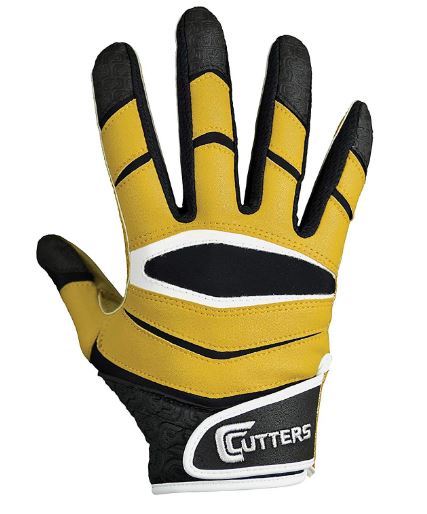 If you need football glove that can be used either for professional or recreational purposes, the cutter revolution football gloves are your ultimate choice. It offers a remarkable grip thanks to its C-Tack technology. It is highly durable, machine washable, and machine dryable. It protects your fingers from getting hurt through their sturdy finger end stitches, these football gloves also boost your performance and allow you to enjoy the game at any pace thanks to their excellent gripping attributes.
You can play the game and concentrate on it without having to worry about the playing conditions, as it is designed to perform exceptionally well in all weather condition. You can so many colours to choose from which is a wonderful feature for many of us. If you are looking for a football glove that is the strongest, most consistent, and most durable equipment, this is the one for you!
Pros:
• Machine washable and machine dryable.
• Performs exceptionally well in all weather conditions.
• Made of high durable C-tack material.
• Meets NFHS, NCAA, and NOCSAE standards.
Cons:
• Nothing really negative about this product but some users complains about its stitching.
9. Grip Boost Stealth Solid Color Football Gloves Pro Elite
If you are having trouble with catching and hanging on to the ball, then you must have these gloves from Grip Boost. These gloves are specially designed for receivers, as it has an amazing stickability and you can hold on to the ball without experience any problem. You can catch and throw efficiently as you always do. If you are playing in one of those irritating cold mornings, then your hands will be protected, and your game will invariably improve.
The gel grip protects the glove from getting wet and keeps it sticky, which will help you to play effectively regardless of the weather condition. The material used to make the gloves is thin and you will barely notice it. It breathes well so that your hands do not feel hot and sweaty which will make you to definitely love them. You will get a great value for your money and you will get a high end glove for sure.
Pros:
• They breathe well which will make your hands feel cool and dry.
• You can adjust them to get a perfect fit.
• It has a gel grip and it stays sticky in all weather conditions.
• Comfortable and really thin to wear.
• The stretch fit feature allows you to play naturally.
Cons:
• Users have had issues with the seams tearing on the gloves.
10. Adidas adiZero 4.0 football gloves: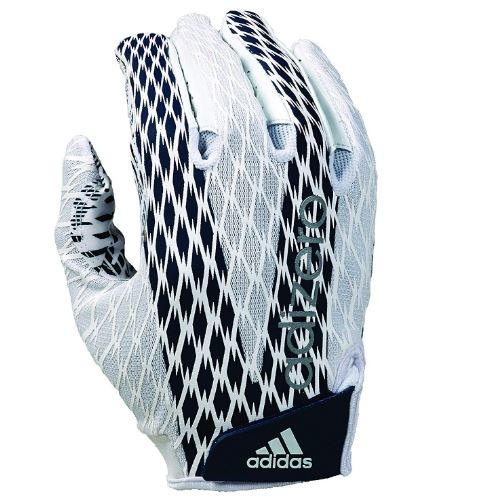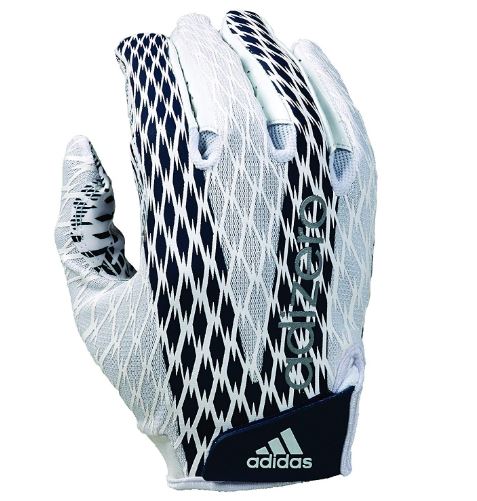 If you are a player who receives more smashes in to your gloves, then you must think about purchasing the receiver glove from Adidas. It uses a high quality glove that features a compression fabric that enables it to grip your hands tightly. This reduces the gloves from sliding out of your hands and improves catchability, which is an important part of a receiver's game. It is made out of a compression fabric and breathable material that doesn't make your hands hot. The closing tab is made of a moulded rubber that makes it strong and durable. You won't have to worry about it getting caught on anything, thanks to its design. It is of premium quality and there is no compromise on this, never!
Pros:
• Made of compression fabric.
• Provides supreme grip.
• There is a neoprene band that gives a secure wrist lock.
• Extremely breathable.
• Improves catchability.
Cons:
• It loses its grip quickly than most of the competitive brands.
• It is expensive which you can expect with this premium quality brand.
11. Franklin Sports Receiver football glove:
If you are playing as a receiver, you know the importance of catching and holding on to a football more than anybody else in your team. This is mainly because you stay as a bridge between the win and a loss for your team. Having said that, the Franklin Sports Receiver football gloves provide you an exceptional grip in all playing conditions.
The bright colours also make it easy for the quarterback to spot your hands. It has more rubber coating on the palms and the tacking is so high which helps you to have a firm control over the ball. They are made with the same cloth that is used to make football jerseys. This helps to increase its breathability and you will love how they feel in your hands.
Pros:
• The wrist has an elastic band that helps it to fit securely in your hands.
• Comes in bright colours.
• Made of football jerky cloth.
• The high tack rubber lets you grip the ball with absolute efficiently.
• Highly durable.
Cons:
• Not as tacky as advertised.
Read also:
Buyers guide:
1. How to choose the excellent football gloves for yourself?
There are several things to consider if you want to purchase a football gloves for yourself.
Here is a checklist to consider.
Player position:
The player position is a key thing to consider when you are hunting for the great football gloves. Hence, it is imperative that you must carefully select the gloves that exactly suits your position. You hold a different role with various responsibilities. Thereby, it is a simple logic that not all pairs of football gloves are manufactured equally. The gloves made for wide receivers are different from the glove made for linemen. Also, the lineman gloves will invariably differ from the defensive backs. This is the ultimate reason why we again and again stress the fact that you must pick the right pair of gloves to play at your full potential. In order to aid you in selecting the perfect football gloves that completes you as a player, lets discuss the various types of football glove that suits different positions.
Receiver gloves:
For the major part of the time, receivers handle the ball than any other player in the team. There is no room for mishandling the ball on the part of a receiver. So, if you are playing in that position, you must buy a pair of gloves which has a superior grip. Also, gloves that is made of lightweight and breathable material is your best bet. Receiver gloves are generally made of perforated material that completely eliminates slippage and moisture accumulation. Finally, minimum to no padding is recommended as it helps you to firmly grip the football.
Lineman glove:
During the play, lineman serve the purpose of  frontline defence. Although the lineman don't handle the ball frequently, they need gloves with several layers of padding to keep their hands safe from unwanted injuries. Both defensive and offensive lineman use same gloves which contains lots of padding. Also, a lineman needs a firm grip to block opponents in their strides if needed. Furthermore, a lineman needs a pair of glove that has an exceptional wrist support that protects him from a wrist injury, which may see him out of the team for weeks or even months.
Quarterback gloves:
If you are a quarterback, you would have known the importance of wearing a correct gloves suitable to your position, as you will be in contact with the ball during the entire play. So, you need a breathable, lightweight gloves that is made of perforated material with a superior level grip, which will help you to make your passes smooth and effective. Also, you must choose with a minimum padding and some tack to compliment the primary needs of your position.
Defensive back glove
Defensive back is an extremely demanding position that requires agility on the field,  a really strong grip, and an exceptional football skills. Also, having a high quality football gloves is a topmost requirement to be successful DB in your team. You must look for a pair of gloves that contains thick padding in order to avoid unexpected injuries. Lastly, you should look for a strong wrist strap, as you are always looking to interrupt passes which increases the chances of your wrist getting injured.
Running back glove:
Players in this position generally don't afraid of contact as it needs a sturdy professional to spot an opening and get through the defensive line as quickly as possible. So, it is imperative that a player expects a lot from his gloves as their role in the team is susceptible to injuries. Therefore, having a superior grip and a thick backhand padding is essential,  because bursting through the defensive line is not a joke.
2. What features you need to look for in a football glove?
When it comes to purchasing a football gloves, you need to consider its features very carefully. Having a high quality football gloves is advantageous in many ways. Generally, a good pair of gloves gives you ultimate comfort and protection to your hands and enhances your performance at all times. After reading this section, you will be able to identify many features listed here are being advertised consistently in all the top notched brands.
Grip:
One of the essential features you should look for in a football gloves is its grip. When you have a gloves that provides superior grip, you don't have to worry about slippery hands. With this feature, you can firmly hold the ball while catching an opponent's pass. Now a days,, every football glove that comes into the market seems to be equipped with stellar grip that ensures strong and steady grasp on the ball every time. One thing is to note here, whatever brand you choose, it should secure your fingers, palms, and your fingertips at all costs.
Breathability:
Every best football gloves that's currently  available in the market provides good breathability throughout  your palms. Also, every manufacturers  of football gloves use a separate material across the entirety of the glove to achieve excellent airflow. This is a necessary feature because it avoids slippage during match time. This also ensures that your hands stays dry, cool, and comfortable.
Comfort:
If you don't feel comfortable wearing your football gloves during play, there is no point in having it with you. This aspect has a direct connection with your performance. Selecting the perfectly fit glove for your hands is the first step in upping your game. It is a best practise to seek the help of a size chart and measure your palm size to get a comfortable fit.
Design and appearance:
Football gloves are marketed in so many different colours, impeccable style and fabulous palm designs. It is absolutely important that you look good on the field which increases your confident level, and that will inevitably enable you to play well.
Material:
Great brands are built with a high quality material that provides consistent performance in all conditions. Its premium quality material ensures its longevity even after a prolonged usage. When you are looking for a pair, look for a gloves made of stretchable, synthetic material. Also, examine its stitching, fabrics, and grips as these areas can cause the most discomfort.
Durability:
You should find a balanced football gloves that isn't going to tear apart easily, and also not made of dense padding. Less quality fabric means the pair cannot last long,  and thicker padding means it is difficult to control the ball. But, if you are going to find a perfect balance of both, then you are going to rock for sure!
Protection:
Most of the manufacturers neglect backhand protection, while they provide significant protection to the fingers, fingertips, and the palm area. Many pairs are produced in this way and it increases your hitting power. But if you have a glove that is made of thick padding, it is less likely to be flexible. So it is a recommendation from our side that you use lightweight gloves.
Padding:
Padding determines the amount of protection you are going to get in order to reduce the risk of hand injury. Added padding means reduction in pressure when you catch the ball, and protection against hard hits.
Price:
You get what you pay for is a maxim that fits perfectly when it comes to purchasing sports equipment and protective gear. Although there are some exceptions, generally, football gloves are costly. So, in order to get a quality product, you need to spend a little extra when purchasing for yourself.
3. What are the types of football glove available in the market?
There are 4 types of football gloves available in the market. They are,
1. Adult skill position football gloves.
2. Adult lineman football gloves.
3. Youth football gloves.
4. Football coaches gloves.
4. What is the difference between a lineman football gloves and a receiver football gloves?
Football gloves drastically improves your performance on the field. It protects your hands and gives you added control over the ball. Every player's preference is different. But, when it comes to determining the quality of a pair, we should consider the level of protection it provides to your hands, the amount of grip it has in all conditions, weight, flexibility, and fit. We will look at the major differences of a lineman and receiver gloves to get a better idea of what it exactly used for.
Receiver gloves:
Although we have explained you in detail about the major differences of a receiver gloves and lineman glove above, we will once again look at it briefly to understand the usage of it. Receivers need to control and hold on to the ball than any other player in the team. They should also have to be alert and agile when piercing through opponent's defensive line. Hence, their gloves should feature enhanced palm grip, extended tack, light padding on the back of the hand to protect a player from the impact of the fiercely struck ball.
Lineman glove:
Lineman gloves are built harder and tougher to protect their hands and fingers from getting injured/damaged, as they take on the hardest hits during the match time. Every lineman gloves features heavy and durable material, rigid padding, no tackiness on the palm, and an extra layer of padding at the palm and the back of the hand to protect it from impact.
5. How do you find a perfect football gloves for yourself?
In order to find the quality football gloves for yourself, you must understand what type of gloves you want to have with you. Think about these questions before deciding to buy a particular brand. Normally, what is the position you play in a match? What is your skill level? Under which category you play? What is your age? If you answer these questions, you will be able to get an idea of what type of glove you need to purchase. Another thing you have to consider is your budget that offers the exact elements you got to have in order to up your game. Finally, if you want to increase the lifespan of your football gloves, there is a simple solution! Want to know what it is? Take good care of it. Simple!
6. What are the types of grip that each brand offers?
Every brand has its unique design and style and they offer various level of grip and tackiness to aid you to control and hold on to the ball efficiently. Actually, you must consider the grip very seriously if you are a receiver. There are 4 types of grips available in the market. Although these types are brand specific, they are the ones that has a highest grip quality. Here they are.
1. Cutters c-tack. One of the powerful and long lasting grip that you can experience.
2. Armour grabTack. Provides extreme level of sticky grip.
3. Neumann Tackified leather palm. It can only found in the Neumann brand and it gives you a natural feel when you wear them.
4. Adidas seamless double coated high gloss silicone palm. This brand's glove provides solid grip that extends around the thumb area for an exceptional ball control.
7. Why does a football player needs a pair of gloves that is specifically designed for this sport?
Generally, football gloves are used to catch the ball effectively and protect the player's hands from unwanted injuries. Having said that, the football gloves are first introduced way back in the year 1939. Since then, its design and its features have been improved significantly to make it more attractive for its customers. Without these football gloves, the players will suffer consistent injury. Thanks to the technological enhancements, athletes can now protect their hands more effectively by using football glove.
8. What are the benefits of having a football gloves with you as a player?
Football glove provides great benefits to you whether it is cheap, pricy, or anything in between, like many other sports equipments. These benefits can be utilized during practice sessions, or in the match day itself. Here are the list of benefits that you can experience when you are wearing a pair of football gloves.
1. Football gloves helps you to control and hold on to the ball efficiently.
2. It performs exceedingly well in all weather conditions.
3. It keeps your hands warm and healthy.
4. It protects you from harmful and devastating hand injuries.
Conclusion:
We have spent countless hours in testing and researching for the top rated football gloves available in the market to present to you. We sincerely believe that this list of top 11 best football gloves review will help you select the top brand for you, or for your sun/daughter. We request you to read and understand the buyers guide before making any purchase from this list as it contains some invaluable information. Read this entire guide, select the awesome football glove possible, and enjoy your play at all times!