20 Best Boxing Gloves in 2023 (For beginners)
Whether you are just getting started in boxing, or you are a pro in the sport, you need quality boxing gloves. In this review guide, we are going to look at the top 20 boxing gloves. Read this article fully as we take a deep look at boxing gloves for all levels especially for beginners and budgets.
Comparison Table: 20 best boxing gloves
The 20 Best boxing gloves reviews:
1. Ringside Apex Boxing Gloves, best boxing gloves for beginners: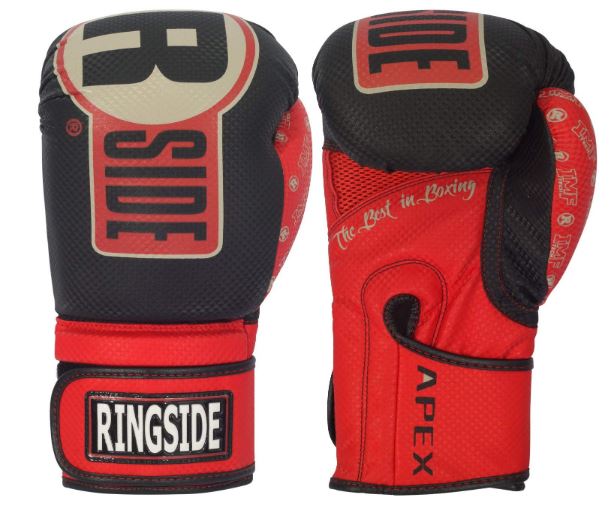 When you want a boxing gloves for a beginner, don't go further than the Ringside Apex Boxing Gloves. It is going to be a perfect fit for beginner boxers. Similar to most of its competitors, it is being manufactured in multiple colors. It is also the bestseller in most online and offline stores and you won't be able to simply ignore it. These gloves include a tapered wrap-around closure that provides non-slip secure wrist support. The full hook and loop closure gives you the flexibility to wear and take it off pretty easily.
You can also use these gloves for MMA, Muay Thai, and kickboxing. The Ringside Apex Boxing Gloves has a stay dry lining that promotes microbial protection and the ventilation holes in mesh palms and thumb that dries out water and sweat efficiently. Thereby, you will feel ultra comfortable when you wear this pair. Although this glove is little expensive, the ringside apex boxing gloves are the best pair that you can recommend for a beginner boxer.
Pros:
Durable synthetic leather construction for easy cleaning.
Comes equipped with anti-microbial liner
Multiple color options to choose from.
Ventilation holes to easily and quickly dry up water and sweat.
Cons:
2. Winning Training Boxing Gloves, best gloves for heavy bag training: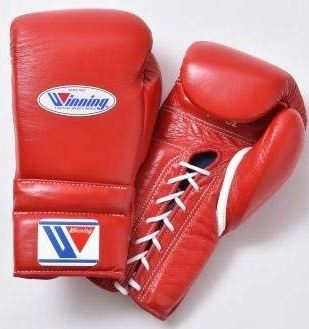 The Winning Training Boxing Gloves are seriously the best gloves for boxing professionals. Usually, pro boxing gloves are expensive and this product is not going to be an exception. If you are a beginner boxer and this is the first time you are purchasing a boxing gloves, we wouldn't recommend this specific pair. Winning gloves offer lace-up as well as Velcro option. You have multiple color choices to choose from and that will enable you to select your perfect pair with absolute ease.
These gloves are a great pair for both heavy bag training and sparring. The Winning gloves are made of strict quality guidelines and manufacturing standards. We have tested this pair by wearing it in a heavy bag session. It felt really good and your hands and wrists are never going to get hurt. We can confidently say that the Winning boxing gloves are the best gloves for heavy bag training.
Pros:
Ultra comfortable to wear with soft hand protection and extra foam padding.
Great pair for all sought of training related to boxing.
Made of high quality leather material.
Multiple color options to choose from.
Cons:
Only suitable for pro users.
3. ProForce Leatherette Boxing Gloves, best gloves under $50: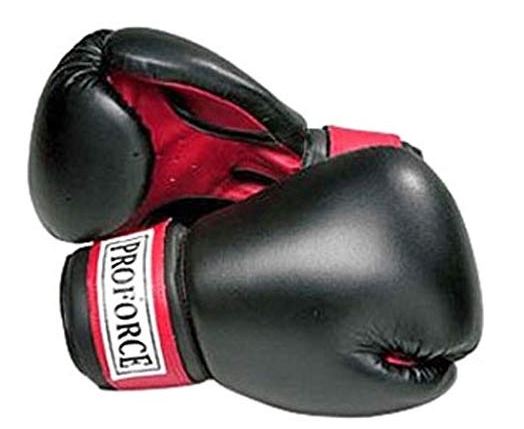 If you are an occasional boxer and you need a pair that suits you perfectly, then look no further than the ProForce Leatherette Boxing Glove. If you plan to use them two to three times a week in training sessions, then these gloves will fit you exactly the way you want it to be. However, if you want an everyday pair and gloves that withstands heavy use, the ProForce Leatherette Boxing Glove may not be the right choice.
When you train with a bag, your hands won't feel the pain at all. But, against a human, don't expect the same performance. So, when you are on a budget, you can purchase this product to accommodate all your training needs.
Pros:
Great pair for training related activities.
Compact and lightweight design.
Affordable pricing.
Good for occasional boxers.
Cons:
This is not an everyday pair and it isn't durable.
4. Ringside Women's Cut IMF Tech boxing gloves, best for women: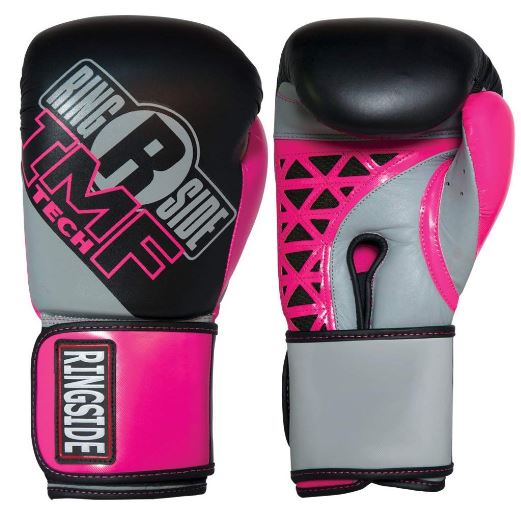 These gloves are designed specifically for female boxers. It is made of leather and vinyl combination. The internal foam padding is injection molded and provides excellent shock dispersion. Its wrist strap is 4-inch wide and it gives you exceptional wrist protection. It also helps you to securely keep your wrist in place.
But the downside is that it can take a little longer for your hands to get in and you may experience stiffness specially in your wrist area. The Ringside is a top name gear manufacturer in the boxing industry, so it is really nice that they have come up with a high quality boxing glove specially for female boxers.
Pros:
Comfortable to wear.
Made of leather and vinyl.
Attractive design.
Multiple color choices.
Cons:
With a 4-inch wrist strap, it feels stiff and requires a long time for your hands to get used to it.
5. RDX Elite Boxing Gloves: best on a budget: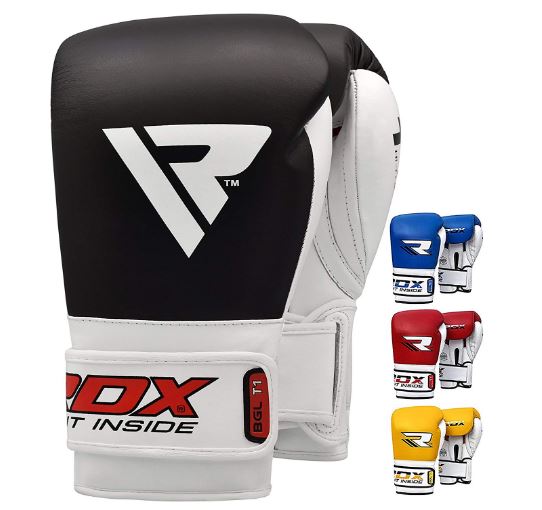 The RDX Elite Boxing Gloves is a top choice for people who are on a budget. There are hundreds, even thousands of companies producing cheap boxing gloves and none of them can come close to the value for money and high quality that this glove provide. Also, the RDX Elite Boxing Gloves brand has big advantage and reputation for selling cheap gear that does not look cheap at all. All of their products are designed in a stunning way and they are stylish and high quality.
The elite boxing gloves are in no way different to their highest manufacturing standards. These gloves are brought to you in 4 different sizes and colors with an absolutely superb look to each one of them. For maximum shock absorption, the RDX Elite Boxing Glove comes equipped with shell-shock gel infused tetra-padding, and knuckles are well layered that means the glove will take the heavy impacts, not your hands.
Pros:
Compact and lightweight design.
shell-shock gel infused tetra-padding for maximum shock absorption.
4 different color options and 4 different sizes to choose from.
Made of high quality material.
Cons:
It is not particularly a good product for people with large hands.
6. Sanabul essential gel boxing gloves: For a 10 year old: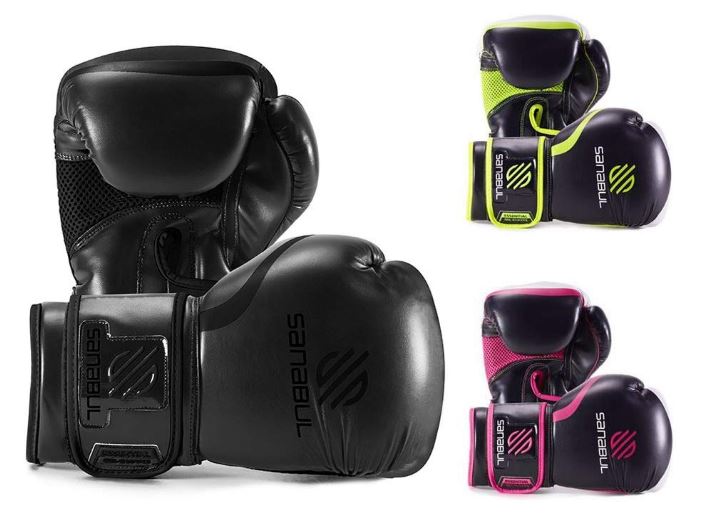 This manufacturer is known generally for their high quality products that are recommended by the boxers all around the country. The Sanabul brand produces some of the quality boxing gloves that is currently available in the marketplace. You can't always  go wrong with a pair of such a respected brand and this pair is the most wanted among the junior boxers. The important point to note with this brand is that it is small enough to fit into most children's hands, who would like to get started with the sport and start training from the first day itself.
There are some additional options available such as multiple bright color choices to choose from, which invariably attracts most younger sportsmen. The thick, durable, and strong material means that you can be rest assure that the hands, wrists, and the palms will be protected, and your youth can put it to heavy use. This perfectly made pair with leather is a great fit for intense training sessions and tough exterior will help the glove to last for a respectable amount of time.
Pros:
Attractive to the kids due to its wide range of bright colors.
Fits perfectly with all children.
Wrists and knuckles are protected with its protective foam and gel material.
Reasonably priced product.
Cons:
Tough leather means that your kid needs to use it considerably to break the gloves in.
7. Cleto Reyes Boxing Gloves: The best for sparring: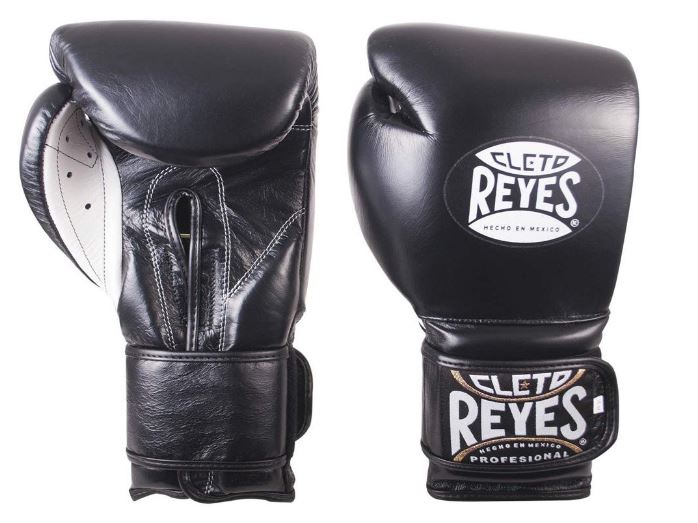 There is a lot to like about this Cleto Reyes boxing gloves. This glove is used by the professionals of combat sports all around the world. The reason why we love this brand is that they are hybrid product, and they are durable enough for heavy bag training, and much softer for sparring. The Cleto Reyes never ever disappoints with their quality, attractive design, and durability.
The Cleto Reyes boxing gloves are made of extra padding and top notched premium leather material that is considered as the top of the line quality by many boxers. The hook and loop closure makes these gloves comfortable around the wrist. Also, it is pretty easy to put on and off in between quick sparring sessions.
This gloves are never going to crack due to water and sweat damage thanks to its water repellent nylon covering. It includes a 2-inches of padding around the punch area, and this is seriously great for sparring. We strongly believe that you will get the best value for your money with this exceptional glove that is specially made for sparring.
Pros:
Made of premium leather material.
The water repellent nylon covering gives you protection with water and sweat damage.
Easy to put on and off with its hook and loop closure.
Don't feel stiff around the wrist area.
Cons:
Like all other sparring gloves, it can be expensive.
8. Venum Elite Boxing Gloves: the best cheap kickboxing glove: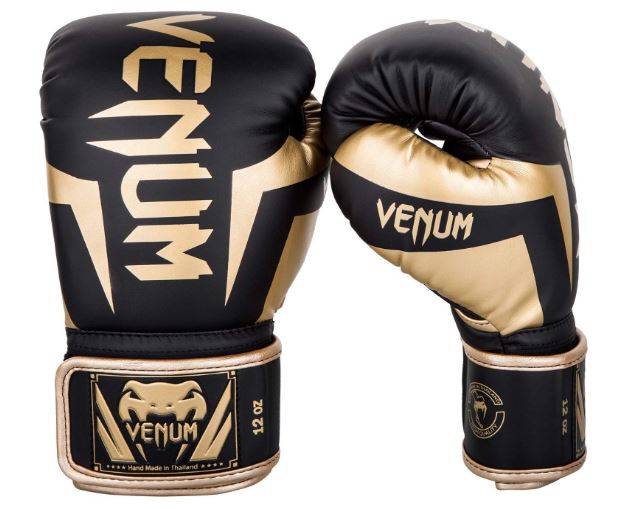 This manufacturer produces so many quality boxing gloves to choose from, and we have included this Venum elite boxing gloves simply because of its amazing features. First up, these gloves are handmade and it consists the Venum's premium skintex leather for experiencing real elite level quality. It has an unrivalled shock absorption for your hands with its reinforced palms and triple density foam padding.
The long cuffs provide more added protection and extra padding to your wrists. All the Venum gloves look amazing and this pair is no exception. You can choose from 11 different style and color options to suit your requirements. If you are a small trainer, no worries! The sizes start from 8oz and goes up to 16oz. So, no matter your size, you can find a Venum glove that fits perfectly.
Pros:
High-quality product.
Amazing design.
Affordably priced.
Sizes start from 8oz and progress up to 16oz.
Cons:
The sturdy and stiff construction is going to be a problem for people with sensitive hands.
9. Hayabusa Ikusa Charged boxing Gloves: best glove under $100: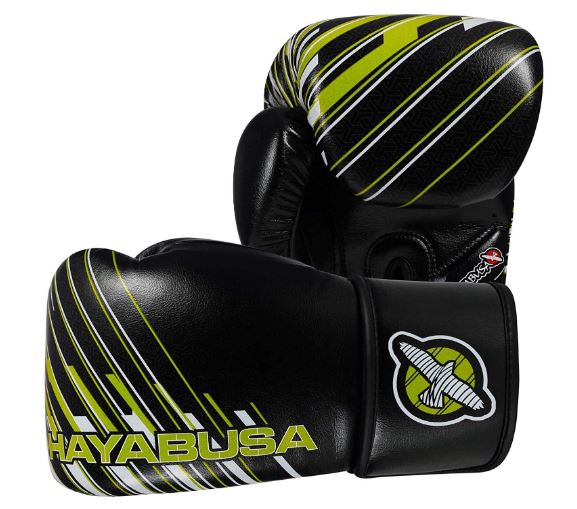 When we asked our testing team to recommend a boxing gloves that falls under $100 category, almost everybody told really high about the Hayabusa Ikusa Charged boxing Gloves. We also asked them to give reasons for recommending this particular brand. This is what we got from our team about this boxing gloves. The important reason for its popularity is that it offer duel-x wrist. What does it mean is it offers extra support to your wrist that invariably increases your striking power.
Its ergonomic design of the wrist and the thumb allows you to better position your hands so that you can avoid unwanted injuries. The alignment of the thumb with the wrist is simply extraordinary. The manufacturer constructed this glove with high-quality leather that provides a sturdy and strong feel, and that consequently gives you a rugged fit. It is not a susceptible thing to the easy wear and tear that you may experience with other brands, and thus it provides high durability.
The inner padding is ultra strong and it easily dissipates the pressure due to the impact created by the high level training. Finally, you can use these gloves for various training purposes as they are versatile in nature.
Pros:
Ergonomic design.
Highly durable.
Constructed with high-quality leather.
Offers duel-x wrist protection.
Cons:
The space inside the gloves is limited for your hands to move freely.
10. Twins Special Boxing Gloves: best durable glove: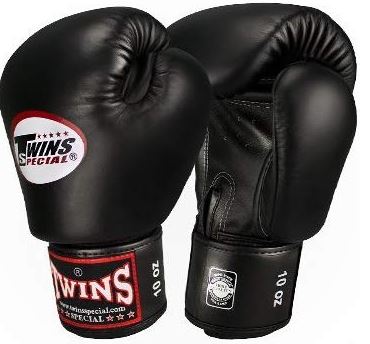 When you want a boxing gloves that is specially used for Muay Thai, the Twins Special Boxing Gloves is going to be your best choice. Also, they are the popular gloves worldwide for this type of boxing. As they are manufactured in Thailand, you will be able to see a pair of this brand in almost every gym.
You won't be able to find a Thai trainer who doesn't own a pair of these gloves. You can buy these gloves in any sports shop, and it describes the popularity it has in the country. It have a triple layer protection that makes it a sturdy and strong boxing gear outside and really soft inside.
The air mesh gives you an excellent air circulation, and thereby there is going to be no question about its breathability. The Velcro wrist fastener allows you to easily put it in and take it off in between rounds. But you have to secure the Velcro and tape its sharp edges. Otherwise, it may open or cut your opponent very badly. You would be reminded of the western style boxing gloves because of its shape and size.
Also, it looks a little bulkier with its extra layer of padding included. It takes a little more time to break the gloves in. So, it is hard to make a fist of it in the beginning stages of wearing these gloves, which invariably leads to hand and wrist injuries. Once you break into the gloves, it is more comfortable, protective, and safe. The material used to manufacture the outer part of the glove is highly commendable. It is made of high-quality leather that won't crack due to sweat and water.
Even with a regular use, the stitches won't come off as they are so tight, and that increases its durability. They won't fall apart for a long time and the glove will last for years to come. It come in many colors and styles, and the looks are just ok. There is nothing great about its aesthetics and if you don't care too much about its outer appearance, then we are sure that it is going to be a perfect fit for you.
Pros:
Made of durable leather material.
Strong and sturdy construction.
Extra layer of padding for added protection to your hands and wrists.
Come in multiple color choices to choose from.
Cons:
Takes regular usage for your hands to break into the gloves.
11. Contender Fight Sports' boxing gloves: Best defense kickboxing glove for beginners: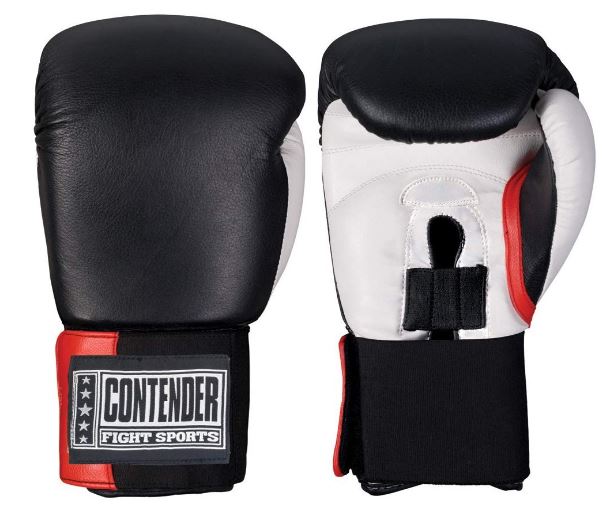 If you want a mean and budget lean pair that is also good for defense, you will surely love this boxing gloves. May be because of its affordability, you will face some issues, but all in all, it is the best defense boxing glove for beginners. Its sizes usually run big, so if you are not careful when selecting your correct size, you will get a bulkier pair. Apart from that, don't expect it to last forever, you will be able to use them for six to nine months only. You shouldn't think this as your everyday pair.
These gloves are meant for heavy bag training and it will provide you an exceptional cardio workout, when you are getting started with boxing. With hook and loop closure and a secure thumb design, you will get supreme power behind your fist, with superb wrist protection. It is made of breathable material and keeps the interior far away from sweat building. Finally, it is built with highly durable leather material which will allow you to use it for long sessions of heavy bag training.
Pros:
Affordable pricing.
Built with durable leather material.
Hook and loop closure.
Provides superb wrist protection.
Cons:
The lifespan of this glove is too short.
12. Top King Super Star Air boxing Gloves: Best for training: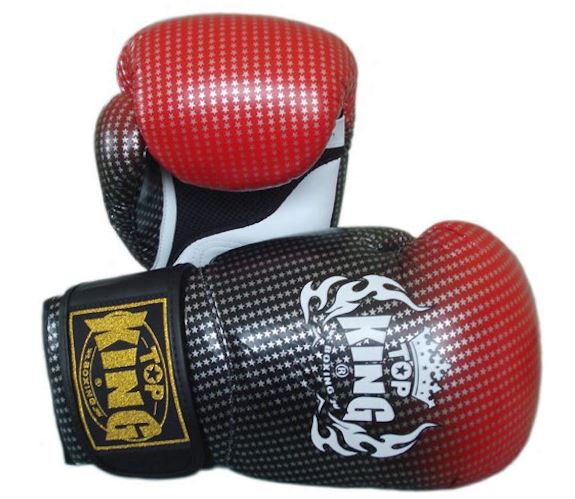 If you want to have the uncompromised best quality boxing gloves on the market, then your search ends here. It comes with series of color choices to choose from and it has the supreme quality Velcro wrist closure in the boxing glove manufacturing arena as of now. the lifespan of the glove is solely determined by how hard you use them in your training sessions. They will withstand the daily usage and with proper maintenance, you can get a couple of years out of it. The additional foam padding gives you added protection to your hands, wrists, and knuckles.
One thing you need to note here is that you need to order the right size from the get go, as these gloves don't have a break in period. The shock absorption and sweat reduction will all blend into this pair seamlessly. It is a punch packing glove that won't disappoint you at all, and it is designed to use in all training purposes. Although it is manufactured in such a way, you will get the most out of it when you use it for heavy bag training.
Pros:
Comes in almost all sizes.
Additional foam padding protection available.
Exceptional shock absorption.
The interior build is supreme.
Cons:
Loses its visual attraction fairly quickly.
13. Venum Undisputed 2.0 MMA boxing Gloves: Best kickboxing glove for MMA boxing: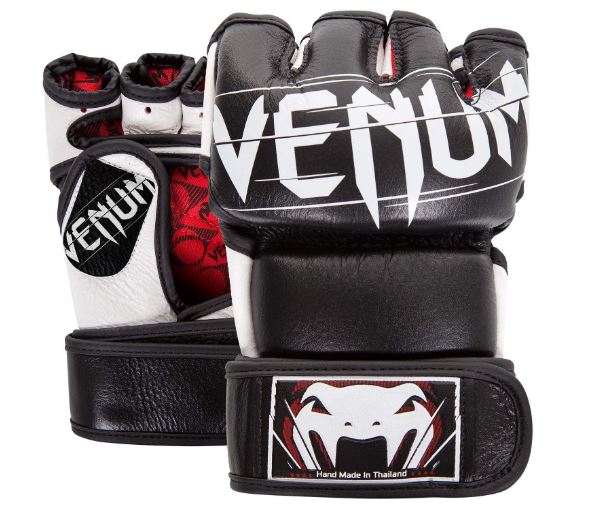 The Venum Undisputed 2.0 MMA boxing Gloves are the topmost MMA competition glove that is currently available in the market. These pairs are made of premium Nappa leather material and the quality of stitching is of the highest standards you can get. In fact, its high density stitching is the thing that attracts most of the customers to this brand. If you are an aspiring MMA fighter and you need a pair that you can wear confidently inside the octagon, then we highly recommend you to purchase this Venum Undisputed 2.0 MMA boxing Gloves. The foam layers in the glove creates an immediate comfort and a natural curve when you put them on.
Also, these gloves are designed ergonomically. But because it is made of leather, it takes a little more time as a break in period. The safety feature and the support for your wrist is simply amazing as it secures with a long Velcro system. Overall, the Venum Undisputed 2.0 MMA boxing Glove not only look good and attractive, they are built for serious MMA training and for MMA professionals as well.
Pros:
Ergonomic design.
Made of premium Nappa leather material.
Extra foam padding for added protection for your hands.
Easy to put them on and take it off during MMA competitions.
Cons:
There are only three color options to choose from.
14. Everlast Pro Style Boxing Glove: best for hand protection: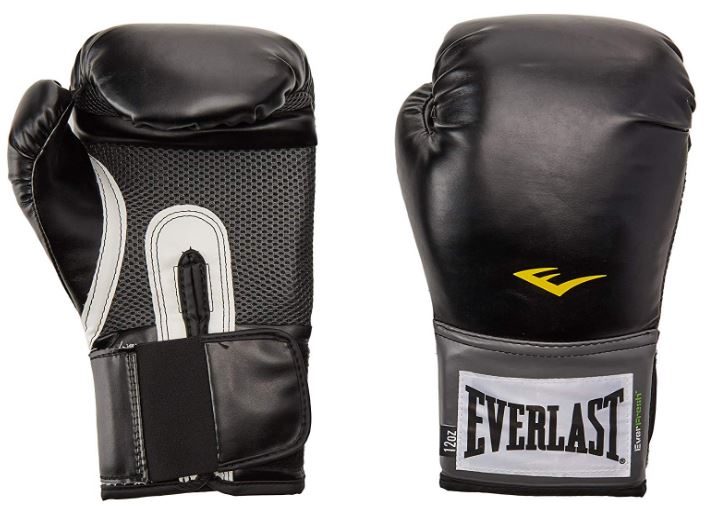 Everlast is the brand that provide serious value and great features even to this day. They are a dynamic brand and its pro style boxing glove has a longer lifespan  than all of its competitors, and in some instances, the gloves stretched up to three years of continuous use. But there is a couple of complaints that most users have about the Everlast pro style boxing glove. They are. There is a serious lack of wrist protection and massive price gap depending on the size a customer selects.
These are also a major detractors in our view as well. These gloves are really quick to adjust and they are pretty easy to wear and take off, and this makes it a much easier product for its user to pack up when they finished their training session. It also comes equipped with a thumbLok technology which is unique to this brand, that helps you to reduce the risk of thumb damage. Although the padding around the wrist isn't great, but it gives you more leeway to Improve your form and technique, and this ultimately improves your stance and power. You won't be able to ignore the Everlast brand when it comes to its quality.
Pros:
Available in three different sizes.
The thumbLok technology reduces thumb damage.
Pretty easy to slip in and take off.
Longer lifespan than many of its competitors.
Cons:
Serious lack of wrist protection.
15. TITLE Gel World Bag Boxing Glove: best glove for heavy hitters: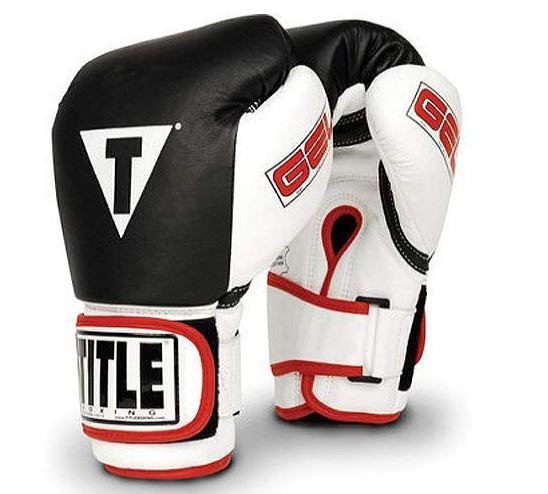 These TITLE Gel World Bag Boxing Gloves are the absolute best when it comes to purchasing a pair for heavy hitters. It is also a good gloves for heavy bag training. It is manufactured in all leather outer and a special hand compartment lining for cool, dry, and comfortable wear, and this particular gear won't disappoint you. Usually, we won't recommend gel glove, because over the long run, you will find it difficult to clean. But this TITLE Gel World Bag Boxing Glove is different.
It is super easy to clean and ultra comfort to put on. Also, these gloves are specially designed for people who have trouble in finding a comfortable pair. It will protect your hands, wrists, and knuckles when you train on the heavy bag. The gel lining makes hitting the bag much more comfortable. It is little heavier when you wear them, but when you switch to a lighter glove for a fight, your punches will feel extra powerful to your opponent.
Pros:
Comes with gel lining for extra protection to your knuckles.
Perfect to train with a heavy bag.
Easy to put on.
The fabric line keeps your hands cool, dry, and comfortable.
Cons:
Feels heavy when you wear them.
16. Trideer Pro Grade Boxing Glove, best kickboxing gloves for hard punchers: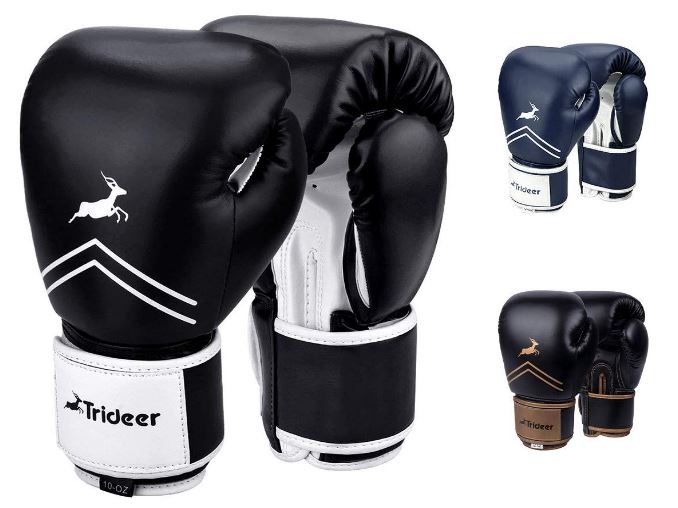 This Trideer boxing manufacturer pays serious attention when it comes to its construction and the value for the money. You only get two color options, but it shows how they care so much about the structure and quality design above all the other fancy stuff. This boxing gloves are great for both Muay Thai and professional boxing. The breathable construction and the multi-density foam padding gives it a competitive edge over others, and you will also get a lifetime customer service from Trideer which is really cool.
You will get a price variation according to the size you select, but you will have superior shock absorption and tough wrist guard in all sizes. This provides stability and it keeps your mobility intact as well. There is nothing to lose with this glove and it is an ultimate model for heavy punchers in our opinion.
Pros:
Comes with multi density foam padding.
Breathable construction for sweat reduction.
Equipped with superior shock absorption.
Comfortable to wear.
Cons:
Price varies according to its size.
17. Windy Muay Thai Safety Training boxing glove, best for small hands: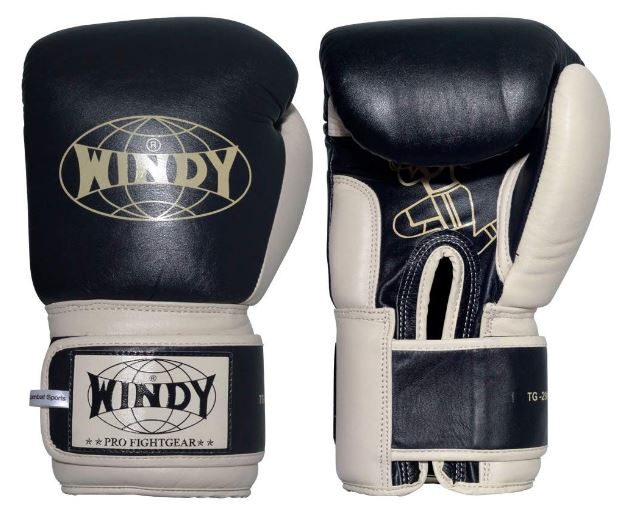 Windy is one of the manufacturers who started producing Muay Thai sport gears right from the beginning. Although the company  sells pretty low amount of glove right now due to the heavy competition in the glove market, you will see a lot of Muay Thai professionals love this brand.
They are well known for their traditional glove manufacturing, and you won't find anything fancy in their styling and design. But they are comfortable, high-quality, and they fit perfectly in to your hands, and that is the thing that most pro users want.
Although they produce a lot of different Muay Thai products, it is the boxing gloves that earned a respectable name for Windy. It is made of traditional leather, so you can expect to last it for a long time and these gloves are mostly handmade.
The foam padding protects your wrists and knuckles when you punch with your gloves on. Out of all Muay Thai equipment producers in Thailand, the Windy is the best when it comes to Muay Thai boxing glove.
Pros:
Comfortable to wear.
Extra foam padding protects your wrists and knuckles.
Traditionally manufactured boxing gloves.
Excellent shock absorption.
Cons:
Very difficult to order due to the lack of online presence.
18. Rivals High Performance boxing glove, best for large hands: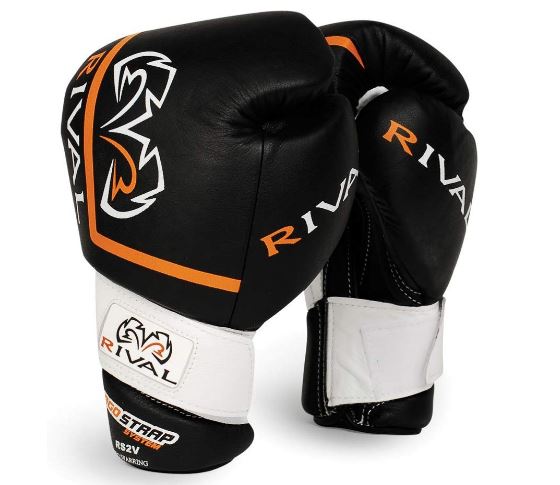 Rivals is a fairly young brand that manufacture great boxing gloves and one of their core values is to provide customers with high-quality and innovatively designed boxing gear. These hook and loop closure boxing gloves are the most popular among its products. You can use it for both training and sparring. The most interesting aspect of its design is its angled strap which also remembered as the Ergo Xtrem strap system.
This is quite different from the normal horizontal strap design. This surprising tweak serves as a biggest USP for this brand. Also, it is advertised as this feature provides highest amount of wrist support. When we speak of its size, it offers 18oz and these gloves are extremely well padded. It is made of high-quality leather material and therefore, you can expect a longer lifespan. You can hit much harder provided that you have added wrist support and protection.
Pros:
Made of high-quality leather material.
Extra padding for added wrist support.
The layered foam padding protects your hands and knuckles.
Angled straps available.
Cons:
Not many color choices to choose from.
19. Venum Contender Kids Boxing Glove: best gloves for juniors: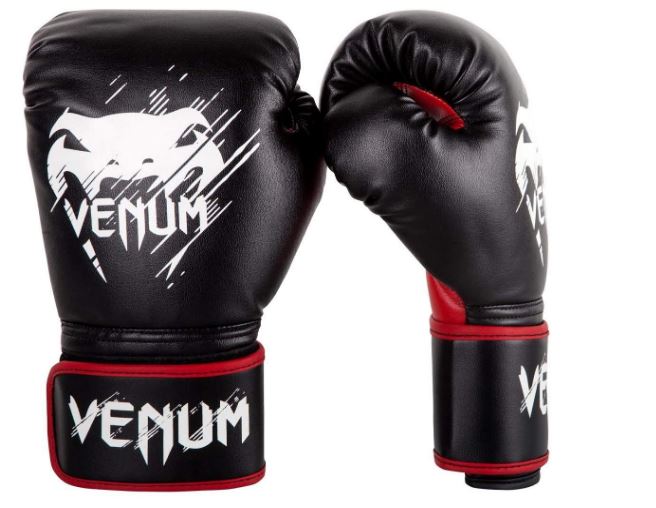 If you are looking for a quality boxing glove for your sun/daughter, or you are a coach and you are looking for a gloves that perfectly fits into your junior's hand, then you need to think about purchasing this product. It offer highest level of comfort and shock absorbing abilities. Your sun/daughter can train hard and long with this gloves and they won't experience any pain associated with cheap glove models.
These gloves provide awesome protection to their hands, wrists, and knuckles. They are modeled to help them form great strikes and it also prevents them from unknowingly injuring themselves. The thumb area is attached with the glove, and it reduces the risk of them twisting their fingers in an unnatural position.
This glove is constructed with high-quality material that is seriously durable, and it can withstand abusive usage for a long time. Also, these gloves protect both your junior and their opponent, and they are priced affordably as well.
The durability is exceptional which is an important thing to consider, because invariably your sun/daughter is going to put their boxing gloves in an enormous amount of abusive environment. Whether they are going to train in the gym, or they are hitting the heavy bag in their home, these gloves will fulfill all of their needs and it suits both beginners and pro users.
Pros:
The fit is secure and safe.
Easy to maintain.
Exceptionally durable product.
Made of superior leather material.
Cons:
The lack of breathability is a serious downside.
20. Brace Master Boxing glove for men and women: best boxing gloves for knuckle protection: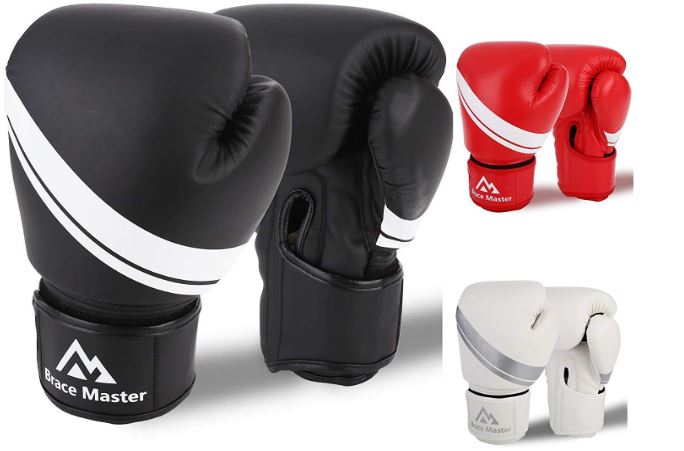 The brace master is the great product for wrist and knuckle protection. Because it features a pre-curved design, it properly fits into your fist and maintains ultimate closure when you are training with the heavy bag. They are also designed with breathable mesh material that helps your hands clean from sweat and odor, and allows it to stay dry for a long time. These gloves are manufactured with the gel infused foam padding that invariably provides comfort and protection to your wrists and knuckles from injuries. The strong construction and the sturdy stitching means that it is supremely durable and this increases your performance drastically.
Pros:
Comes equipped with 4 Velcro closure system for increased stability.
Made with premium leather material.
Easy to clean.
Sturdy stitching increases your performance.
Cons:
Nothing negative about this product.
Read also:
Buyers guide:
There is a heck a lot of things to consider when you want to purchase a boxing gloves. although we have provided enough detail about each and every product in this review list, how do you know that you have selected the right product that fulfills all of your needs? To make your job easier, we have taken the time to research and put together a valuable buyers guide. Read this completely to equip yourself with the knowledge you need when you start looking to purchase a boxing glove for you or for your family members.
1. What are the factors you need to consider when purchasing a boxing glove?
There are several factors you need to take into account if you are looking to purchase a boxing gloves. We will have a look at each one of those things in detail to determine what you exactly need to care about when buying a quality pair.
Style:
The traditional boxing gloves can be easily recognizable. There may be some variation with regards to design, weight, size, and shape, but all boxing glove resemble the western style only. Boxing gloves are generally padded in a round shape all the way around the hand, with an extra focus on the knuckle area. This protects you from unwanted injuries. They can be closed by various straps including the lace, Velcro, a hook and loop strap, or it can have both of these. Boxing gloves are usually made of variety of materials, but the most common among them is the leather or polyurethane. The boxing glove are not going to be flexible and you won't be able to bend your hands or flex your fingers easily. These gloves typically weigh in between 8oz to 18oz.
Cost and material:
When you are trying to buy a pair, there are two options you have. You can go all out cheap or spend hundreds. Either way, it is going to be a ridiculous choice if this is your first pair. If you happen to purchase a cheap boxing gloves from an unknown online retailer, it may not offer the durability or the support you expected of it, and there is a highest probability  that they have been manufactured with the poor quality material.
This can lead to injury, especially if you are starting out and don't have a solid technique behind you. On the other hand, there is no harm in spending hundreds for a quality pair of boxing gloves. But if you are just started boxing recently, then we recommend you not to invest too much for such an equipment, until you become absolutely sure that you will be sticking with it for a long time. There are many gloves that are specially made for beginners and they won't break your bank account either.
Boxing glove made of vinyl and synthetic leather are going to be less expensive. They will close with a hook and loop closure strap. More expensive gloves are made out of high-quality leather.
Weight and size:
Boxing glove come in different sizes and weights. The correct size and glove weight is determined by a person's size, weight, or if they will be sparring/fighting. Some gyms require people who participate in sparring should wear a certain type of gloves. When it comes to finding the exact size, there are some general rules.
If you are a youth and you fall under the category of under 120 pounds, then the best boxing gloves size for you to train with would be 6/12oz. If you are more than 120 pounds, then 12 to 18oz glove will be your best bet to train with. If you train with heavy bag often, a heavy gloves with heavier foam padding will be a perfect fit for you. Softer and medium foam padding glove are used for sparring and training purposes.
Closure:
For the most part of your boxing journey, a lace up and Velcro gloves are going to be comparable in looks, size, and shape. The way with which it is attached is the thing that makes them different. The lace up glove is equipped with a single lace that is pulled tight and tied around your hands. It looks like a shoelace that is present in a gloves. Also, the lace up gloves provide more padding in the wrist area than the Velcro model and it gives you closer  and much more secure fit.
They also have a longer cuff as well. There is lesser chance that the lace up gloves coming untied, and the Velcro may scratch you or your partner. But the lace up gloves take longer time to put on and you need somebody to tie the lace around your hands. If you are training with a partner, then a hook and loop closure gloves are going to be a best choice. The Velcro, or the hook and loop gloves are secured by an elastic strap with a Velcro patch. They come in a large variety of styles and design. These gloves are pretty easy to put on and take off while you are in training.
The downside of the Velcro glove is that they easily become unfastened and it has every chance of scratching you or your partner. If you have small wrists, there is no way that you will be able to adjust the strap to fit the glove as per your needs. Also, Velcro gloves generally have less wrist padding. There are some additional features you need to consider in a boxing glove such as fit, padding, comfort level, thumb attachment, hand control, wrist mobility, and cost of the glove.
2. What are the types of boxing gloves available in the market?
The purpose for which you use your boxing glove will invariably determine what type you require. The types of boxing glove won't influence the cost but it is important to know before selecting one for yourself.
Training/bag gloves:
If you are looking for a glove that suits especially for heavy bag training and workout purposes, then you need to consider purchasing a training/bag glove. Generally, they are bit cheap and absorbs shock efficiently, while distributing it directly to the bag.
Sparring glove:
These gloves are meant to serve the pro fighters. They are generally termed as lightweight and simplistic glove. They come with less padding than the heavy bag gloves.
Amateur gloves:
These are the gloves you should look for, if you are starting out in the sport of boxing. These gloves will also give you a glimpse of how a professional glove would feel like and helps to train your arms and wrists to withstand shock.
Professional gloves:
As the name implies, this is the type of glove you see in big competitions and in an actual sparring match where men fight it out in the hopes of winning the title.
Conclusion:
This is almost a 6000 word guide. If you have read this far, we are very happy. Because you care about your purchase and you are ready to invest your time in reading quality reviews. We appreciate that. Like any other product, you have to keep your needs and budget in mind before choosing the best boxing gloves for yourself. Now you have adequate knowledge on boxing glove, go get them and be victorious!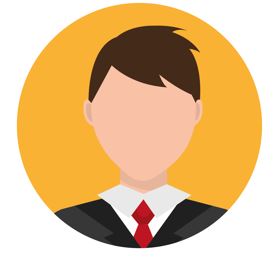 He is always learning from the people he meets, and that journey informs how he writes. Authentic, people-focused stories are at the heart of what he is doing. He has 10 years of experience in this field.