11 Best Heated Motorcycle Gloves in 2023 (Tested)
Whenever you look for a heated motorcycle glove, you will be given a plethora of options to choose from. Sure it'll be overwhelming, frustrating, and dam confusing.
How do you decide which products meet your specific needs?
That's where our best 11 heated motorcycle glove reviews come into play.
Consider this as your friendly guide to successfully navigate the heated gloves market to select an exact product that accomplishes all your needs. So, without further ado, here's the review list.
Comparison Table:
Best heated motorcycle glove reviews:
1. Borleni Heated Motorcycle Gloves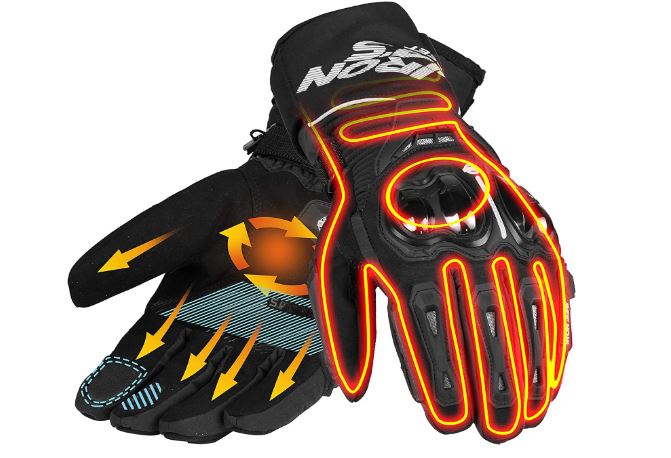 Borleni Heated Motorcycle Gloves is one of the premium quality gloves that is well suited for autumn and winter rides. To keep your hands warm at all over your ride the inner liner of the gloves is coated with 3M Thinsulate insulation. The heated gloves get powered by a 12V battery.
The glove is featured with waterproof, windproof coating, anti-skid griping, and an adjustable elastic wrist band. The anti-skid palm gripping feature makes the gloves comfortable and helps to avoid unwanted slips during winter.
The touch screen function is there on the Index finger, hence, you can access your Smartphone device while wearing the gloves. The gloves consist of 3 heat settings they are High(54deg Celsius), Mid(44deg Celsius), and Low(38deg Celsius) to experience different heat settings according to the place.
This Borleni glove is suitable for both indoor and outdoor activities such as bike riding, cycling, hiking, snowboarding, etc… You may also connect the gloves to your bike's battery to get an uninterrupted battery backup while for a long drive.
Touch screen design would not give you trouble during strong winter. It has both Android and iOS compatibility, and also you can use your PC, tablet, and other touchscreen devices.
Inside the box, there will be a pair of Gloves, a Gloves Harness, a Fuse(3A), and a User Manual. The Borleni Heated motorcycle gloves are recommended for bike riders who often choose trips in winter places.
Pros:
Waterproof
The anti-slip gripper is there to enhance grip with handlebars
Compatible with all touchscreen devices
3 heat setting is there to control heat
Cons:
You should buy the batteries separately, the package does not contain batteries.
2. Highway 21 Radiant heated gloves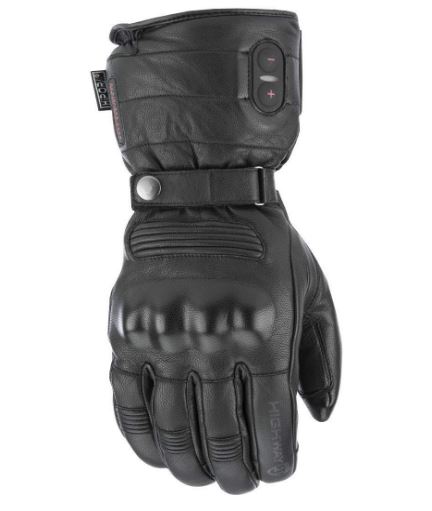 The Highway 21 gloves are constructed fully of high-quality leather. This means they are seriously comfortable to wear and feels easy to grip your bike's handlebar.
These gloves are medium gauntlet equipment powered by a lithium-ion battery. It has three heat settings that can be controlled by a single button. You can find the heat control button at the side of the gauntlet. Therefore, it is easy to operate without you having to take off your gloves.
It also provides complete protection through leather covering, extra padding, and carbon fiber in the knuckles. Not many brands provide carbon fiber protection to the knuckle area, so it's a noteworthy feature of this product.
With this ultra protection, you'll easily be able to keep out cold air and moisture, all the time!
These gloves are well insulated with hundred thinsulate, and they are waterproof, windproof, and provide a reasonable amount of breathability. The Velcro strap at the end of the gauntlet makes sure that your gloves snuggly fit into your hands.
Overall, you will feel a sense of satisfaction after getting this product in your hands.
Pros:
Has a button snap wrist cinch.
Carbon fiber protects especially the knuckle area.
Three heat settings are available.
Cons:
It's bulkier than many of its competitors.
See also: 5 Reasons To Always Wear Motorcycle Gloves
3. Autocastle Electric Battery Heated Gloves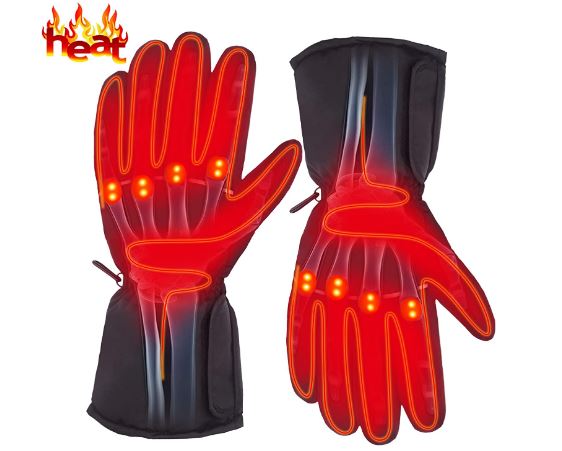 Autocastle has been one of the top brands in heated product manufacturers since 2010. This thermal hand warmer is suitable for all kinds of indoor and outdoor sports like, bike riding, cycling, climbing, hiking, snow shoveling, etc. The Autocastle gloves also protect your hands from cold, and winter-related health issues like arthritis, Bad circulation, stiff joints, etc.
Through the Autocastle gloves, you will access the sensitive touch screen that works well in winter too. And the forefinger touchscreen will work well with Smartphones, car devices, control centers, and all other touchscreen devices.
The gloves are water-repellent during light rain and it has a rechargeable battery. And it is suitable for both men and women. By wearing this product, you can also prevent your fingers from unexpected shocks or accidents.
It has a larger heating area of 4.5V and will primarily heat the palm and backhands, after some time it may spread the heat throughout the gloves. The heating temperature ranges from 95-113 degF/ 35-45 deg Celsius. The rechargeable li-ion batteries under 4.5V are recommended to charge the gloves for better effect.
The gloves are made up of high-quality cotton material which is flexible and provides warmth for a long time period. Totally, the gloves are 12.4 inches longer in length and 6.3 inches wider in wrist area. The normal hand wash is recommended for a longer lifetime.
The package consists of 1 pair of gloves, a user manual, and 2 battery boxes (without battery). The product will be recommended for one who is looking for multipurpose gloves.
Pros:
Waterproof.
It has an anti-slip property.
The touchscreen devices will be accessible.
Cons:
The battery pocket may hurt the upper part of the hands.
4. Tourmaster Synergy 2.0 heated gloves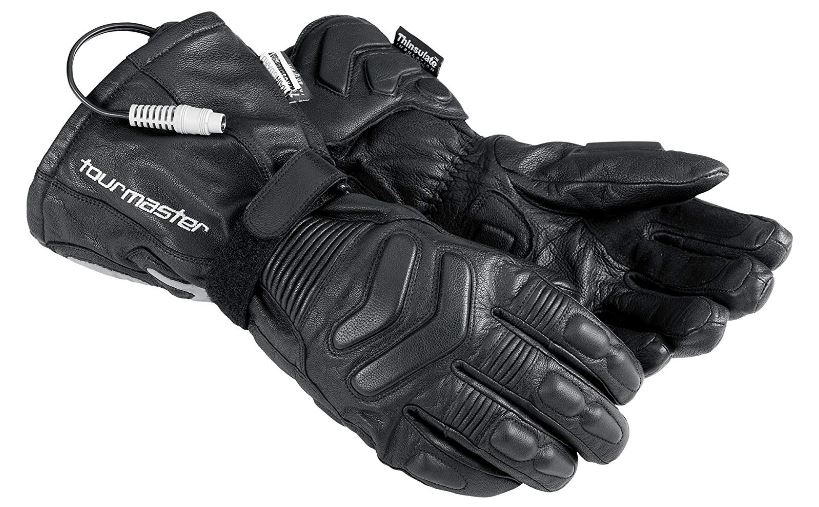 Ever wondered how you are going to find a glove that'll give you complete protection during the winter season? Or worried about how you are going to keep your hands nice and dry when the weather is extremely cold? Then here's a solution to your problem.
The Tourmaster Synergy 2.0 heated glove gives full protection to your entire palm and your fingers. As far as the design goes, it is similar to the textile version, and the coverage and the heat are also the same as well. It has a knuckle protector at the back of your hand to block off the cold air from getting into your glove.
The gauntlet is made of a special reflective material, which is an attractive feature available only in the Tourmaster heated glove. The palm area isn't particularly bulky, and that allows the heat to nicely spread into your entire fist. This will keep your hands warm and dry.
You won't feel heavy when you wear them. In fact, these are one of the lightest heated gloves that you can find in the market. There are some options available for you to choose the right fit for your hands. Here are your options!
7.4V wireless heated leather.
7.4V wireless heated textile.
12V wired leather.
These three options come in three different prices. The wireless glove is the expensive one, and the wired glove is the affordable one.
The 12V glove is the first model released by the Tourmaster, and they had mixed responses from their customers. Then, the Tourmaster came out with the 7.4V wireless heated gloves and, bang! They have smacked it out of the ground. They have improved the 7.4V model exceptionally well. As we have mentioned earlier, the heat it produces is of the highest quality, and the manufactured material is supreme.
The batteries have a longer lifespan, and you can charge them quickly. The super comfortable nature of these gloves allows you to wear them throughout the day. In addition to its features, this model of the Tourmaster gloves are warm, waterproof, windproof, breathable, durable, protective, and comfortable on the hand, and they are made of high-quality material.
Pros:
Longer battery lifespan.
Comfortable to wear.
Has a double gauntlet that keeps your hands warm and dry even on those extremely cold days.
Cons:
Honestly, there is nothing negative about this product.
Related: Things to Consider While Choosing Heated Motorcycle Gloves
5. FXR Men's Heated Recon Glove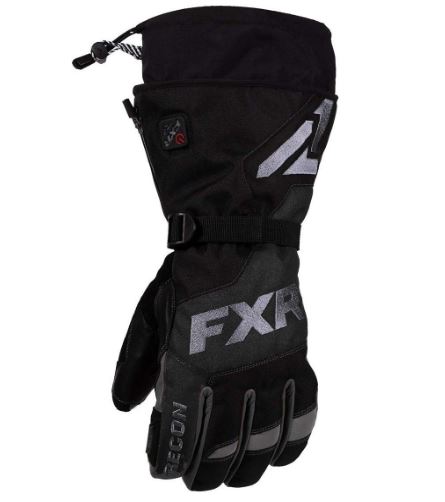 If you are looking for a heated motorcycle glove that is constructed of high-quality material and fits snugly into your hands, then you should have a closer look at this equipment. Also, it is one of the best pairs of gloves for all levels of snow sports, so you don't have to miss seeing its amazing features.
It comes with various good additions. One of them is its three control levels and a control button for the outer area, which helps you to operate with utmost ease. The specially designed heat element allows you to monitor each finger from the back of your hand. This feature is particularly helpful when you want every one of your fingers to heat equally, and it helps you immensely on those harsh cold days to keep away your fingers from feeling numb.
The FXR Men's Heated Recon Glove includes a 2 lithium-ion polymer battery with a runtime of 4.5 hours for each one, depending on the power settings. The shock cord adjuster at the wrist area and the Velcro closure ensure supreme fit and set it apart from the rest of its competitors.
The Scotchlite is reflective and helps with both safety and visibility. This equipment is mostly made of nylon but it does have leather on the palm for added protection and grip. Finally, these gloves won't feel bulky and they are super warm, comfortable to wear, waterproof, windproof, and has supreme breathability.
Pros:
Has a strong gauntlet.
Comes equipped with 2 7.4 lithium-ion polymer batteries.
Made of high-quality nylon and leather material.
Cons:
This glove isn't for everyone.
6. VentureHeat Grand Touring heated gloves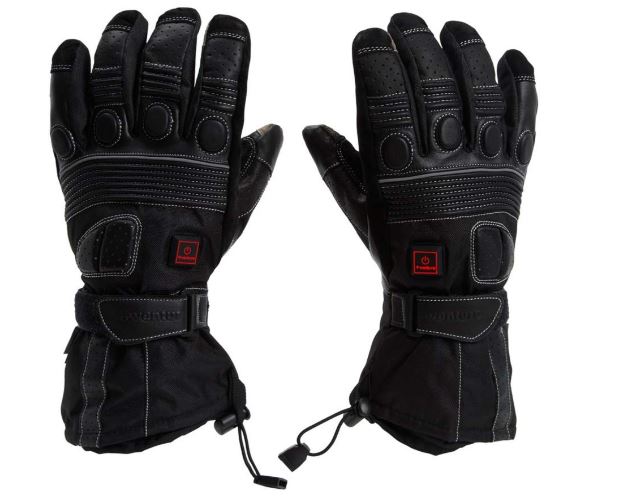 VentureHeat is one of the top names in the heated apparel manufacturing industry. They have a strong reputation in the market.
A quick side note. Some gloves in this list are compatible with the touch screen functionality, we don't recommend using them while you drive, as it'll distract your concentration from the road you travel. Although that sounds obvious, people need to be reminded every now and then not to do crazy things when they are riding. Aren't they?
OK! That's out of the way now, and let's jump right into reviewing the product at hand.
These are 12V battery-powered gloves that you can get the most out of it by pairing them with your bike battery. This is an easy install that you can execute without having to look at the user manual all the time.
Usually, winter gloves are a bit bulky, but that isn't going to be the case with the VentureHeat Grand Touring heated gloves. They are ultra comfortable, and the company calls it the extreme comfort tech. The power buttons are on the gauntlets and it will help you to control the amount of heat you want with absolute ease.
It is constructed with premium quality leather material, which will give you an ultimate feel and high protection from snow and heavy wind. You can access your electronic touch screen whenever you need thanks to the comfy fingertip fabric. The visual appearance is simply awesome. So, whether you are thinking about purchasing a heated glove that fits into your budget, or you are looking for a glove that makes you feel really comfortable when wearing it all day long, then you're going to love this brand for sure!
Pros:
Designed with a waterproof membrane.
Powered by a 12V lithium-ion polymer battery.
Super stylish and comfortable to wear, all day long!
Cons:
These gloves seem to run larger than the size indicated in the size chart.
7. Gerbing Men's T5 Heated Hybrid Gloves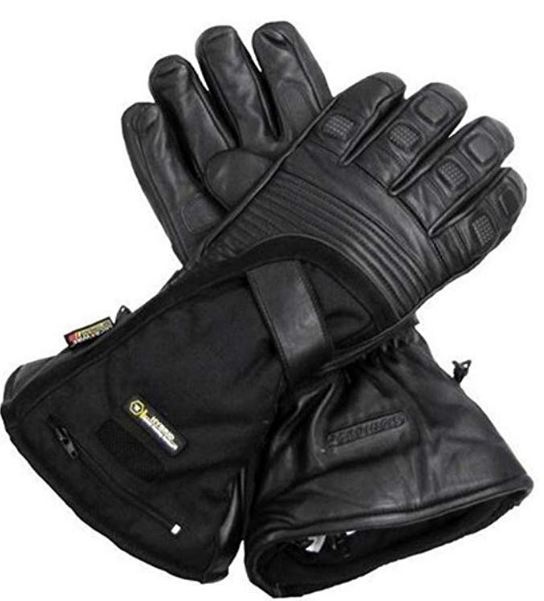 If you have searched for a versatile heated motorcycle glove, you might have come across a product named Gerbing Men's T5. In fact, on the first page of Google, if you type best-heated motorcycle gloves, this product seems to be occupying anywhere around third to fifth position in all the review posts. This gives you an idea of some important things about this equipment such as quality, material, and its features. First up, let's talk about its quality.
As we have mentioned earlier, you can find a ton of reviews about this product all over the internet, simply because of their quality. It provides exceptional all-around performance even on extremely snowy days.
This equipment is made of both nylon and leather. What it means is you'll feel ultra comfortable when you put them on. Well, you can wear them all day and it won't feel bulky either!
The Gerbing Men's T5 Heated Hybrid Glove comes with a 12V lithium-ion battery and a charger. You can use it as wireless or wired equipment based on your needs. You need to plug it into your vehicle battery while you're riding, and you could use it in battery mode by inserting the 12V lithium-ion. It can work up to 4, 2.5, and 1 hour continuously in the low, medium, and high heat settings respectively.
All in all, if you are a motorcyclist and you ride on a regular basis, this product is going to be your best bet, and it'll perform exceedingly well in all weather conditions.
Pros:
The unlimited running time when plugged into your vehicle battery.
Comes with a 12V lithium-ion battery and a charger.
Perfect product for motorcyclists.
Cons:
The battery and its charger are sold separately, which means you need to pay extra to get them.
See also: 7 Best Heated Motorcycle Grips (tested)
8. Firstgear Heated Rider Gloves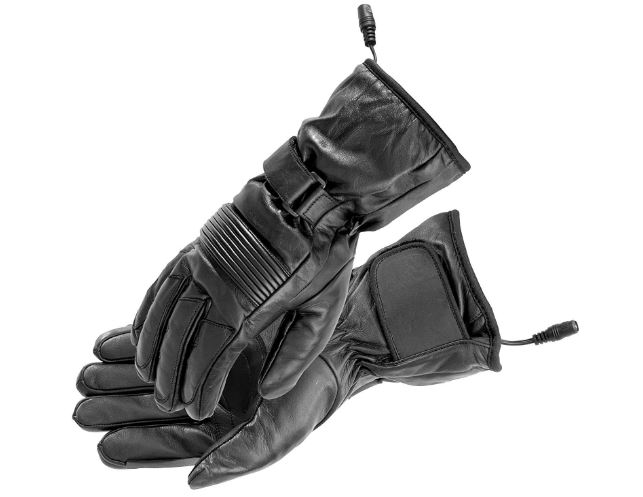 We all want a flexible, yet super-fit glove that gives a relaxed feeling. With a ton of choices in both online and offline stores, the selection process is overwhelming, right?
It doesn't have to be that way anymore!
The Firstgear Heated Rider Gloves are super comfortable to wear, the leather covering on the entire glove molds to the shape of your hands after you wear them one or two times, and you don't have to apply some force when gripping your handlebars. This makes it a perfect fit that you can use all day long.
It is a 12V glove, so it'll come with wiring and a harness. This helps you to hook them with your battery directly. This is an all-around glove than all of its previous models.
You can't go wrong at all with these gloves.
Pros:
The heating elements can be located at the back of the hand and each piece puts out 15 watts of heat.
Comes with a 12V battery.
Fully covered with leather and feels comfortable and flexible to wear.
Cons:
The remote control for this glove is absent, which means you need to purchase it separately.
9. Joe Rocket Men's Rocker Burner Textile Heated Gloves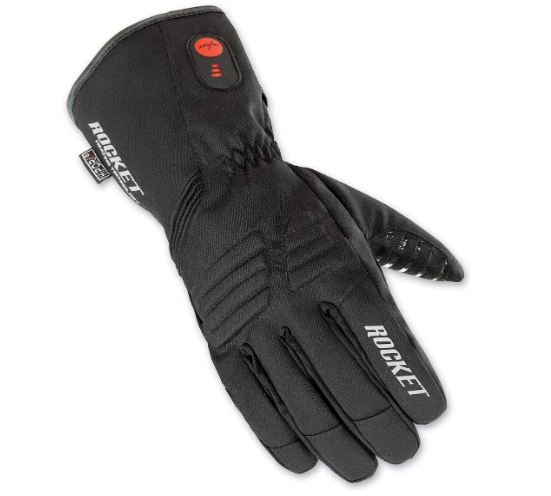 Joe Rocket is the first company to produce cheap heated motorcycle gloves. With age and experience, their gloves improved dramatically despite getting a bad rap from the people, especially in those early days. When these gloves are plugged into your vehicle battery, it produces amazing heat.
This will invariably help you to keep your hands dry and warm. They'll give you great all-around performance no matter what the temperature outside. They have some adequate safety measures in place, and they are able to provide really good dexterity when you put 'em on your hands.
These gloves are made of nylon and that's the reason they are keeping the pricing so low. Although it is constructed of cheap material, we assure you that this product falls under the high-quality category without any doubt whatsoever.
They are comfortable to wear, wireless, and powered by a rechargeable lithium-ion battery. There are three heat settings available and all of them can be controlled by a single button.
As per the user manual, its battery lifespan is 4, 3, and 2.5 hours at the low, medium, and high heat settings respectively.
You need to charge it fully to experience the battery lifespan which we've mentioned just now. They have a Velcro strap that safely secures the glove to your wrist.
So, if you are looking for cheap gloves that provide high quality in terms of heat and material stability, this is it.
Pros:
Has some adequate safety features.
Comfortable to wear.
The Velcro strap secures the glove to your wrist effectively.
Cons:
Made of nylon which makes it a cheap product.
10. Global Vasion 7.4V Rechargeable Battery Heated Gloves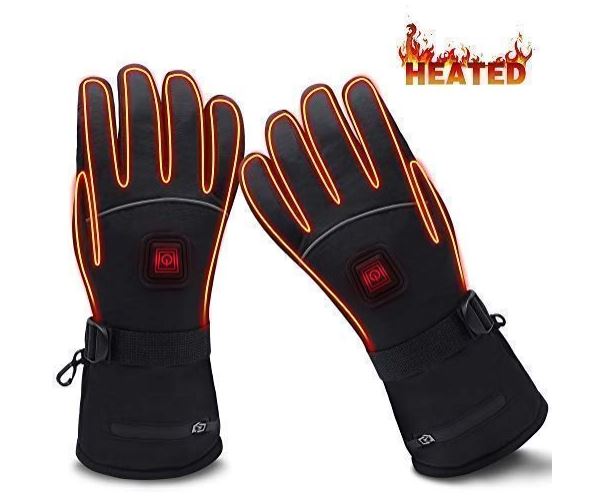 These heated gloves are from Global Vasion and they are one of our favorite pieces of equipment to wear in those crazy cold days. This may seem biased, but you will agree with us once you put them on your hands. These are super comfortable to wear, and keep your palms and fingers warm and dry.
It is powered by 7.4V rechargeable batteries that comfortably fit into each piece of the glove. Another unique USP of this product is its popularity among the battery-powered heated gloves in the marketplace.
With three different heat settings, not only these gloves will last for a long time, but they will also keep your hands nice, warm, and dry even on severe cold days. These gloves are great equipment to carry with you, whenever you happen to drive during extreme weather conditions.
Made of 80 % cotton and 20 % sponge, it provides exceptional freedom of hand movement and excellent grip. This is the important feature we look out for when we evaluate gloves, as it allows us to have complete control of our bike. Along with all these amazing features, it comes equipped with a water-resistant coating that helps your glove to survive on those wet and cold days. They boast a hefty battery lifespan. Also, they are waterproof, provide excellent grip when driving, and are comfortable to wear. Overall, if you're looking for a heated glove that tackles extreme cold weather and wetness head-on, then you should have this little baby for sure!
Pros:
Made of cotton and sponge.
Powered by 7.4V rechargeable batteries.
Provide supreme grip even on extremely wet days.
Cons:
Some of its customers complain that the grip wasn't sufficient on extremely snowy days.
11. IONGear Techniche Battery Powered Longear Heating Gloves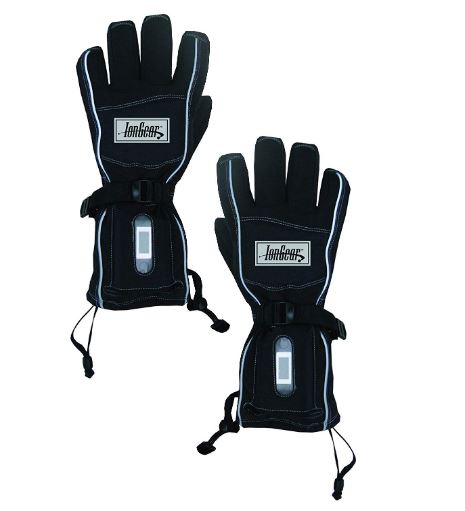 The IONGear Techniche Battery Powered Longear Heating Gloves are a perfect fit for any outdoor activity during the winter. These gloves are a super comfortable pair that you can wear all day long. It is constructed with a soft wind-blocking material, and the synthetic suede and non-slip palm give you exceptional grip during those clumsy wet days.
They help you to keep your hands warm and dry without the bulkier nature of its competitors. The most important thing to note here is the functionality of the heating elements.
These elements extend to every part of your hand, starting from your palm to the back of your hand all the way up to the fingertips. This provides you with the complete coverage needed to survive on those extremely cold and wet days. Also, this reduces numbness and pain in your hands considerably.
It comes with in-built batteries and you don't have to worry about inserting one separately. You also have a multi-heat system and it allows you to select a temperature you want while you're riding.
It boasts a battery lifespan of 4 hours in the high-heat setting and  7.5 to 8 hours in the low setting.
So, these are the best gloves for riding during winter, hands down!
Pros:
The multi-heating system is available.
Comes with in-built batteries.
Perfect heated gloves for all kinds of outdoor activities during winter.
Cons:
Some users complain about its effectiveness when it comes to heating.
Buyers guide:
When the weather is freezing and you still want to ride your bike for various reasons, the heated gear is the way to keep going. But how do you know about what are the things you should be aware of before making that purchase? don't worry!
We are going to break it all down for you in this section. Once you have that knowledge of all that you have to know before purchasing a heated glove, you will be able to make better decisions to buy the exact product that fulfills every need of yours. Let's get started!
1. Why should I have to purchase heated gloves?
There are numerous benefits attached to using heated gloves to extend your riding season like never before during winter. It increases your comfort level, and you can ride longer, safer, and lighter in the cold than any other traditional equipment.
The outer temperature may be a little less when you go for a walk, but if you start riding your motorcycle, you are going to experience wind chill and fluctuating temp in different terrains. Although you can think that you will be able to manage these at the beginning of a ride, it will inevitably force you off the road in search of a hot beverage after 1 or 2 hours.
You have the choice of pushing through the cold, but riding is all about having fun when you're out riding, isn't it?
Heated gloves function in many different ways than just providing comfort to you. At colder temperatures, it can actually be an essential piece of equipment for your survival. Cold significantly reduces your ability to effectively operate your bike controls with your hands. The worst truth is that winter is seriously unpredictable, and the last thing you want to face is getting stuck on a bike without a heating source, in the middle of a storm.
If you were caught in such a time, the heated gloves are going to be your best friend.
Heated gloves are expensive. There is no doubt. But you won't care much about the investment if you know that these are going to increase your riding season for several months.
2. What should I need to know before setting up my heated gear system?
Many steps you can take to get started with heated gear, but there are some general tips you should think through before jumping all in.
If you really want to have a thorough understanding of how the heated gear functions, then you should purchase a pair of heated gloves in the first place.
Here's why.
Generally, these gloves are considered as the beginning step in learning all about the heated gear.
You must test a piece of gear (heated gloves) by wearing it on to your specific body part, your hands.
Because you know that your hands are absolutely crucial when it comes to operating your bike, and it takes all the brutalities of wind chill every time.
It helps you to get acquainted with these heated gear by not spending lots of money in the initial stages.
Now, you know why you should start with heated gloves. Let's look at what are other heated gears available in the market.
Heated jacket liner.
Heated pant liner.
Heated jacket liner:
A heated jacket liner helps to keep your core temperature warm.
It also serves you as an aid in your survival, if you happen to encounter stormy weather.
Heated pant liners:
Heated pant liner transfers heat evenly throughout your body and keeps you warm all day.
It allows you to travel anywhere you want even in those nasty cold times.
3. What are other heated gears available in the market?
Instead of providing you with all the details about the various heated gear choices and overwhelming you, we will give a list of items. Based on that, select the one that's going to suit you depending on your different requirements.
Heated gloves are good for all kinds of outdoor activities during winter.
Heated jacket liner, allows you to maintain your core temperature and keeps you warm all day long.
Heated pant liner, circulates heat all throughout your body equally and gives you the comfort to travel wherever you want.
Heated insoles/socks, let you tackle the extreme cold and wet conditions.
We seriously believe that these things will fulfill all your equipment needs if you are riding consistently during the winter season, or you are a pro motorcyclist and you want to ride through snow and have fun.
4. What are the top brands manufacture heated motorcycle gloves?
There are 3 top brands that consistently produce heated gloves with supreme quality. They have their own strong USPs and characteristics. We'll provide an overview of each brand so that you will have a clear view of which company suits your needs.
Tourmaster:
Tourmaster is a brand that specializes in this industry for a long time. Their synergy heated gear line is exclusively developed for professional motorcyclists and their needs.
Previously, they only had plug-in powered equipment, they've remodeled and come out with the 7.4V battery pack. What it does is drastically improve rider comfort and mobility. You won't be able to find a quality heated gear line that surpasses the Tourmaster synergy.
Gears:
Gears is a Canada-based company. They know all about cold and their growth is significant. They're able to popularize themselves as a go-to brand in the power sports industry within several years.
They produce products with a combination of high performance and higher value. Although they manufacture plug-in gear, they also offer a separate battery pack. This helps you to plug your gear when you are on the move.
You can plug your gear straight from your bike battery for worry-free heating while you ride, and plug your gear in the rechargeable battery pack for uninterrupted heating when you are hiking, backpacking, and so on.
This is an amazing midpoint between the plug-in and battery-powered heated gear for sure!
Firstgear:
When you want to purchase heated motorcycle apparel from Firstgear, just go and do that. Because they are a trusted brand for a long time, and their heated products are some of the best in the market.
Their heated liners will keep you warm and dry, no matter how cold and wet the weather conditions outside. Firstgear has you covered from head to toe with their heated apparel such as heated gloves, heated socks, heated pants, and jacket liners.
When you come across a Firstgear store in your area, make sure to check out their full line of products specially designed for winter riding.
5. What are the tips for selecting perfectly fit heated gloves?
Every heated glove should be snug, to protect your hands from cold air outside.
The outer layer should be waterproof and windproof so that you will experience maximum heat when you need the most.
Use a thermostat or a heat controller, which will allow you to regulate the heat delivery in your hands.
Turn off your gear when the bike engine isn't running, and turn on the bike engine and your gear after that. This will reduce the load on your bike's electrical system.
Turn on the heat if you feel truly cold, this will extend your ride that much further.
Conclusion:
Yes! Congratulations! Now you have all the knowledge you need when purchasing heated gloves. This is a guide of nearly 4500 words. If you are still reading, it signals two things.
You are serious about your purchase.
You want to have real knowledge before taking your credit card out.
Through this guide about the best heated motorcycle gloves, we believe that we've given all the necessary information you need to make a better choice.
Have any suggestions? Share them in the comments section. We love to hear our reader's thoughts. He has 15 years of experience as sports, electronics, and home improvement writer and editor. He also writes state news & daily news.