11 Best Shop Vac for Dust Collection in 2023 (Woodworking)
Shop vacs are usually used for cleaning challenging areas such as workshops. Actually, Shop Vac is in itself a registered brand, and the name is used extensively to describe any vacuum cleaner that is wet/dry. Our list of 11 best shop vac for dust collection is a blend of both industrial and home-use shop vacs. After reading this review, you will have a better idea of what exactly a shop vac is, and its functionalities, and answer all of your burning questions regarding this machine. Let's start.
Best shop vac for dust collection, woodworking, car detailing & more:
1. Vacmaster VBV1210 shop vac, the best one to buy: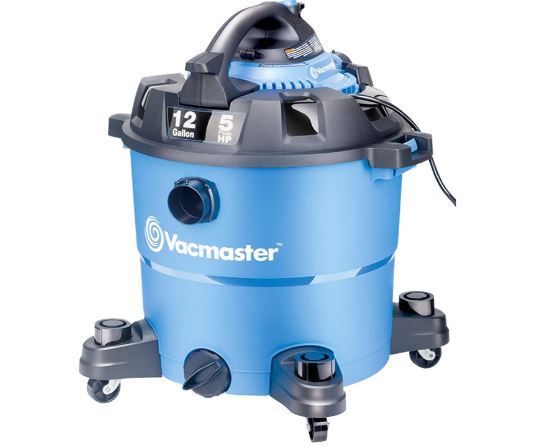 The Vacmaster VBV 1210 is an extremely durable, sturdy, and versatile shop vac that is designed for dust-collecting jobs. It is a two-in-one tool and it is so affordable. If you want to clear away a yard full of leaves, or if you want to clean your household mess, this equipment does it faster and efficiently. It comes with a 5hp motor that helps it to function as both a blower and a vacuum.
It produces 210 mph air speed and the suction power is certainly enough to be used for most home cleaning jobs. This shop vac has a 12-gallon tank that lets you work in a large area without having to empty the tank often. It has some of the greatest caster wheels that you can use it to move it around when you vacuum. The Vacmaster VBV 1210 is supremely portable and you can move it from one place to another without having to lift it. The compact design makes it easy to handle and it's lightweight in nature.
Although this equipment has a powerful motor, it isn't noisy at all. Because of its sound diffuser, it is an ideal machine for both indoor and outdoor usage. When we speak of its performance, it is of the top-notch quality. Finally, its body is constructed by strong and sturdy material and it can withstand a lot of abuse.
Pros:
Has a 12-gallon tank.
Powered by a 5hp high power motor.
Strong, sturdy, and reliable equipment.
Can be used as a blower as well as a vacuum.
Cons:
The HEPA filter isn't included with this equipment.
See also: How to Properly Clean Your Shop Vac 
2. Stanley – SL18116P Wet/Dry Vacuum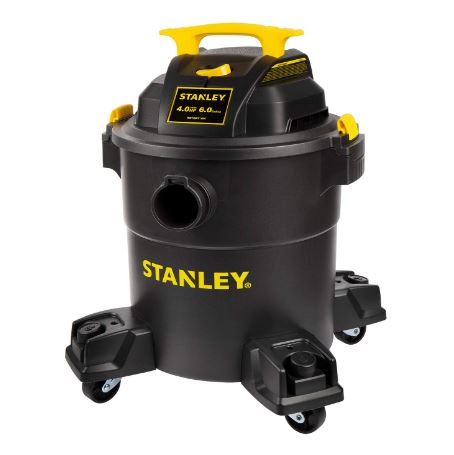 Stanley is one of the best brands for producing vacuum cleaners, hoses, filters & other accessories. Their product also comes in high quality. They have a huge market worldwide. Their SL18116P Wet/Dry Vacuum comes with 4 peak HP motors. This is powerful enough to clean various sites like vehicles, workshops, houses and more.
It has a larger storage capacity. They claim to store 22L of dust, debris or liquid spills. Thanks to this feature because you don't need to empty the bucket every time. For small to medium-sized halls or workplaces, this is enough to clean with ease.
Stanley SL1811P is both wet and dry vacuum. So, you can use it for liquid spill and also dust, debris and other dry wastages. Leaves are the main culprit to spread workplaces and cover large areas. That time you can use a blower to throw away.
Long power cords and a 6-foot hose help to reach maximum distance. It has 10 feet power cords and it also has 3 different sizes of extension wands. These are really helpful to cover a large area without unplugging and changing the ports. Shop owners and woodworkers are really happy with this feature.
This 6 gallons shop vac comes with 12 years warranty and in the package, you will get 1 super flexible hose, 3 extension wands, 1 gulper nozzle, 1-floor nozzle, 1 crevice nozzle, 1 foam filter, 1 dust bag and finally 1 reusable dry filter. These are the features and specifications of this product. Let's discuss the pros and cons of the product.
Pros:
16 feet long reach to cover large areas.
Multiple functionality – wet, dry and blow.
Ideal for home and job sites.
Portable and easy to use
Cons:
Lower capacity compared to its competitors. 
3. Vacmaster VJC507P 5-Gallon Shop Vac for Workshops: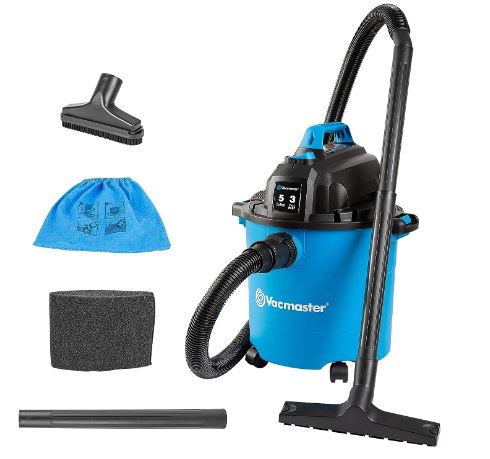 Are you looking for an innovative wet/dry Vac ideal for handling the dirtiest jobs around the house or workshops? Then, the Vacmaster VJC507P is just for you. Powered with a 3-peak Horsepower (HP) compact motor, this vacuum is designed uniquely for various cleaning tasks for homes and workshops. The equipment has a 5-gallon tank for the vacuum to hold up to 5 gallons of liquid. The 8-foot cord and 6-foot hose here make sure you outstretch the hidden dirt too that is merely visible and clean it well.
The vacuum is available in blue color. It may be used for both wet and dry cleaning activities because it is a wet or dry shop hoover. This hoover makes it simple to remove dry debris including dust, grime, and even microscopic particles as well as liquid spills. The fact that this Hoover is supplied with a variety of attachments, extensions, and washable cloth filters is another of its best features. To assist you in handling even difficult cleaning tasks, you can additionally include nozzles and extension wands. 
It could be used for home and in workshops because it has been designed portably and is simple to move about. The filtration mechanisms used in the construction of this hoover stop particulates and other garbage from being released into the atmosphere.
Pros:
A 5-gallon polypropylene Tank is enough to hold a significant amount of debris.

3 Peak HP Motor is powerful enough and highly convenient for nonstop use for long hours.

With a balanced top handle, casters, and on-board storage, users can easily pick up dry debris and liquid messes.

It also comes with a noise diffuser for sound absorption and prevents echoes. 
Cons:
Suction power is pretty good but not great compared to larger vacuums.
4. DeWalt DCV581H shop vac, best wet dry shop vac: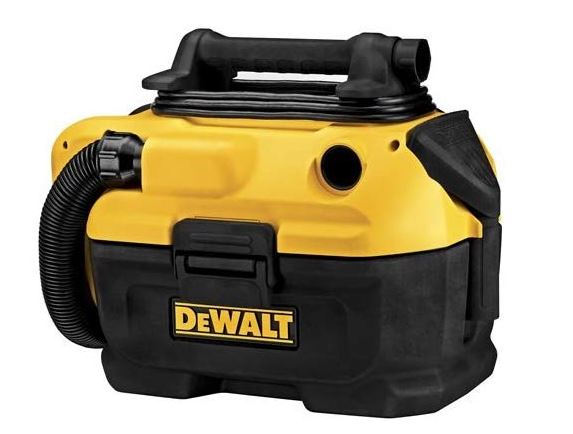 The cordless tools are the best handy product you should have if you are a professional. The DeWalt DCV581H shop vac is the best cordless shop vac you can purchase in the market as of now. It is a small, yet powerful shop vac that has adequate suction capacity. It is super quiet when we compare it with all other brands of this same class. You can also use it as a mini dust collector.
Although you can't do real heavy work, you can pick up all kinds of dust with ease thanks to its HEPA filter. It also comes equipped with integrated tool storage. All in all, if you are looking for a small shop vac that efficiently completes your home cleaning needs, then this will be your right pick. 
Pros:
Affordable pricing.
Best portable shop vac you can buy.
Three-year limited warranty is available.
Cons:
The 2-gallon capacity is pretty low.
5. Armor All Utility Wet/Dry Vacuum – best portable shop vacuum: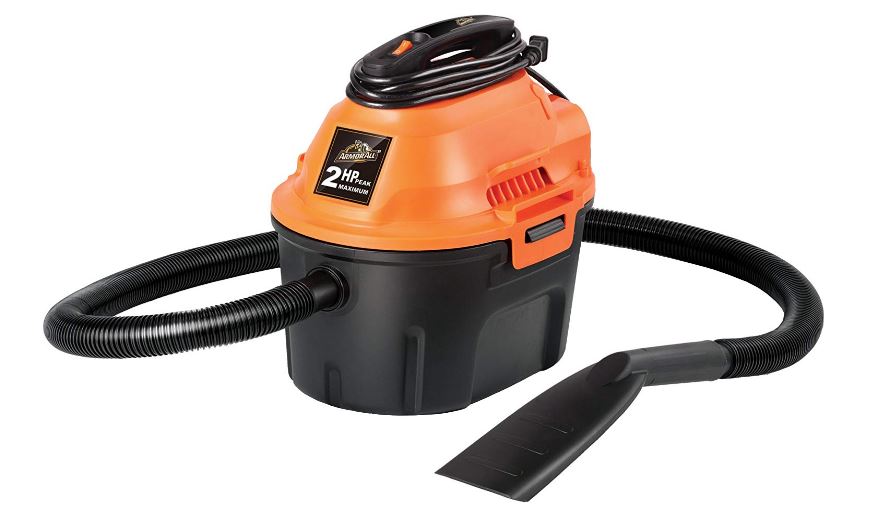 If you are looking for a compact yet powerful shop vac, then you will appreciate yourself for choosing this one. It generates a good amount of power, and it's on par with the household vacuum cleaners. It is equipped with multiple attachments and a 6-foot hose that allows you to reach any type of mess in your home.
And It also comes with a 10-foot-long power cord. This vacuum has an auto-shut-off feature, so there is absolutely no chance of overflowing. You don't have to pinch yourself for assembling this equipment. It is easy to do it so. As we have mentioned earlier, it comes with various attachments such as a rolling brush, a utility nozzle, and a crevice tool. Its compact body lets you store it anywhere you want.
Pros:
Compact body.
Comes with multiple attachments.
Has a 10 feet long power cord.
Everything is removable.
Cons:
The hose doesn't always stay in place, which is a serious headache.
6. Shop-Vac 5989300 5-Gallon 4.5 Peak HP Stainless Steel Wet Dry Vacuum, best job site shop vac: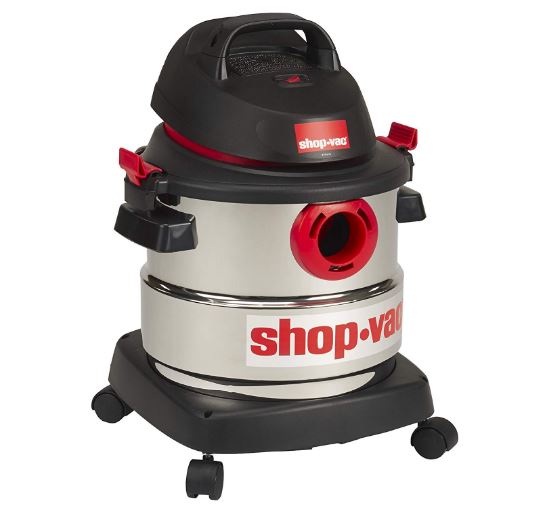 If you want to clean up your shop, garage, or your workplace effectively, then you need this Shop-Vac 5989300 5-Gallon 4.5 Peak HP Stainless Steel Wet Dry Vacuum. It is the best job site shop vac you can find in the market. Its designed with seriously noticeable flexibility and exceptional agility to be used in a workplace. Also, if you are looking for a vacuum cleaner with more suction power, then a dry/wet vacuum is your best choice. Having said that, the Shop-Vac 5989300 wet/dry vacuum is a powerful vacuum that comes equipped with a 5-gallon tank, which is durable and made of stainless steel.
This equipment can handle anything between medium to large cleaning work that you are planning to do. It features a built-in top handle that makes it easy to transport it from one place to another a breeze. Designed to clean up all sought of dry and wet mess, it delivers great performance through its 4.5hp peak motor. Also, the stainless steel tank will last for a long period of time.
This shop vac comes with 4 caster wheels that can be used in any surface, and you can cleanup any difficult-to-reach areas thanks to its 6 ft electric cord and three extension wands. If you are looking for the best shop vac that offers high-class performance, your search ends here with this model.
Pros:
Powered by a 4.5 hp motor.
The 4 caster wheels can be used in any surface to move it around.
Has a 5 gallon stainless steel tank.
Sturdy, strong, and durable.
Cons:
It is difficult to assemble.
See also: Can You Use a Shop-Vac Without a Filter?
7. Craftsman – CMXEVBE17594 – 6 Peak HP Wet/Dry Vac – best for Car detailing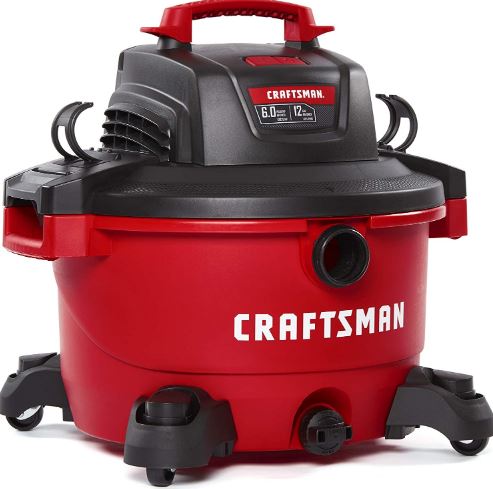 If you are looking for a durable shop vac in the market, Craftsman's CMXEVBE17594 CRAFTSMAN 17594 12 Gallon 6 Peak HP Wet/Dry Vac is one of the best-branded vacuums in the market. This powerful performance with 12 Gallon 6 peak HP helps to use in small garages to large garage areas like homes, larger job sites, shops, cars, and so on. The built-in blower port helps to quick-clean the leaves and grass clipping in the larger outdoor areas. The main characteristic feature is shop vacuum hose which has a 2.5-inch diameter with 180-degree mobility with dual flex technology resulting in the resist twisting of the vacuum hose.
This wet/dry shop vacuum also has another exciting feature which is extra large power cord that is 20ft long. So, we don't have necessarily go with an extension cord. And this 12 gallon shop vacuum is more than we need for domestic usage and it clean up whole bunch of dirt and stuff. If we have a water cleaning situation where we can pull up gallons of water from the floor.  This shop vac can easily switch over between wet and dry filter modes by using Qwik lock filter fastening system.
This craftsman shop vacuum comes with 3 years of limited warranty. In the package, we have accessories like, 2.5-inch dual flex hose, Utility Nozzle, Car Nozzle, wet Nozzle, Qwik lock filter and Dust collecting bag. And it will occupy only a small storage space when it is not in use. If you are having heavy-duty stuff and want something bit more professional this is one of the best shop vacuums to buy it.
Pros:
Qwik lock filter fastening system.
Has a 20ft long power cord.
Dual flex technology.
Powered by 6 HP motor.
Durable and easy to assemble.
Cons:
Bulky unit when compared to others.
8. Vacmaster Stainless Steel Wet/Dry Vacuum, the best shop vacuum for DIYers: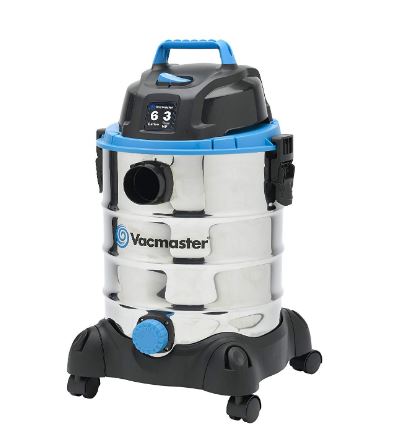 When you are looking for a versatile and effective shop vac at an affordable price tag, this model is your best choice. It consists some great features to grab your attention. One among them is its 7 gallon stainless steel tank. It is equipped with a 3hp peak motor. It also comes with various tools and accessories to make your cleaning tasks a breeze. This includes a crevice tool, multi-surface nozzle, and a utility nozzle.
All these tools are stored conveniently onboard. This unit is fixed on swivel caster wheels to provide exceptional maneuverability. It has a warranty of 2 years for domestic use and 90 days warranty for commercial use. All in all, it is the best shop vacuum for home usage in every sense.
Pros:
Equipped with a stainless steel tank.
Powered by 3hp peak motor.
Comes with swivel caster wheels for exceptional maneuverability.
Has a 2 year warranty.
Cons:
You can only use this shop vac for small to medium cleaning tasks.
9. DeWalt 9-Gallon Pro Poly Wet Dry Vacuum, best shop vacuum under $100: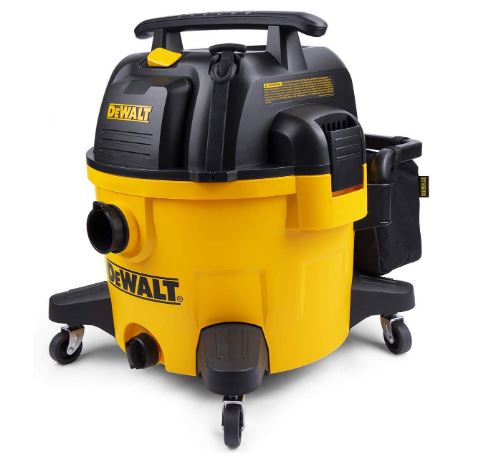 Looking for a shop vac that has premium features and can deliver exceptional performance, then you need to take a hard look at the DeWalt 9-Gallon Pro Poly Wet Dry Vacuum. First off, this shop vac is equipped with a 5hp peak motor that produces 90 CFM. Secondly, among all the shop vacs we tested that fall under the $100 category, this unit stood out from the rest. The material with which it is built is highly commendable.
It features a 9-gallon tank and you don't have to empty it often. There are several accessories included such as two extension wands, an easy-to-wash cartridge filter, a floor nozzle, a crevice tool, a utility nozzle, and a removable filter bag. You don't have to worry about tool storage as it comes with an accessories storage bag. It is also equipped with 4 caster wheels and you can move this equipment all around your home with absolute ease.
When we speak of its hose and cord management, it is simply outstanding. Having said about its features, now we can safely say that it is a best pro class shop vac that is priced affordably and it is very rare to find a 9-gallon unit at this price point.
Pros:
The material used to construct this model is exceptional
Has a 9-gallon tank.
Three years limited warranty provided.
Gives you a solid look throughout the equipment.
Cons:
The length of the electric cord is shorter than many of its competitors.
10. Shop-Vac 5 Gallon 5.5 Peak HP Wet/Dry Vacuum – Best for Jobsite, Car & Dust collection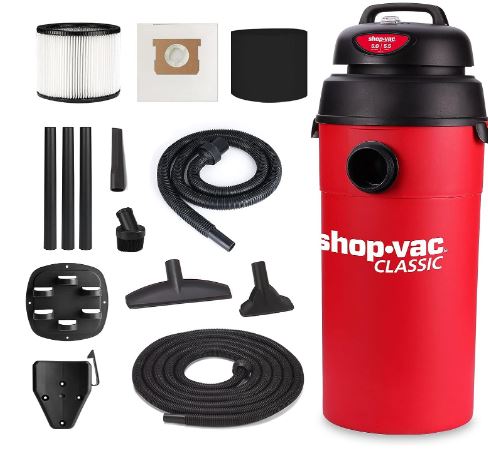 The Shop-Vac 5 Gallon 5.5 Peak HP Wet and Dry Vacuum is a versatile and innovative cleaning tool. It is designed for both wet and dry cleaning tasks with ease. Having a 5-gallon tank, this vacuum can hold a significant amount of dust, debris, or liquid. It means you don't need to vacate it often. Equipped with a 5.5 Peak HP (horsepower) motor, this vacuum is great for strong suction and helps effectively clean wet and dry items.
The vacuum is also excellent and highly suitable for various cleaning tasks in various environments. Typically, Shop-Vac vacuums come with various attachments and accessories to tackle different cleaning needs. There are crevice tools, extension wands, nozzles, and even brushes to make the cleaning task easier.
Shop-Vac Vacuum is widely known for its durable construction. Here you can also have a convenient handle for easy maneuverability around your home or workspace. As it is made with sturdy and durable materials, it withstands the demands of both professional and home usage. This vacuum's noise level sometimes varies, but it's generally quieter than other larger industrial vacuums. As it is compact, it can be carried and moved easily. 
Pros:
This Shop-vac vacuum cleaner is easy to hold and move. The easy handles here allow easy lifting and are available with a wall-mounted design.

The extra long lock-on hose makes the cleaning jobs much easier and ideal for any cleanup.

Due to the multi-function facilities, peak of 5.5 HP, and strong dry/wet suction, this vac is great for cleaning dry dust and liquids.

This innovative, high-quality vacuum cleaner comes with various accessories, filters, and bags.
 Cons:
It is quite expensive compared to many larger vacuums available in the market.

The motor power could be better.

The suction power is not up to the mark for heavier debris.
11. WORKSHOP Wet Dry Vac, best electric shop vac:
Looking for a shop vac that is exceptionally good when it comes to cleaning large area and provide great features at an affordable price, then you must purchase the WORKSHOP WS1600VA shop vac. Don't simply take our word.
Check out the features we've outlined here and decide for yourself. Firstly, it comes equipped with 16 gallon tank capacity which is the highest we've reviewed so far. Apart from that, it has a 6.5hp 12 amp peak motor and it produces 169 CFM. It also has a 2.5-inch hose which is not only useful while cleaning, but it plays a central role when it comes to removing debris from your yard. This model consists of duel flex technology that allows its hose to flex 180 degrees without collapsing.
The locking tab helps the hose to connect firmly with the main unit. It comes equipped with a Qwik lock filter system that lets you interchange between three filters without facing any issue whatsoever. Like all other models, it has some commonalities such as onboard storage, large drains, and carry handles. The 4 caster wheels makes your job much easier when it comes to moving it from one place to another. When you want to use this vac as a blower, simply connect the hose to the output port and it will take care of the rest.
Pros:
Has a Qwik lock filter system which can be used for interchanging filters.
20 feet cord length.
Has a powerful 6.5hp 12 amp motor.
5 year limited warranty provided.
Exceptional suction power.
Cons:
This machine is little louder than all the others in this list, but that is understandable.
Buyers guide:
Shop vac in general is designed to be durable and versatile. There are some differences between a shop vac, a shop vacuum, and a wet/dry vacuum. Although we are not going to look into these in detail, but it is worth noting. So, the next time you purchase a shop vac, just keep this in mind and consider your requirements seriously before shelling out cold cash. Now that is out of the way, let's jump into the buyer's guide to aid you in selecting the perfect model for yourself.
1. What are the factors you must consider when purchasing a cordless shop vac?
When you want to purchase a cordless shop vac, there are several factors you must consider. Why? It determines how much you'll like your purchase and how much value you are going to get out of it. The first you have to consider is your battery. It is important to note that not all models include a battery in their package. This means that you have to spend extra money to get the batteries to keep your shop vac functioning. Another thing you need to consider is the battery line. If you have a certain brand's battery line, then it is wise that you buy the same brand battery. Also, you must consider the power of a particular model you are going to purchase. If you are going to work with wet and clumpy messes, then purchasing an above-average power shop vac is the wisest choice.
2. Why is having a wet/dry shop vac is important in your home?
Wet/dry shop vacs can clean like a workhorse. The ability to clean wet and dry messes from your house to your workshop makes it incredibly valuable to have with you, and it is versatile as well. Although they are not as powerful as the job site vacuums, they perform necessary cleaning tasks efficiently. Also, these shop vacs are affordable and the price starts from less than $50. Unless you need the additional features this is the thing you must consider purchasing.
3. Why you should invest in a wet/dry shop vac for cleaning your home or your workshop?
A wet/dry shop vac was first developed to clean large messes in the workshops and industrial environments. But nowadays, shop vac manufacturers have added residential and light-duty equipment that can be used for commercial purposes. The major advantage of this type of vacuum is its ability to clean both wet and dry messes. Then there are other reasons you need to have a shop vac in your home. They are as follows.
1. Cleaning hardwood floors, carpets, and upholsteries.
2. To deal with household spillages and flood.
3. When used as a blower, it unblocks sinks and bathtubs.
4. Cleaning out nails, shrews, and wood shavings from your workshop.
5. Removing garden wastage and snow.
4. What types of wet/dry vacs are available in the market?
Shop vacs are usually powered by gasoline, propane, or electricity.
Gas shop vac. It is designed for industrial use and it produces serious power. While gasoline models are for outdoors, many propane models have been generally used in a household setup as well. But both these fuel-based shop vacs release a large amount of fume. So, they are less popular.
2. Corded shop vac. This type of shop vac draws its power from a standard wall power outlet. They do output industrial grade power but they are extremely safe to use. Also, they are so popular that you won't experience any difficulty in finding it in both physical and online stores. Many corded shop vacs comes with at least 10 feet cord length, so mobility is not going to be a problem.
3. Cordless shop vacs. These models are typically smaller and can be used for domestic and car cleaning purposes. It gives you flexibility in terms of mobility, but their runtime will be determined by its battery capacity. Also, many cordless shop vacs comes equipped with ac/dc adapters. This allows you to plug it in an external power outlet for extended runtime.
5. What features you need to consider when purchasing a wet/dry shop vac?
Here's a list of features you must consider when buying a wet/dry shop vac.
Size:
The size typically determines the power and capacity of a shop vac, as well as to get an idea of whether it can be used for commercial or industrial work.
Airflow:
Usually, the airflow is expressed in CFM, the abbreviation for cubic feet per minute. This means how much air a motor can draw in when it is functioning. If you want a high-performance shop vac, look for a model that has more than 90 CFM. Many manufacturers will not reveal this fact directly, so use this article as a guidepost in selecting a powerful shop vac that can fulfill all of your requirements.
Hose length:
You should check both the diameter and the length of the hose before purchasing one for yourself, as it is directly connected with the capacity and the power of a shop vac. The hose length is different from one unit to another. If you want to reach remote corners, then a longer hose is perfect. But the longer the hose, the lesser the suction power is. So, if you want more power, aim for a model that's hose length is short.
Filter:
Wet/dry shop vac comes with two filters, one for wet debris and one for dry debris. So it is imperative that you check the type of filter it comes with. The wet filter is designed with a foam sleeve to retain the spills into the tank, whereas, the dry filter is designed as a HEPA filter with a cartridge and a collection bag to remove dry debris.
Accessories:
When you are looking for the best wet/dry shop vac, you should consider its cleaning accessories as well. Every great unit must have the following accessories to make your cleaning job easier.
1. Extension wands.
2. Crevice tool.
3. Upholstery tool.
4. Floor brush.
Horsepower:
Horsepower is seriously the ultimate factor you need to consider when you are thinking of purchasing a shop vac. You have to think of what purpose you are going to use it for and select accordingly. If you are going to have smaller cleaning tasks, then you can purchase a shop vac that has 1/2hp. And if you are going to use it for industrial-grade tasks, then you must go for a 4/5hp motor.
Tank capacity:
It all boils down to the purpose for which you are going to use this machine. Smaller tasks, and you don't need a bigger tank capacity. If you use the machine for bigger cleaning tasks, then obviously you need a larger tank capacity. However, if you are going to use your shop vac on a regular basis, consider buying a shop vac with a bigger tank capacity. It is recommended as it reduces constant emptying.
Tank material:
Almost all shop vacs are designed with durable plastic. This makes it easy for you to carry it around your home with ease. Also, these plastic made shop vacs are going to last longer and they are extremely durable. There are stainless shop vacs are available which are going to be helpful when it comes to heavy-duty work areas such as construction sites and workshops.
Blower:
Many shop vac models have a blowing feature. Either they have a blower port or a detachable blower. Cleaning a yard full of leaves and removing debris from the hard-to-reach areas is really easy with this feature.
Other important features include,
1. Auto-shut off. Prevents motor damage due to leakage.
2. Drain valve. Lets you dry the tank efficiently.
3. Swivel wheels. Provides excellent maneuverability.
4. Onboard storage. Lets you store and organize your tools in one place.
6. What is the use of having a wet/dry shop vac in your home?
If you are looking for a machine that is going to be used as a garage vac, then you need a model that consists a 6/12 gallons of tank capacity. The 2/4 tank capacity shop vacs are good for indoor usage.
7. How Much do Replacement Filters and Bags are going to cost?
Most people tend to overlook the fact that the cost of replacement bags and filters are little higher. Not every model needs a replacement bag/filter, but it is a good practice to look for its price before buying one for yourself.
Conclusion:
There is a lot of information in this review and buyer's guide, and it will always be a little overwhelming. The best place to start is to consider what the primary use of the shop vac will be. Then you can think about what accessories will enhance the capabilities of your shop vac.
Once you figure these things out, you can start looking at the other stuff and information to determine which one will ultimately be the best shop vac for you to purchase.
Thanks for reading The 11 Best Shop Vac for dust collection review list till the end. It means a lot to us. We hope that our review article will help you pick the right product for your needs from our carefully selected products. As always, if you have any suggestions/recommendations, feel free to share it with us in the comment section below. He has 15 years of experience as sports, electronics, and home improvement writer and editor. He also writes state news & daily news.