Get Your House in Tip-Top Shape
First-time homeowners need not fret over simple upgrades or repairs that can completely change the look of their starter homes. Some are so simple, you'll wonder why you hadn't thought of them in the first place.
Here are five awesome ideas you can use to improve your home in just one day without spending a bundle of money.
Properly Prep Your Cabinets Before Painting
Painted kitchen cabinets are a hot trend right now! Especially popular are dark gray or navy blue lower cabinets with white uppers.
To help decrease the likelihood of the paint chipping or peeling off, you must spend some time preparing the wood. Washing the wood with trisodium phosphate, also called TSP, helps the paint better adhere to the wood. It basically removes grease and other gunk from the wood to prepare it for painting.
After your paint is dry, apply a few coats of water-based polyurethane to your cabinets, lightly sanding between coats. The water-based finish won't yellow over time, but the polyurethane coating will harden to protect the paint underneath.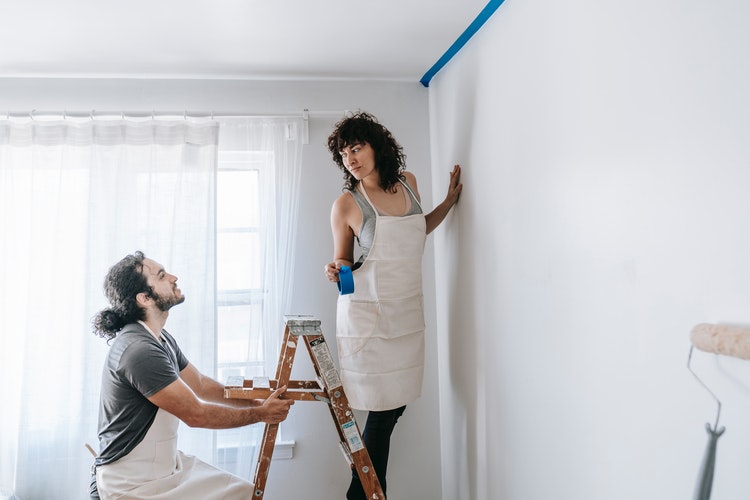 Make Your Windows Look Larger and Your Ceiling Look Higher Using This Curtain Trick
Most people hang curtains at or just above the top of the window frame. To give the appearance of more height in a room and larger windows, hang your curtains high, and extend the rods past the sides.
For example, if the top of your window is one foot away from the ceiling, hang your curtain rod nearly as high as the ceiling. The curtains on either side should extend past the windows, but still cover the trim on either side.
The optical illusion will fool your houseguests into thinking you have gorgeous picture windows, even if they're standard ones.
Keep Your HVAC Running Smoothly All Year
Your home's heating and cooling system are important to your health and comfort. Experts recommend that you have a professional examine your system twice per year, usually in the spring and fall. The pros will clean your units and make sure they're in good working order. These visits will either confirm what you already know about your system, or give you important information about the timeline of future replacements or repairs.
Air conditioner repairs made during the spring ensure your home stays cool all summer, while heating repairs in the fall make sure you're prepared to be cozy as the snow falls or when the wintry chill is in the air.
You'll also want to be sure that if you have a forced-air system, that you're swapping the air filters every month to help keep your air clean and your system running properly. You also can cover your outdoor central air condenser unit during the fall and winter when you aren't running your A/C to help keep it clean and extend its useful life.
Caulk Your Bathtub
Over time, the caulk around the top edge of your bathtub can begin to look dirty or peel apart. Replacing caulk is one of the simplest ways to improve the overall look of your bathroom. Start by removing all the old caulk. Use a small utility knife if necessary, being careful not to scratch your tub or surround.
Then, use painter's tape to create a top and bottom barrier for your caulk, placing them parallel where your caulk should go. Apply the caulk, using a gloved finger or a tool to smooth it out. Once your caulk is applied and has begun to dry, you can remove the tape to reveal perfectly straight and even caulk around your tub.
Add Some Curb Appeal with Landscaping Plants
Wow passersby with a gorgeous home exterior when you try these simple ways to add curb appeal.
Plant flower beds, or use large flower pots instead following a formula the leading garden designers use to create exciting landscapes: thrillers, fillers, and spillers.
At the back of your flower bed or center of your pot, plant a "thriller", or a plant that grows tall and thin, such as a decorative grass. In the middle of your pot or down the center of the bed, plant a "filler," such as a flower that grows bushy with blooms as the season progresses. And then, around the edges of your flower pot or front of your garden bed, plant a "spiller" – a vine or ground cover that spreads outward.
The result is a dramatic, professional-looking landscape that will look fabulous all season long.
For new ideas and articles related to kitchen, bedroom check out our home improvement page.