How to Choose the Right Football Glove Size
Buying football gloves that fit your hand perfectly is vital for your game.
Obviously, there are ample things to consider too. However, the most important aspect of football gloves is its fit.
Imagine your football gloves being loose or too tight on your hand – will you be able to perform to your optimum?
We don't think so!
Therefore, we are here to help you find the right football glove for your hands.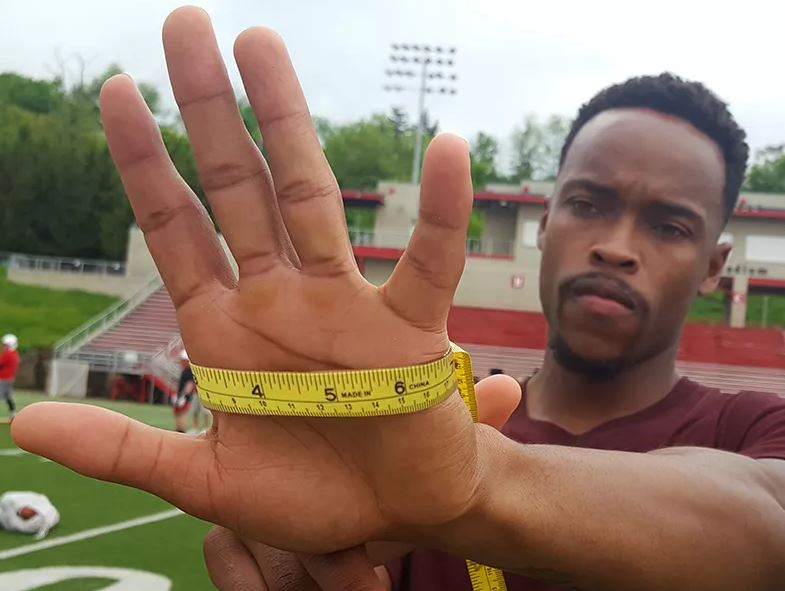 Guide To Choosing The Right Football Glove Size
Finding the right fit
When you are buying a football glove, your aim is to find a snug fit that's not too tight, though.
At the same time, your gloves shouldn't feel too tight. This will make it uncomfortable for your hand – hindering the movement of your fingers. Also, it can make them go numb.
The best way to prevent this is to try your football gloves before you buy them. Put on the gloves and try to make a fist with the gloves on.  If you feel that you are unable to close your hand comfortably, it means the glove is too tight for your hand.
Conversely, you cannot go for a football glove that is too loose either. Or else it will slide around your hand. Especially for receivers, unfit football gloves directly impact your grip and make it difficult to catch the ball, leading to more bobbles and drops.
Not only that but for linemen and defensive players, loose football gloves hinder protection and can even lead to wrist or finger injuries.
How To Measure Your Hand Size At Home?
There are various ways to do it – and we will explain each of them separately:
Option 1: Measure Around
Take a fabric tape and wrap it around the widest part of your hand. The measuring tape should wrap over the top of your hand and cross the palm on the widest point, excluding the thumb. Round up the measurement to the next highest inch and then add 1 full size.
TIP: While measuring your football glove size, you should always measure your dominant hand.
See also: How to Shrink Football Gloves?
Option 2: Measure Lengthwise
Take your measuring tape, place it at the tip of your middle finger, and then pull the tape down to the base of your hand. Then, hold it tight where your wrists begin.
Now that you know both ways to measure your hand size for your football gloves, usually, football gloves come in standard size. But some brands do offer custom sizing as well.
Usually, gloves are divided into two categories: regular and youth. So, if your hand size is under 7 inches, then you need to fit into a youth-size glove. Regular football hand-size glove ranges from 7 inches to 8.5 inches.
Also, it is important to know that if you have particularly wide or narrow fingers, consider going a size up or down a size if the measurements are close.
TIP: Gloves usually shrink when you wash, so choosing a larger size is a better decision
Final Thoughts
Choosing the right football glove size can revolutionize your game. So you have to be hands-on with it. Once you find the right fit, then you are all ready to dominate the field.
Hope you find this article helpful! Thanks for reading. He has 15 years of experience as sports, electronics, and home improvement writer and editor. He also writes state news & daily news.