How to Go About Buying Outdoor Furniture Online?
If you are planning to revamp your outdoor space, the furniture you use has a huge role in the overall effect of the area. It starts with determining the purpose of your outdoor space. Do you want to enjoy the sun alone or with a few other people?
Do you want to host a party every now and then? Whatever the purpose, when buying outdoor furniture online, think about the kinds and their purposes to help achieve your desired results. Ask yourself these questions given below to make the best out of your purchase: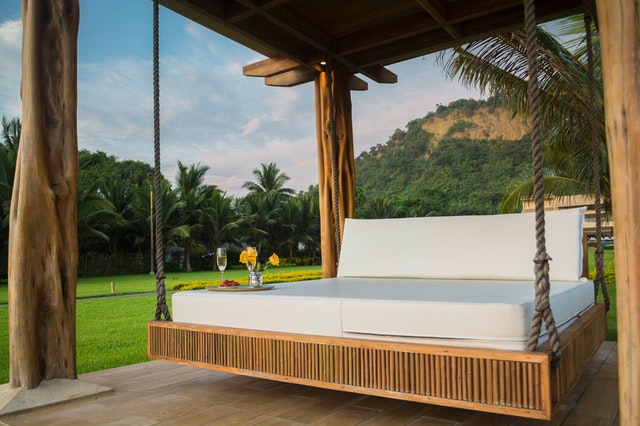 What is Your Outdoor Area Like?
One of the first things to do is to evaluate the space you are planning to embellish with outdoor furniture and other fittings. Are you outfitting your garden, patio, deck, porch, or poolside? These areas have different characteristics to take into account when choosing what furniture and furnishings to buy. For example, you need quick-drying and water-resistant materials for your poolside, while there are tables with self-leveling legs for uneven ground.
Another thing to consider is the surroundings. Is your outdoor space half-hidden among trees, has a pergola covering, or is underneath an overhang? Having a deck means the area is either nestled by trees or exposed, while a porch is practically indoors if a screen covers it. Do you want to create a more open and fun outdoor area, or build an intimate and cozy nook? Note that the hedges and fences surrounding your property can impact the seclusion, security, and overall feel of your outdoors.
How Big is the Area, and What is the Traffic Flow?
Measuring the area is a crucial thing to do before buying your outdoor furniture. You may have been dreaming of that sectional sofa for quite some time now, but it would be useless if the available space cannot accommodate it.
Besides the dimension, consider the shape of the area and the flow of traffic from end to end. If your outdoor area has an odd shape, it is a good idea to put smaller pieces of furniture. For example, you may opt for some barstools and two bistro tables, as these can still fit several people as with a dining table.
What Materials Are Suitable for the Weather in Your Area? 
Environmental factors are vital when choosing your outdoor furniture. How hot can the weather be during the summer months? Are there high winds? How often does it rain? These are some of the weather conditions that you need to consider, and your outdoor furniture and upholstery should be able to handle.
Plastic materials can break and brittle due to extreme cold, while too much heat can splinter untreated wood. Uncoated metal can rust due to salt air and rain. Lightweight materials have a high risk of blowing away because of high winds, and many other fabrics may fade and get discolored under direct sunlight. Make sure you understand what types of materials can withstand different environmental factors.
With the advent of ergonomic design and the constant development of trendy and beautiful pieces, if you are to buy outdoor furniture online, you can easily find those items that meet your needs and preferences. Today, sofas, chairs, sun loungers, etc. are designed while keeping in mind the spinal alignment, body posture, pressure on body points, leg inclination, and seating angles of the user. Make sure you choose furniture items that can satisfy your aesthetic taste as well as comfort level. He has 15 years of experience as sports, electronics, and home improvement writer and editor. He also writes state news & daily news.