A kitchen is one of the most used living spaces in a home. Families gather here at breakfast or dinner time, have engaging conversations, and spend quality time with each other. Kitchen upgrades are needed to do for a better environment.
With COVID-19 resulting in a stay-at-home order, people had to stay most of the time indoors. That meant most families cooked more and spent more time in the kitchen than ever. This factor increased the importance of renovating the kitchen. A fresh look was necessary to freshen the minds, and kitchens were a great starting point. But not everyone can afford to spend thousands of dollars to renovate their kitchen completely. So we have some great budget-friendly ideas to upgrade your kitchen.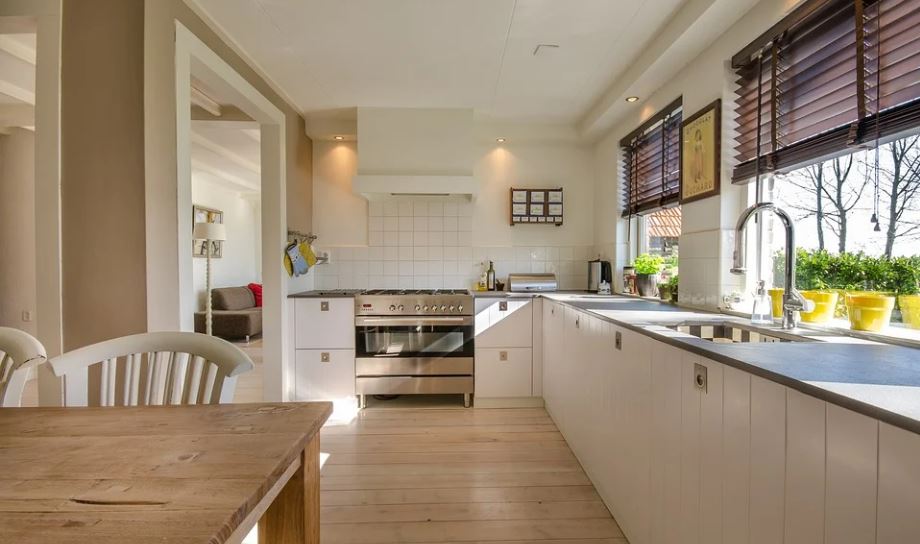 The following are the seven fantastic kitchen upgrades on a budget: 
1. Paint 
Repainting the kitchen walls with a vibrant color can change the whole outlook and make it more welcoming. Painting the kitchen is in no way limited to only walls. Instead, you can even paint the backsplash and repaint the cabinets to make them look brand new. You can choose between base colors such as white, cream, and even shades of grey or amber. All you have to do is make sure the color works as a base rather than the color that takes away all the attention. If you want to play with color, you can paint the cabinet's underside a fun color such as canary yellow or royal blue to add a fun element.
See also: 5 Kitchen Design Ideas For A Modern Appeal
2. Renovate Your Cabinets
Renovating your cabinets can have a massive impact on your kitchen's look. You don't have to change your cabinets to give the kitchen an upgrade. Painting the cabinets can give the cabinets a whole new look. You can paint the cabinets in contrast to the wall paints to make them stand out or a similar color for a subtle look. But paint isn't the only thing you can do. You can also change the cabinet doors. Cabinets usually come in standard sizes, and you can find doors for them quickly. If not, a cabinet with no door will give your kitchen a more modern design.
Before you start renovating, make sure you store all the kitchen equipment, cutlery, and china in a safe place. The lead in the paint can be toxic if consumed in any way, and it can also ruin your utensils. Make sure you store them in a safe storage place. You can rent out an affordable storage unit in your area for this purpose.
3. Amp Up The Lights 
The easiest way to spruce up your kitchen's look and upgrade it under a budget is to amp up the lights. Changing the lights can update the look of your whole kitchen space. Installing light fixtures over the counter or the island can give your kitchen a modern look. The best part is that light fixtures are easy to find and a relatively inexpensive kitchen upgrades. New lights give you more illumination to work while adding a touch of ambiance to the kitchen place.
4. Polish Your Existing Furniture
You can polish your existing kitchen furniture to make it look brand new. So while you have your paintbrush and tools out, you can fix this situation too. Paint your table and all the mismatched chair the same color to make it a dining set. Just matching paint can bring the whole look together, and what was a mismatching mess before will all come together. You can also add the same finish or change the cushion covers to look the same. The different shapes and sizes of the same color and finish will look like a comfortable and cute dining set.
5. Change Your Hardware
Changing your faucets and stove can add to the functionality and upgrade your kitchen easily. You can choose a modern and sleek faucet to add an elegant metallic look. It will also add convenience and functionality, and you will work better in the kitchen. A new stove will be a statement in your kitchen and will amp up your cooking game. An affordable stainless steel microwave can also make your kitchen look luxurious.
6. Update Your Kitchen Island
You can use paint, synthetic granite, ceramic slab, or laminate for your kitchen island, and the options are endless. If your island doesn't have a breakfast seating place, you can extend the island top to create space and support it with legs. You can also change the countertop to match your new paint and cabinet designs. Since the island is the main area where you do all the cutting and chopping, use durable material to last long.
See also: Your Definitive Guide To Types Of Kitchen Layouts
7. Decorate The Space
A kitchen will lack elegance and personality if it has no decoration. Decoration can make a world of difference in changing the look and making your kitchen look more elegant. You can add picture frames, plants, and decorative pieces to make the space colorful. The plants will add color to your kitchen, and planting herbs can save you a lot of money and add the fresh taste you need in your cooking.
Conclusion
A kitchen is a comfortable space for families that come together to enjoy and share love through food.  You have to update it as time passes and keep track of its maintenance as required. Hopefully, with the tips mentioned above, you can make your kitchen inviting. These Kitchen upgrades are worth sharing. Share it with your friends and stay tuned for more updates.