Relocating or moving to a new house is a task that requires a lot of time, patience, and hard work, whether it be for work, change of environment, or family reasons. It is one of the most complicated tasks that a person will face at least once in their lifetime.
You will have so much to plan, which involves making a list of things you have to take along with you or what to throw out. However, you will eventually have to make the crucial decision whether you should hire professional movers or do the entire moving process yourself.
Some people say that moving to a new location can be a piece of cake. They say this because they have taken part in the moving process before. But, people who are newbies will face challenges before and on the day of their move.
No matter if you are a veteran or someone who plans to move for the first time, doing it yourself or hiring professionals to have their advantages and disadvantages. Today, we will share the pros and cons of both doing it yourself and hiring professional movers. Weigh them before you make your final decision.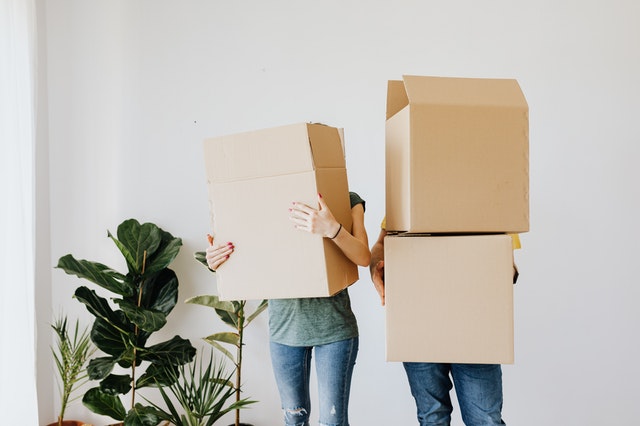 PROS OF HIRING PROFESSIONAL MOVERS 
You will not have to lift any heavy objects:
Go for a professional moving service. You don't have to do anything other than packing and sealing your moving boxes. You don't even have to put into getting that bookshelf down from the 2nd story of your house. The movers will come with a crew of four to five people, and they will do all the heavy lifting for you.
They have the necessary moving experience:
Whether it be residential movers on commercial ones, they help thousands of people to move from one location to another. Be it an inter-city move or an international one. Providing moving services is their bread and butter. They know what steps they need to take to ensure you and your belongings get from point A to point B, regardless of what items you have.
You will not have to deal with unwanted stress:
Packing up your moving boxes and transporting them yourself can be very stressful sometimes. If you have someone to take care of the entire moving process for you, you will have to deal with less stress than you would by doing it yourself.
CONS OF HIRING PROFESSIONAL MOVERS
With a professional moving service, they do everything by themselves. You won't have any say in the entire moving process. All you can do is decide the date and time of your move.
When you hire professional moving services, you get an entire crew to take care of the moving process. More crew members mean an increased price tag.
You have to trust them with your items:
Some people do not trust leaving their belongings in the hands of people they barely know. An accident can happen without any prior notice. Your items might suffer damage if you leave them in the hands of the movers.
PROS OF MAKING THE MOVE YOURSELF
You will have control over everything if you decide that you do not need professional moving services and want to execute the move yourself. You get to choose the mode of transportation and help. You can also take your time while packing, knowing that there is not someone who is waiting outside to transport your items.
It is a wise decision to do everything yourself if you are working with a limited moving budget. Professional moving services do not come cheap. The hourly rate for every crew member on a moving team is around 200 dollars per hour.
You have control over the packing:
You need to pack and seal all your moving boxes and containers and be ready to go when the movers arrive. But, by doing the process yourself, you can do everything according to your liking. You can throw small items in the back of your car and avoid arguing with the moving team supervisor regarding what goes where.
CONS OF MAKING THE MOVE YOURSELF
You will have to deal with heavy stuff:
The hardest part about doing the entire moving process yourself is, you will have to deal with lifting bulky items. And if you own a heavy bookshelf or bulky furniture, good luck moving them!
Dealing with unexpected problems:
Doing a move yourself is not always smooth sailing. There will come a time when you will accidentally do something wrong. For example, some furniture might not get through your front door, or you might not be able to lift something. Without the necessary moving knowledge and experience, your move might take days rather than hours.
CONCLUSION
Hiring professional moving services will be the best choice for you if you do not have the patience to deal with the moving process. Or if you have a big home or children. However, if you live in a small one and have a few furniture items, then doing everything yourself will be better for you. Consider these pros and cons of both moving techniques, and then decide what you want to do.