Silestone Eternal Noir Quartz (Everything Need to Know)
If you want to give a natural touch to your living space, there's no better material than the trendy Silestone Eternal Noir. Resembling the beauty of natural marble, this quartz stone is highly resistant to scratches, stains, and accidental impact and hence, suitable for modern homes.
Belonging to the Silestone Eternal Collection, the new Silestone Eternal Noir is a visually-appealing worktop material for modern architectural spaces. The natural black stone influences this latest design by Cosentino.
In keeping with the natural theme of the entire collection, the veins play a crucial role in this surface. Boasting a black finish, its surface depicts simplicity by its intense and dramatic white veining pattern. The random veining pattern gives a distinct elegance to this particular worktop surface. This eternal surface from the Silestone marble collection has a strong appeal to captivate any interior design.
How Silestone Eternal Noir Is Manufactured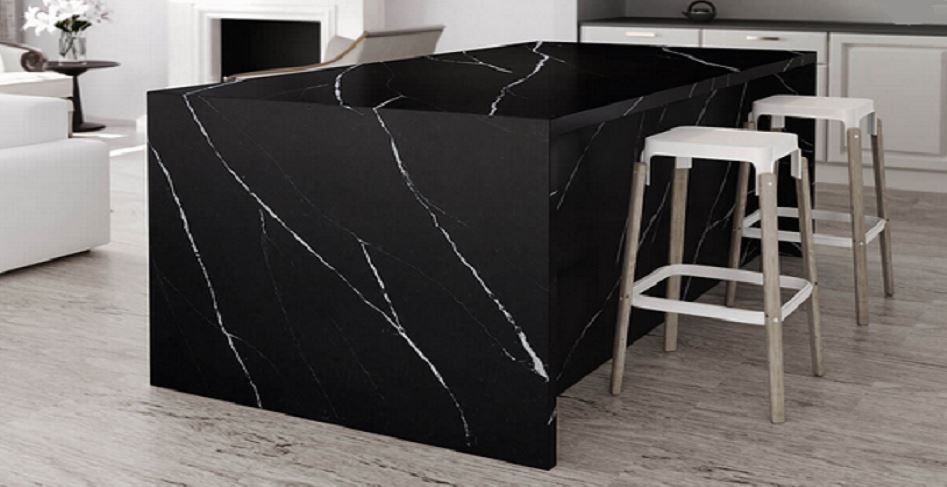 Like most Silestone worktops, Silestone Eternal Noir is also manufactured by the brand's patented N-Boost technology that claims to modify a worktop surface at the molecular level for extending its technical and aesthetic attributes. Together with the advanced technology, the manufacturer brings many colors and design patterns to the Silestone Sternal Range.
The new quartz design, Silestone Eternal Noir, is available as a Jumbo slab. It means that it offers seamless kitchen or bathroom countertops. Furthermore, such smooth countertops have better design opportunities compared to worktops with seams. All thanks to the large slab availability, these surfaces are ideal for installation as worktops, walls, furniture pieces, and flooring.
Characteristics of Silestone Eternal Noir:
Available in three different finishes and distinct thicknesses
Extremely Durable and Tough
Available in both Standard and Jumbo formats
Integrated with exclusive N-Boost liquid protection technology
Highly resistant to stains, scratches, and impact
Boasts exclusive bacterial protection
Super easy to maintain
Comes with 25 Years of Manufacturer's warranty
What Makes Silestone Eternal Noir Special?
There are so many benefits of installing Silestone worktops. However, you must be wondering what makes Silestone Eternal Noir special. Well, it boasts the following essential features that make it one of the best choices for busy urban houses.
Inherent Exclusivity
Silestone Eternal Noir has an inherent exclusivity of natural marble. The natural stone-like finish of this surface is not only beautiful but also boasts some technical properties that only Silestone worktops guarantee. All thanks to N-Boost technology, this surface boasts intense black color with extraordinary shine and durability that makes the surface easy to maintain and clean.
Bacteriostatic Treatment
Silestone Eternal Noir undergoes a special bacteriostatic treatment to prevent its surface from harmful germs even when it is installed in wet areas like bathrooms, kitchens or flooring. It makes it a hygienic worktop material that doesn't need constant care and maintenance.
Different Finishes
Silestone Eternal Noir comes in different finishes. You can pick it in a Polished or Suede finish. While the polished finish gives a high glossy appeal to this new surface, the suede finish has a tactile textured finish that's perfect for industrial settings. Besides, it comes in an exceptional Volcano finish to let the designers play with its unique texture in contemporary or traditional industrial spaces.
Manufactured by a Trusted Quartz Brand
Since the largest quartz manufacturer, Silestone manufactures Eternal Noir, it offers maximum performance. Just like most Silestone worktops, this particular worktop comes with a 25-year manufacturer's warranty, ensuring high-quality products.
Silestone Application Tips:
Silestone Eternal Noir is one of the most flexible and versatile worktop surfaces. It comes in different sizes and thicknesses and is available from authorized Silestone suppliers in the UK. The availability in distinct sizes and thicknesses makes it a perfect material for applications in bathroom walls, facades, saunas, flooring, countertops, and other areas. While installing, you'd notice that it offers many design possibilities that you may not have considered before. For instance, you may try to combine this exclusive material with stainless steel or wooden furniture or cabinets to make the interior feel warm and luxurious.
Precautions:
Since Silestone worktops contain resin, you need to be careful with heat. While the quartz worktop may bear little heat impact, it cannot take extreme heat. So, avoid putting hot pots or pans directly from the stove onto the surface, as it may it burn the surface. It's best to place trivets or hot pads before placing hot items on its surface.
It is said that quartz can resist scratches. It's true, but the constant use of knives or abrasive materials may lead to dullness of the surface. Even the shine of the surface is lost with continual abrasion. Therefore, it's best to use chopping boards when cutting vegetables or preparing food.
Even when cleaning the surface, try not to use abrasive detergents or scrubs to wipe off the dirt or grime. It's best to use mild soap, a soft cloth/sponge, and warm water for cleaning its surface. If there is any dried food residue, it's best to remove it with a plastic putty knife and then clean the area with a damp cloth. He has 15 years of experience as sports, electronics, and home improvement writer and editor. He also writes state news & daily news.