Shop Vac Vs. Home Vacuum – What's the Vacuum Difference
If you've been struggling to choose between a shop vac and a home vacuum – here we've got you covered!
We understand how vital vacuums are for your clean-up needs. And if you can lay your hands on the right one, as per your needs – more than half of your cleaning problems will already be solved.
Now, if you start searching for vacuum cleaners (without understanding their key differences), your head will start spinning with the variety of types available in the market currently.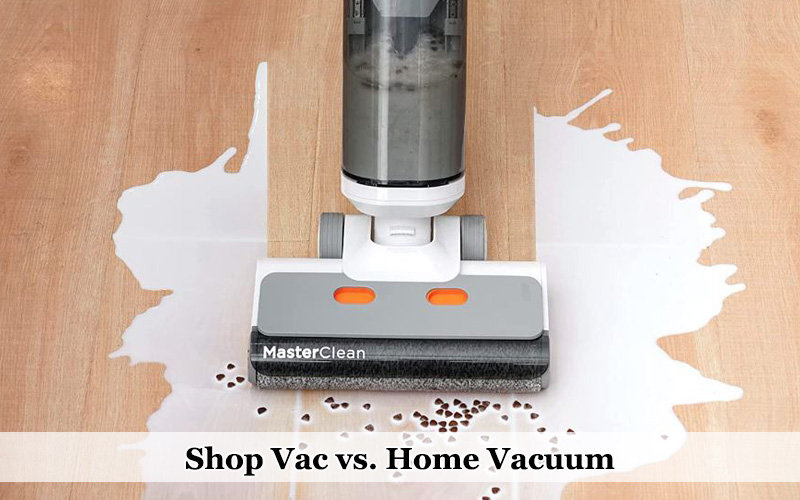 Hence, take a deep breath, put your faith in us – and we will help you understand the differences between Shop Vac and Home Vacuum. And by the end, we are sure you will be able to pick the right one as per your needs.
Shop Vac Vs. Home Vacuum
Type of cleaning job
Shop vacs (also known as wet/dry vacuums) are heavy-duty vacuums designed to handle tough cleaning jobs since they are specially designed to collect large debris. They are ideal for construction sites, garages, and woodworking shops since they are ideal for sucking up screw nails and wood chunks.
On the other hand, home vacuums are ideal for household cleaning tasks, removing embedded dirt from carpets, floors, stairs, dust, pet hair, and more. These types of vacuums are not suitable for handling wet dirt or absorbing water.
Size
Shop vacs are built with wider gallon capacities – which can handle heavy-duty chores and can collect more dust. Also, the motor capacity of shop vacuums is much higher and can extract both liquid and dust particles with ease.
Contrary to that, home vacuums are less powerful compared to shop vacs and can only work on sucking up small particles.
See also: How to Properly Clean Your Shop Vac 
Power
Since shop vacs are required to suck up big and heavy objects – naturally, the power of their motors is more powerful for absorbing larger items. Additionally, they have stronger lifting and suction capabilities. Any dirt (whether liquid or dust) on the shop vac can be removed with ease.
Home vacuums are for cleaning and handling light-duty jobs in households.
Filtration
This is where most shop vac falls short because they usually don't aren't built with any filters. They are only good for absorbing objects and particles – but not suitable for air filtration.
But home vacuums have excellent filtration systems, and they can easily clarify the air around your home and improve its air quality. So, if you are bothered by dust allergies, using a home vacuum is the perfect way to prevent air particles from entering your home.
Emptying
The emptying process for a shop vac can be a little intimidating – because you have to lift and flip the whole vacuum to empty its contents, as they can suck up anything.
Home vacuums are much easier to empty since they are light in weight. All you need to do is remove the bag and filter compartment – and you are done.
See also: What is an Industrial Shop Vac and Reasons to Have it?
Are You Using The Right Vacuum For Your Need?
Now that you know the major differences between a shop vac and a home vacuum, it is up to you to choose them as per your needs and convenience. So, if you are looking for a vacuum for heavy-duty work, shop vacuums are the right choice for you. And if you are looking for a vacuum for simple cleaning work, go for home vacuums. However, if you are planning to buy one vacuum that can meet both your shop and home needs – buy a shop vacuum since they are good at multitasking. He has 15 years of experience as sports, electronics, and home improvement writer and editor. He also writes state news & daily news.