The shop vacuum is commonly known as a Shop Vac. The shop vac is a particular type of vacuum that consists of high powered motor and a suction unit that is used mostly in construction and woodworking. It is featured that it has a large canister to hold the debris, and it has a regular hose, which can work wonders for cleaning dirty spaces.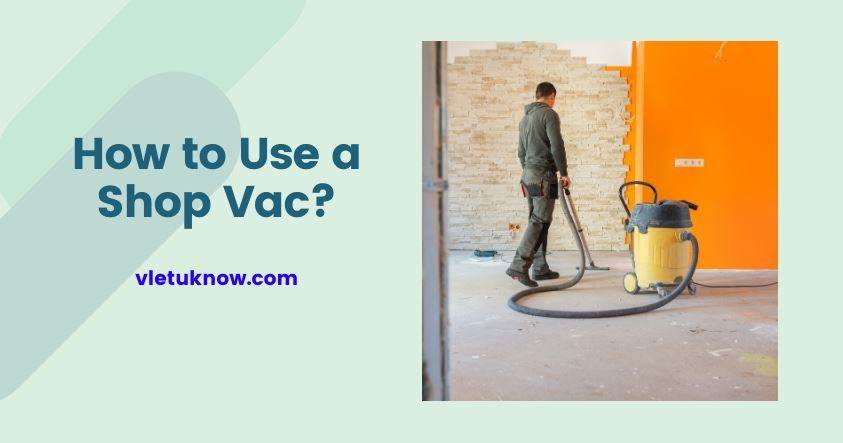 Are you thinking about purchasing a shop vac? But do not know how to use a shop vac? Don't Worry! In this article, we are going to describe how to use a shop vac. After reading this article, you will get the idea for sure, how to use a shop vac to its full potential.
Right now, one question comes to your mind, which one is the Best Shop Vac? You can search the internet or go to the nearest market.
How to Use a Shop Vacuum to Its Fullest Potential
A shop vac is commonly used to suck nails, screws, straws, wood parts, and other small metal pieces that are sometimes on the ground of a construction site or woodworking shop. Many beginners do not know how to use it to its full potential. So we are giving them the idea of using a shop vac.
Dust Collecting
One of the features is that you can be using a shop vac for cleaning dust. You can use it for necessary dusting, dropping straw in the garage, clearing ash from the fireplace, and collecting dust when pouring concrete or drywall sand. If you're looking for this specific type of shop vac, be sure to read this article for the best ones. You can also use it for sucking pet hair off your carpet and couch and cleaning the car.
You use the shop vac in the workshop to collect sawdust. It is essential to know that before collecting sawdust, you need to clean the shop vac tank first. Then you have to drop the contents into a container.
The benefits of having a shop vac are that you can use it to clean up food spills or suck up spider nets and bugs. There is nothing a regular push broom can do that doesn't make a shop vac.
See also: Can you use a shop vac without a filter?
Water pickup
Shop vacs are also known as wet or dry vacs. You can also use it to pick up the water by using the shop vac. You can use the shop vac to disperse random fluids around your home. Use it to clean a flooded basement or to help dry up inflatable watercraft and swimming pools.
Most shop vacs will allow you to move the standard paper filter by converting it to water pickup. However, it leaves a foam sleeve in place. When you are done with this, you have to drop the water. The ability to pick up both liquids and debris makes your shop vac cleaner perfect for drainage.
Blower
One of the features of these shop vacs is the ability to attach the hose to its drainage port. You can turn your vac into a blower that can do various tasks that usually require extra equipment. The shop vac can be useful for leaves or snow. You can also use it to get the attachment that allows you to air mattresses, inflate toys, and many other items.
A small air compressor where good-sized inflatable pools can fight to inflame, these shop vacs can accomplish it quickly. One of the significant benefits of a shop vac is that you can save space and money by replacing the need for an extra air pump or large air compressor.
Advantages of Vacuum Cleaner
A vacuum cleaner is just an electronic gadget that affects the use of pump air to suck the soil and gut from the floor and various surfaces. There are different types of vacuum cleaners. You can use vacuum cleaners for a home, cars, pet hair, carpet & more. Most vacuum cleaners are lightweight which are easy to handle and easy to use.
The advantages of a vacuum cleaner are many. Below we are providing some benefits that will help you to know the advantages of using a vacuum cleaner.
It saves time and energy.
It makes cleaning more effective and more comfortable.
Tiy cab easily removes allergens from breathing air.
It is easy to use and low-cost tool.
Do you have pets at home? You can remove pet hair through it.
It's clean not only your home but also improves air quality.
See also: How Does a Robot Vacuum Cleaner Work?
Final Words
If you do not know how to use a shop vac, read this article thoroughly, and you can get the idea of ​​using a shop vac to its full potential.
A universal tip applies to all equipment, especially shop vacs, and these are the words to survive. Don't try and do too much.
It does not matter how strong is your shiny new shop vac. You don't deliberately test it and try to take in heavy items or substances. It would help if you did not try to overtake its capabilities or endanger the warranty.
It is essential to take care of your shop vac, and other equipment that quickly proves its value In your home or woodshop.