6 Best Outdoor Accessories (Outdoor Accessories for Home)
It has been the year when we've all come to value our outdoor space so much more.  Whether you have a small patio or a huge outdoor space, here are 6 of the key accessory trends which can update your look.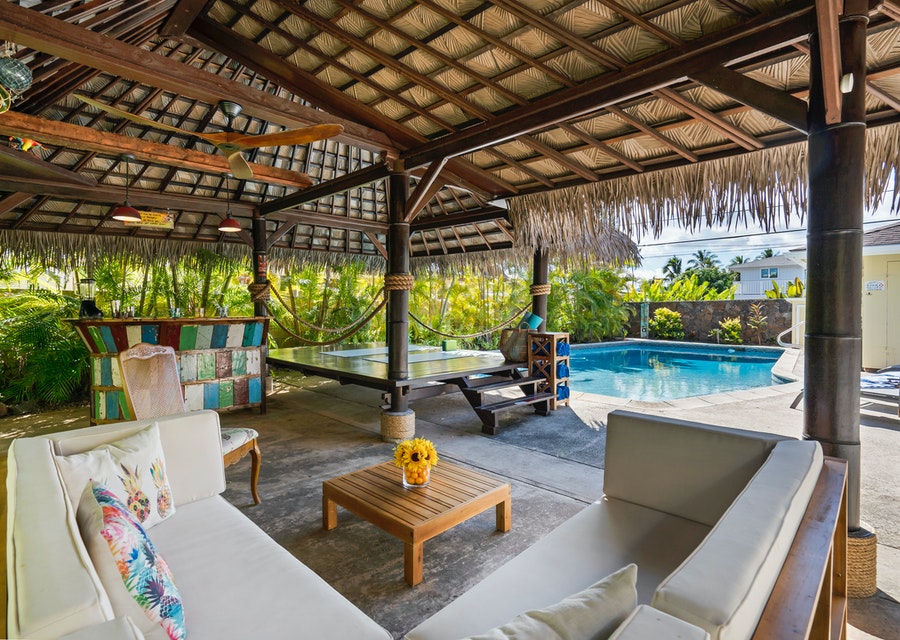 1. Textiles
The key trends for exteriors are going to be informality and year-round enjoyment.  So, give your outdoor furniture a new look by adding textiles: cushions, blankets, outdoor rugs, and throws. Create a boho ambiance by going for a mixture of vintage, modern, and ethnic patterns: what matters is how you combine and layer the different textures. Your guests will feel relaxed and cozy, and the great news is that you can change the look with the changing of the seasons.
2. Outdoor Fires
If we're going to be outside in the winter and on chilly spring evenings, keeping warm moves up the list of priorities. That's why we're seeing fire bowls and fire pits becoming ever more popular. Not only do they generate heat, but they also create a wonderful ambiance, especially at night. Choose a traditional design, or go for a sleek, minimalist option such as the PureModern Sultan Concrete FirePit to add a real wow factor to your entertaining area. For additional safety, just ensure you add a protective cover.
3. Vintage pieces
The trend for interiors is going to be moving away from the formality of strictly matched furniture and accessories, towards a more relaxed approach. The focus will be on warmth, hospitality, and enjoyment of the pieces you love. It's the same outdoors. A lot of outdoor furniture is sold in sets – for example, sofas and coffee tables, but why not show some original style and add a vintage piece into the scheme? This could be a vintage rocker, or an antique metal table base (add a glass or marble top). You'll create interest, and introduce a dash of informality.
4. Water Fountain
Generally, a water fountain makes your outdoors rich and good. The fountain in front of the house creates positive vibes and it attracts family wealth. There are different kinds of water fountains available in the market. They are, cascading water fountain, Japanese fountain, Tiered water fountain, Wall water fountain, and tabletop water fountain. Choose the best one according to your outdoor space. Regular Maintenance is a must for each and every fountain. When comes to the power, it can be operated by batteries or a power supply, for better outdoor performance you can use the eco-friendly solar-powered water fountain. Hence, relax your mind by hearing the sound of waterflow in your outdoor area.
5. Lightings
In the evening time, the elegant lighting makes your outdoors feel classy and pleasant to spend time with your loved ones. Different kinds of lights will be there in the market to enhance your unique outdoor. Solar spotlights are also there in the market to direct you in one way in your garden area. And LED hanging bulbs are there to decorate your trees in the outdoor area. Wall-hanging Lanterns are there to give way in the dark area. To show up the beautiful flowers and plants in your garden there will be a garden light to enhance their beauty at nighttime. And step lights are there to notify the steps in the dark area. Likewise, there will be more lights available in the market and choose them according to your need. Before choosing the lights make sure it is a waterproof and eco-friendly product.
6. Raised beds
Another key trend is the move towards multi-height planting.  Raised beds are especially useful in smaller spaces such as patios and even balconies. As well as their visual appeal, they're also much easier to maintain.  There's no need to invest in expensive landscaping or complete a back-breaking project yourself. An easier solution is to accessorize your space with planters of different heights, shapes, and colors. This is not only more cost-effective, it's more versatile.
Check Also: Gardening Tips: Every Gardener should know!
If you have space, go for several large planters filled with palms and a lush mixture of companion plants combining multicolored leaves (another huge garden trend) and textures.
For smaller spaces, choose a variety of sizes and designs and place them together. In terms of planting, go for whatever you like, and always mix different plants together. Go for wildflowers, to attract birds and insects; try vegetables and fruits, or opt for vines and tropicals, depending on your climate. The key is informality. Best of all you can change the arrangement whenever you want to change the look and the mood. He has 15 years of experience as sports, electronics, and home improvement writer and editor. He also writes state news & daily news.