Your Definitive Guide To Types Of Kitchen Layouts
Designing a kitchen requires thinking and planning in order to create an efficient yet aesthetic space. Since this is a crucial room of every home, making sure it fits all your needs and preferences is important to create a comfortable yet productive kitchen.
From the layout and flooring to cabinets and lighting, there are many elements you need to give a thought to; designing a kitchen layout requires a fair share of thinking and is sure to keep you busy for a while.
That said, the layout is the most crucial part of a kitchen design as it has a considerable impact on the additional kitchen elements. Since this feature of the design makes the kitchen cohesive, selecting the right fitted kitchen layout with the help of kitchen designers in Milton Keynes like Saturn Interiors can prove to have a considerable effect on the overall look of your space.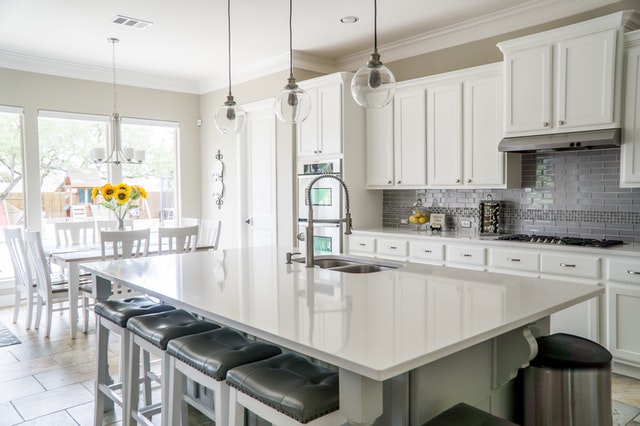 The Kitchen Triangle – What is it and Why is it Important?
The kitchen triangle or the working triangle is a concept that helps you understand and determine the efficiency of a kitchen, especially in terms of the cooking process. Primarily including the stove or cooktop, refrigerator and sink, a well-designed working triangle can ensure a more efficient kitchen.
Since this concept is important as it affects the efficiency of the kitchen, having the elements of the working triangle close by can ensure a convenient workflow.
While your fitted kitchen designers may advise you on the same, keeping yourself informed beforehand can help you understand the designing process better.
With this in mind, here's a short guide on the different types of kitchen layouts that you can choose from.
1. The L-Shaped Kitchen
A popular layout option seen in both small and medium-sized kitchens, the L-shaped layout is a versatile design that is a great idea for every kitchen.
This design has a work station set out on two different walls, meaning you have most of the kitchen elements within your reach. This makes the cooking process and prep time a whole lot easier and organised, and works well in terms of the working triangle.
With an open-plan design and multiple entrances, the L shaped kitchen can be personalised to better suit your needs and requirements. Moreover, these kitchens are great for those looking to utilise their corner spaces by adding vertical stainless steel radiators and are very efficient for all types of kitchens. 
Additionally, the minimal traffic due to the open areas only serves to increase the overall efficiency. However, this kitchen layout is better suited for fewer cooks and may prove to be inconvenient for bigger kitchens.
2. U-Shaped Kitchen
Creating the perfect distance in terms of the working triangle, the U-shaped kitchen also known as a C-shaped kitchen is great for a room that is medium to large-sized and has enough space.
Since the worktop area becomes considerably larger with the U-shaped layout, choosing materials that are easy to maintain can make upkeep much easier for you. Due to the larger space, this layout is great for multiple cooks and allows enough traffic movement during the cooking process.
With plenty of counter space and free traffic flow, this layout helps keep your kitchen organised and is great for big families while also keeping the cooking easy due to the great working triangle.
However, keep in mind that if your kitchen dimensions aren't enough, avoid opting for this layout to maintain a spacious kitchen. Moreover, adding heating units like aeon vertical radiators and corner cabinets may be difficult, meaning you'll need to carefully think about all the different elements of the kitchen before considering this layout.
3. A One-Wall Kitchen
Especially great for smaller kitchens, the one-wall kitchen is a simple yet efficient layout that is a great choice for every small modern home.
Considering most of the kitchen elements are placed on one wall, this kitchen layout is quite functional and also creates a minimalist yet aesthetic kitchen design.
Additionally, it's great for conserving space while also providing efficient storage options. With its simplistic design and relatively fewer components, this layout is quite easy to construct.
If you're looking for a kitchen layout that is budget-friendly and simple, the one wall kitchen is your best option.
4. An Island Kitchen
With an extended worktop area and increased storage options, an island kitchen is a smart and efficient kitchen layout.
Increasingly popular in modern homes with open layouts, an island kitchen is great in creating efficient traffic flow through your kitchen space. Furthermore, the addition of the island is multi-functional; from prepping meals to storing wine, it can be used for various purposes.
Moreover, the island itself can be leveraged and turned into a place of socialising through the simple addition of chairs. To further enhance the space, you can also add decorative lighting for a better aesthetic experience.
5. A Peninsula Kitchen
Similar to the island kitchen, a peninsular kitchen also incorporates an additional kitchen counter. However, unlike the former, the counter juts out from an existing wall or the cabinets.
This layout is great for those kitchens that do not have enough space to incorporate the island, serving as a great alternative that saves space while also offering functionality.
Moreover, since the concept of the peninsula is so flexible, it can be fitted wherever you wish, making it easier to save on the important spaces of your kitchen on budget without cluttering it too much.
To Sum Up
By keeping yourself informed about the different types of kitchen layouts and their requirements, you can make sure you select the right fit for your home. If you're in Milton Keynes, many kitchen design companies can help you find the right solution for your kitchen.
Since efficiency, functionality and aesthetics are important for every kitchen, starting off by selecting the right layout can help you create the perfect design that easily fits your budget and requirements. He has 15 years of experience as sports, electronics, and home improvement writer and editor. He also writes state news & daily news.