Home chefs who get involved in baking may find that their kitchens become filled with flours, pans, and other tools. Without a way to organize and label all of these items, it can be hard to find the right ingredients when you need them. No matter what size your kitchen is, spending some dedicated time sorting through your baking area can give you the space you need for your other necessary kitchen tools and prep work. If you are selling your house, getting your kitchen in shape is also a must.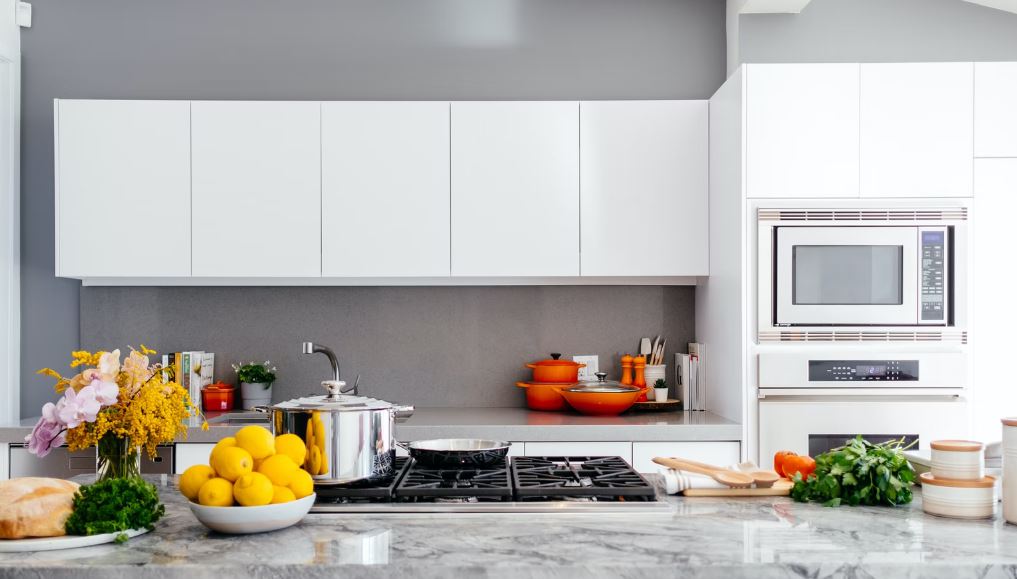 Rethink your shelving
The more you bake, the more ingredients you accumulate. You may find that the easiest way to store different flours and other dry goods is to keep them in glass jars with labels. If you are baking a lot, pulling everything down from shelves may not be ideal. One option is to remove the door from a shelf that you use the most often or to arrange items in your kitchen so this shelf is closest to your baking workspace. You may need to assess everything that you have stored in your kitchen to see if your baking necessities are in the optimum location.
Check also: Reasons to choose an apron front stainless-steel sink for your Kitchen
Create storage for trays and pans
Cupcakes, cookies, cakes, and pies all need different pans, and you may find that your storage needs change as you add more of these supplies to your kitchen. Cupcake tins and other baking sheets are best stored vertically with dividers, and it may be worth taking over a cabinet and adding dividers from a home organization store. Updating your kitchen's storage is an upgrade that appeals to buyers, as a bonus.
Get rolling
If you've run out of storage space in your kitchen you may want to invest in a rolling cart. A rolling cart can be filled with storage bins and then moved anywhere in your kitchen when you need it. If you select a rolling cart with a butcher's block top, it can also be used as a pastry table. Kitchen counters may not be the ideal height for rolling out flour and dough, but a cart can be lower making these tasks easier.
Check also: Seven Amazing Kitchen Upgrades On A Budget
Consider stands and extra outlets
The science of baking requires exact measurements and recipes need to be within easy access to stay on track for baking projects. If you are using a tablet or computer for your recipes, you may want to reposition your work area near an outlet. For recipe books, you can invest in a small stand that can hold books open, keeping your hands free.
Organize your recipe books
When it comes to books, recipe books can quickly accumulate and your kitchen may be in need of a bookcase. Here's where shelving can come in. You may want to bring a wall bookshelf into your kitchen, or you can turn a cabinet into a bookcase by removing a door and changing the shelf's height.
Kitchens can easily become cluttered but by sorting through your stuff and then consciously organizing it, you can create more space for all of your baking projects. You may be surprised by how a few small changes can transform your kitchen.