Reasons to Choose an Apron Front Stainless Steel Sink for your Kitchen
Are you planning to renovate your kitchen? How about opting for an apron front sink for it? Nothing can give your kitchen a luxurious twist at an affordable price like this. There are others also who would vouch for the same. However, while some people choose the typical white farmhouse sink, you can think differently and imagine having a stainless-steel apron front sink in your kitchen amidst the settings of white shaker-style cabinets. It can be an exciting idea to explore. It works best when you are not trying to replicate a classical theme in the interiors.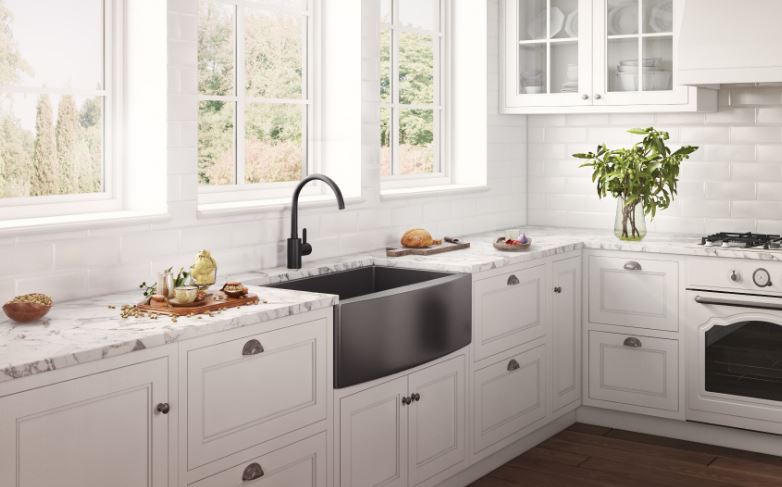 Also, stainless steel is a low-maintenance plumbing fixture. You don't have to put in much effort to keep it in pristine condition, unlike others. Simple daily cleaning habits can come in handy in taking care of its charm. And if you buy this product from a reputed seller, you can trust the quality. They can make sure that the metal does not rust or corrode for a long time. Some companies provide a satin finish for this reason. Plus, they also apply advanced sound control techniques to give you a noise-free experience when using the sink with full water force.
There can be many more such benefits you can avail that might not be accessible anywhere else. Here are some essential considerations that can make you realize why this choice can prove to be the real value for money in this context.
Reasons why you may choose an apron front stainless-steel sink
For an upscale kitchen theme
Whether you want to give your kitchen a country-style touch or something else, a farmhouse stainless steel kitchen can add to the luxurious ambiance with its shiny body and elegance. The apron-front sink in the settings of custom cabinetry can only look appealing and ever new. When you step in your kitchen for the first time after the remodeling is done, you are sure to feel overwhelmed by the modern flair imminent there. From a utility perspective also, you can depend on this type of sink to make your guest entertainment efforts easy. The spacious sink can accommodate large pans and pots comfortably, providing you ample room for cleaning and washing.
For a die-hard cooking fan
You may be the self-proclaimed chef in your house. But it is irrefutable that cooking is a serious business. Only those who enjoy making delicious meals know what all efforts go into making a proper dish. Plus, their top priority remains to be hygiene. After all, a delightful meal cooked amidst clean surroundings can only be healthy too. So, as a serious cook, you can feel attracted to a 27-inch farmhouse sink stainless steel for this reason. This type of installation allows you to get rid of all the mess on your countertop in a snap. You can wipe down all the crumbs and spills from the worktop into the sink in one clean swoop.  You don't get this convenience with other models.
For an industrial and minimalistic flavor
A combination of stainless-steel sink in farmhouse style reminds you of a trendy industrial look. When added with advanced faucet designs, you get to enjoy even the highest amount of industrial utility in your cleanup zone.
For your soapstone countertop
Soapstone has been prevalent for a thousand years and served different purposes ever since. Credit for this goes to the intrinsic nature that allows it to take any shape and form with ease. Plus, it shows tremendous heat resistance. As per some experts, it is one of the very few stones that came into practical use across different countries of the world at an early era. In the USA, it is not just famous for appliances and cookware but countertops as well. When exposed to high pressure, heat, and other factors, this metamorphic stone can acquire any mold. The presence of talc and other minerals provide it with density and hardness. Since it is dense, it is non-porous too. In your kitchen, you need it the most, at least for this single reason.
Like others, you, too, can have a soapstone countertop installed in your kitchen. With this slab, the stainless-steel farmhouse sink can be the perfect match. To elevate the aesthetic beauty, you can combine the sleekness of this deep basin and the smoothness of the soapstone countertop with vintage-themed fixtures. For example, you can buy a bridge faucet. The kitchen will still look simple, but its elegance will be unmatched.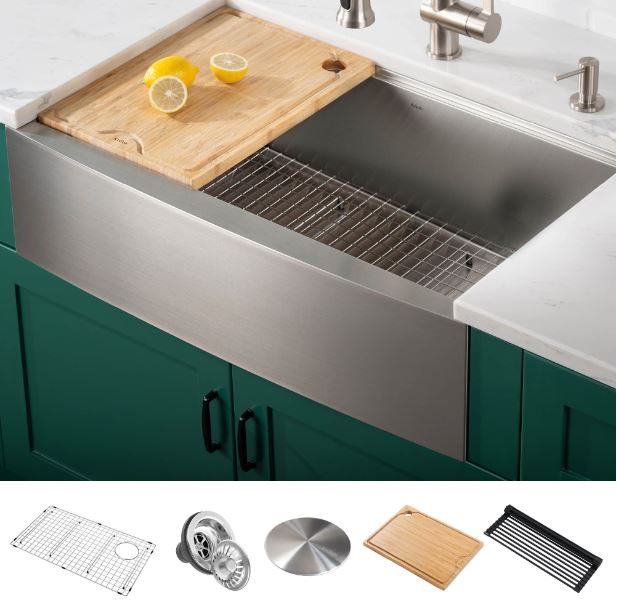 However, if you prefer marble worktops over soapstone, then again, it is not a problem. A Kraus stainless steel farmhouse sink can go with any surface. You can add more details to create a desirable appearance. For instance, opting for a lovely backsplash, reproduction hardware, and inset cabinet designs can be brilliant. Inset cabinets are well-known for their clean lines and ability to mimic any period effortlessly.
Hence, you might now know what factors can influence you to invest in this type of kitchen sink. Anyway, before you start looking for one in the stores, it is essential to know that you can get this sink in various designs, such as a single and double bowl. You have to be thoughtful about your decision while giving preference to one over the other. You can watch your kitchen habits, for example.
Observe how you do cleanup and cooking. If you use your sink a lot for preparation, then choose single basins. A large one-bowl sink gives you optimum space to carry out your tasks with ease. If you like to cook and clean at the same time, then select the double bowl system. It will help you rinse dishes on one side and prepare salads on the other.
So, are you ready to see your kitchen in a new look with the addition of an apron front stainless steel? He has 15 years of experience as sports, electronics, and home improvement writer and editor. He also writes state news & daily news.