6 Tips On How To Find The Perfect Undermount Kitchen Sink
If you have made the decision to build your kitchen in a way that delights you the most and have also decided to use an undermount kitchen sink then there are some important considerations before you go ahead.
Those days are long gone when the same type of sinks are acceptable in both washrooms and kitchens. The modern-day designs of kitchen sinks are plenty and they can make your decisions fairly complicated. The good thing is that these sinks are available in all shapes and sizes and they are made of different materials as well to cater to different lifestyles. So at least you can narrow down your options significantly.
But don't worry we have developed this brief guide for you in which we will provide you with 6 tips on how to find the perfect undermount kitchen sink for your home.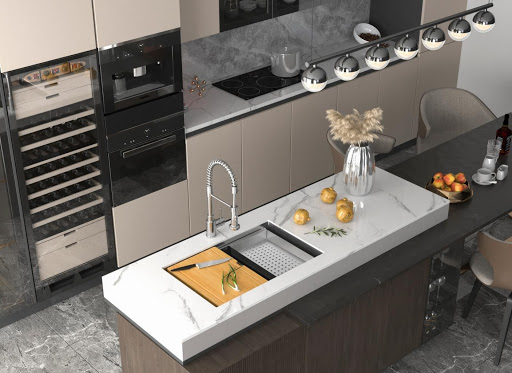 1. Compatibility with countertop
Before you can decide what type of undermount kitchen sink you can go for, make sure that you have determined the compatibility of the countertop. These undermount kitchen sinks work very well with countertops made of different types of hard materials including the likes of soapstone, granite, concrete, and marble.
You have to bear in mind that these sinks are not good for counters made of tiles or laminate. The reason behind that is the seams of these counters are very weak and they are not good enough to support the weight of the undermount kitchen sinks.
2. Know all the correct dimensions
As you have decided to go for the undermount kitchen sink, you must also know in detail about the dimensions and sizes that will fit into your countertop. You need to determine these dimensions before you go to the market and start choosing the design that you will be fixing for your countertop. Undermount sinks are available in a variety of sizes.
The entire installation process is fairly complicated and for this, you have to be absolutely right with the size that you will be considering. Too big or too small of size can jeopardize the entire project and it will also cause a good bit of financial loss because undermount sinks are pretty expensive. If the sink is not accurate in dimension, it will also not fit and look the way you have perceived it to be.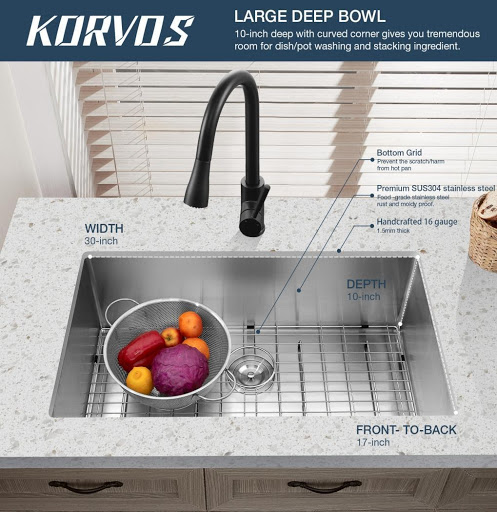 3. Choose the appropriate sink materials
Manufacturers use different types of materials to make undermount kitchen sinks. These materials include the likes of quartz, cast iron, stainless steel, colored enamels, and other materials. Each of these materials has its own benefits and you must be absolutely clear about the merits and demerits of each of them before you finalize your choice.
Just make sure that you pick the right color combinations and consider the most durable materials based on your intended use. We would suggest you go for a stainless steel option.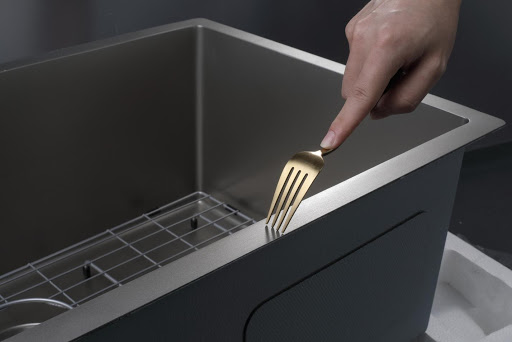 4. Assess the available features
Another important point to consider is that you have to assess all the available features of the sink that you want to install in your kitchen. For instance, some of the models of undermount kitchen sinks come with clamps for convenient installation. Other models also come with rear drains.
Furthermore, you also get the option to choose between two or three different bowls to avoid water spilling. Some manufacturers also provide a special seal for rims and they also offer sound-lowering pads too. You have to take into account all these accessories to extract the maximum benefit out of the investment.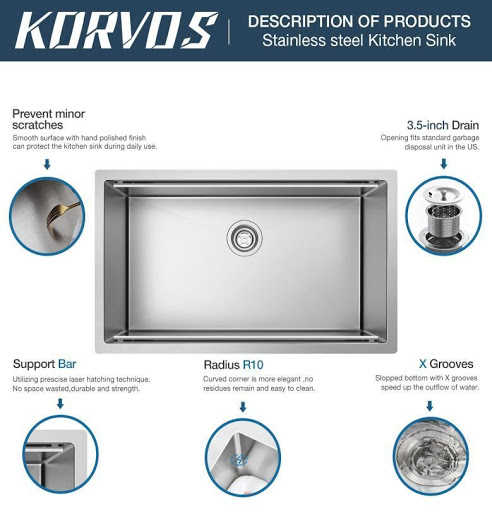 5. The installation process
The installation process of these undermount kitchen sinks is very technical. If you have previous experience of installing an undermount kitchen sink then you can go for a DIY project. However, we strongly suggest that you should hire professional assistance to get this thing done.
In most cases, the company from which you are going to buy a sink also provides you with installation services. In such a scenario we will highly recommend that you go for these services so that you are able to enjoy your undermount kitchen sink for a long time to come. These sinks if properly installed can last for a good period of time therefore, it is better for you to take professional help in this regard.
6. Don't forget about the budget you have for your undermount project
Perhaps the most important thing that you must take into account is your budget. You must set a budget for your entire project in a real manner and they ensure that your sink falls well within the limit that you have set for yourself. The sinks themselves and the installation process can cost a lot of money and you have to keep a close eye on all the financial aspects of your project.
These undermount kitchen sinks come in a variety of price ranges and your temptations will get tested for sure to buy that elegant-looking and expansive design. But it will be hugely in your favor if you don't cross your upper limits in terms of budget.
Merits and demerits of going for an undermount kitchen sink 
Merits
Undermount sinks look absolutely splendid without a shadow of a doubt. They not only provide your kitchen with a modern look but they also offer plenty of conveniences as well. The cleaning and maintenance of your kitchen countertop become very easy and it looks aesthetically so appealing as well.
Apart from that if you go for installing an undermount kitchen sink it will provide you with extra space on the counter too. Because there is no involvement of a rim on the top you can easily clean the counter and through everything right into the sink without an issue.
Demerits
On the other hand, these sinks also have their demerits. The most significant one of them all is that it comes at a hefty price. In fact, undermount kitchen sinks are the most expensive ones on the market. Apart from that, the installation needs to be done by some experts.
It is fairly a tough job because these undermount sinks shouldn't be left with any spaces underneath as your countertop will carry the weight of the sink. If not installed properly these sinks can break in no time and you will have to bear extra cost for reinstallation. Caulking has a significant role to play here and it needs to be done carefully.
Final Word
Undermount kitchen sinks don't have any crevices or lips where food crumbs or dirt can get stuck. For this reason, the cleaning of your countertop becomes very easy and you can wipe everything right into your sink. The sink itself looks visually appealing as well as it provides your kitchen with a modern look but the installation itself is very difficult and must be handled with care.
Do you think we have missed out on something while listing down the tips for choosing the best undermount kitchen sinks? Which of these tips have you found the most helpful? Let's hear from you! He has 15 years of experience as sports, electronics, and home improvement writer and editor. He also writes state news & daily news.